6 Delicious Recipes using Cream of Mushroom Soup and Pasta
This post probably contains affiliate links. You can read the details about what that means here.
I don't know about you, but when I think "comfort food," I immediately think pasta. Give me a nice, wide bowl of some sort of noodles, and I'm set.
Cooking with cream of mushroom soup and pasta is a super easy (no pun intended) way to create a quick, easy, and comforting weeknight dinner for the family. It's a classic combination that never fails to create a delicious, satisfying meal.
Here are six great recipes, with main ingredients ranging from tuna to pork chops to turkey to beef, that are sure to please.
So grab a can of cream of mushroom soup and a box of pasta, and let's get cooking!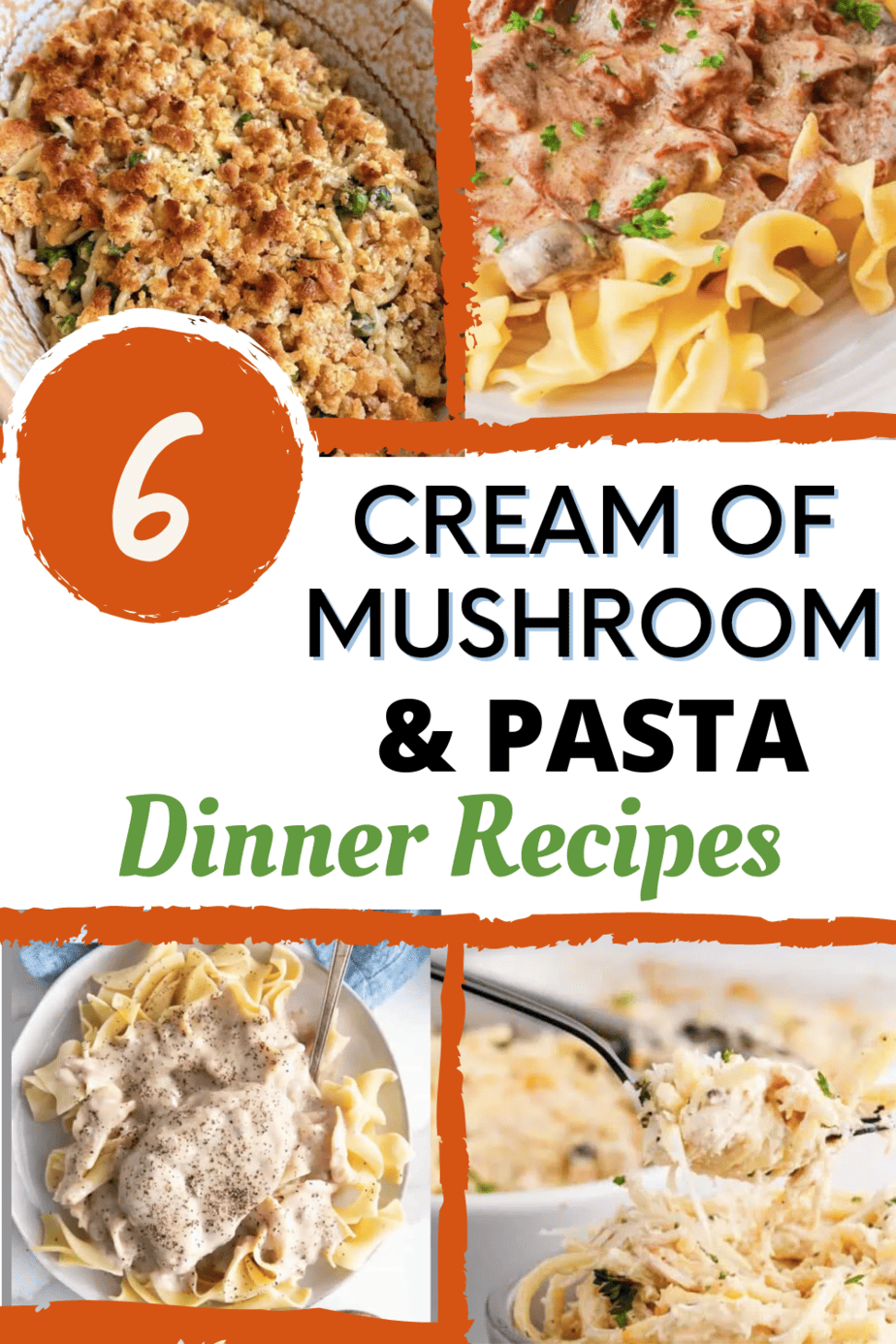 Recipes with Cream of Mushroom Soup and Pasta
Is cream of mushroom soup healthy for you?
"Cream of whatever" soups are often thought of as being a really unhealthy ingredient, but that's not completely true.
Mushrooms are a good source of vitamins and minerals, including vitamin D, potassium, and selenium. They are also low in calories and fat and contain fiber, which can help you feel full and satisfied.
The problem is that many canned versions of cream of mushroom soup are high in sodium, saturated fat, and calories.
I certainly have been known to crack open many cans cream of mushroom soup over the years. (And personally, I rarely choose the low-sodium or reduced-fat versions.)
But if you're less lazy than I am, you can certainly opt to make your own homemade cream of mushroom soup. Here's a recipe from Culinary Hill and another one from Cafe Delites.
Another easy way to make these meals more nutritious — and yummy — is to make a great side salad to go with it.
What to do with leftover cream of mushroom soup
If you make one of these pasta dishes for dinner and have leftover cream of mushroom soup, here are a few ideas to use it up:
Use it as a sauce for pasta or rice dishes. Simply heat up the soup and toss it with cooked pasta or rice for a quick and easy meal. Doesn't get much easier than that!
Make a bowl of soup. Sauté some mushrooms, garlic, and herbs, add them to the leftover soup, and blend it until smooth. Don't forget the rolls or baguettes!
Use it as a base for a creamy casserole. Search your fridge or pantry for leftover cooked chicken, vegetables, and rice or pasta, and then together whatever you find and bake it in the oven for a tasty and easy casserole.
Make a dip for vegetables or chips. Mix the leftover soup with some sour cream or cream cheese and serve it as a dip for your favorite snacks.
Freeze it for later use. If you don't have any immediate plans for the leftover soup, you can freeze it in an airtight container for up to three months.
You might also like:
---
---