8 Easy Dinner Recipes Kids Can Make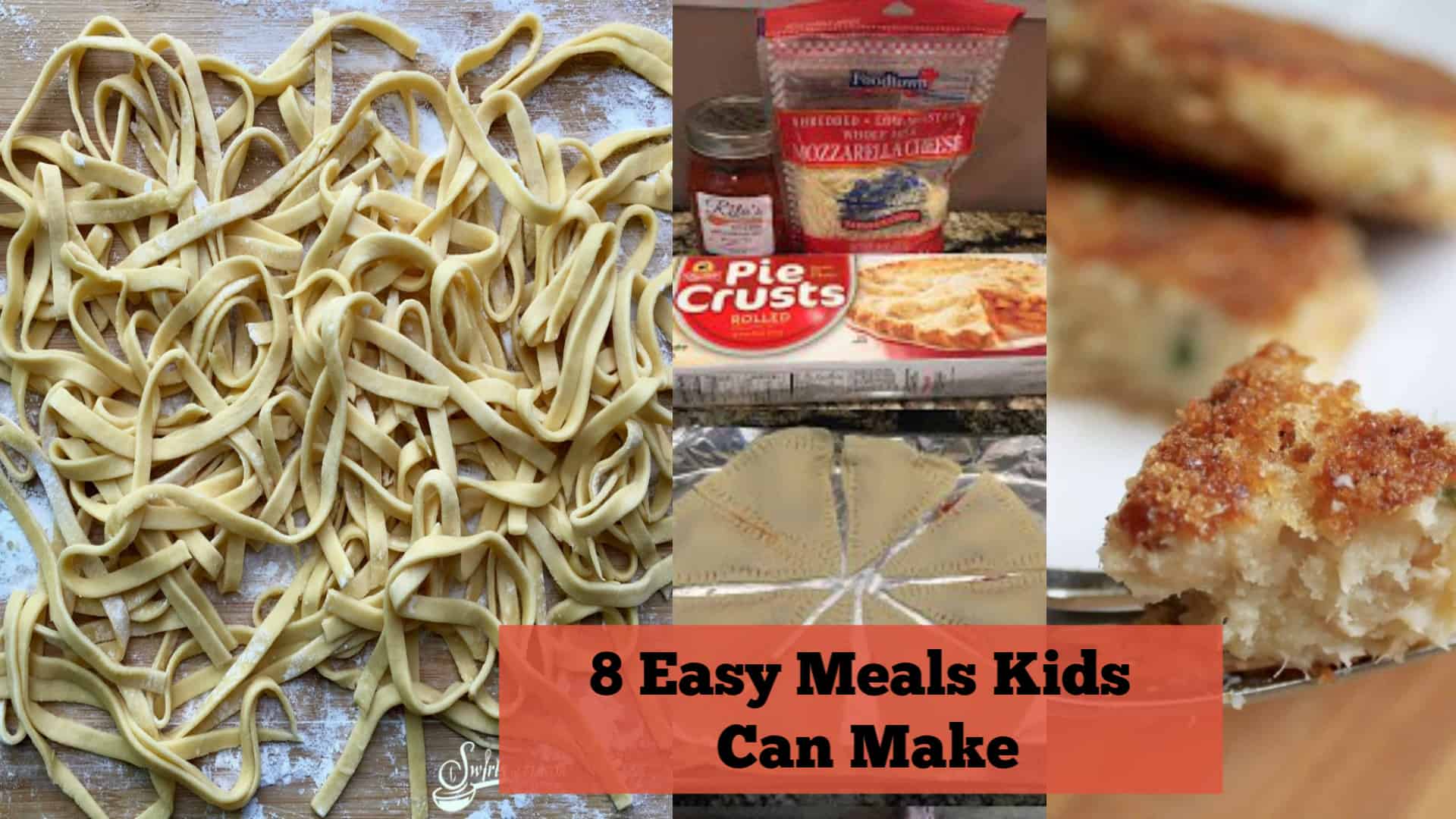 This post probably contains affiliate links. You can read the details about what that means here.
Some of my very favorite moments have been time spent in the kitchen with my children.
From when my oldest daughter would sit on the kitchen counter and hand me the items to make a stew while her baby sister to a nap, to when all three kids had some friends come over and we all decorated Christmas cookies to when I taught my son how to make his favorite meal of Reuben sandwich … there's just something about making food with my gang that bring me a lot of joy.
If you want to make a meal that you kids can easily help you with (or perhaps even have them make themselves), here are 8 easy dinner recipes the entire family will love.
Why is it important to teach kids how to cook?
Getting your kids into the kitchen has a lot more benefits than just giving you an extra set of hands.
Cooking gives kids confidence.
It's an real-life way for them to learn math, vocabulary, and nutrition.
Cooking is an important life skill.
Making a meal themselves gives them more appreciation when someone else (like you) cooks for them.
What age should a child start cooking?
Kids can start doing something in the kitchen at around the age of two, or even a little earlier.
Here are a few things kids can help with in the kitchen depending on their age:
Under age 3

Stir room temperature ingredients
Wash vegetables
Squeeze lemons
Set the table

Age 3-6

Cut soft foods like butter and fruit with a blunt knife
Use measuring cups and spoons
Drain and rinse canned beans
Spread icing or sauce

Ages 7-11

Pound chicken
Open cans
Peel potatoes
Make a salad
Use a blender
Make sandwiches and wraps

Once kids get to be about 12 or 13 years old (especially if you've been training them over the years), they can probably do almost everything in the kitchen with minimal supervision.

Easy Dinner Recipes Kids Can Make

Want more easy recipes kids can cook?
This page has 3 recipes:

Egg-tastic Power Packs with Salsa and Cheddar Cheese
Holiday Celebration Cupcakes topped with fresh fruit or candy
MVP Mac n Cheese with Turkey and Vegetables

Just click here and scroll down to see all 3 recipes.

Cookbooks for Kids Who Like to Cook

If your kids really enjoy making dinner, they'll love owning their own cookbook.

Here are two of the most popular kids' cookbooks out there.

If you click here or on either image below and then scroll down, you'll get a full sample recipe — including a color photo — for:

Honey-Lime Ramen Salad
Avocado Toast with Fried Eggs

Easy Dinner Recipes for Kids to MakeGood Housekeeping Kids Cook!: 100+ Super-Easy, Delicious Recipes

You might also like:
---
---