Hollywood & Vine Review: Characters, Menu, and Fantasmic Dining Package
This post probably contains affiliate links. You can read the details about what that means here.
I've been curious about Hollywood & Vine, a table service at Disney's Hollywood Studios, for some time now. If you do any research about it in forums or blog comments, you'll see that it doesn't have the greatest reputation. I've even seen it called "the worst buffet in Disney World."
I was curious … but not curious enough to actually want to eat there and find out if I would agree with the negative comments.
So when my blogging buddy Amanda said that her family had a great time breakfast at the Disney Junior Play 'n Dine, I asked her if she would write a guest post about their experience.
nbsp;
************************
Hi guys! I'm Amanda from Momma Ever After.
Since we have a couple of toddlers in our group, Hollywood & Vine's Disney Jr Play N Dine was a no-brainer. My expectations were pretty high based on the feedback I've received from friends and family who have also visited within the last year.
The theme of the restaurant reminds me a lot of a classic diner type of atmosphere. My favorite little Easter Egg this restaurant has is the "Who Framed Roger Rabbit" detail in the window above the Hollywood & Vine entrance. It shows Roger Rabbit jumping out of Eddie Valiant's office.
In this post I'll answer some common questions about Hollywood & Vine, share some of our great photos, and tell you about our own personal experience there.
Where can I find Hollywood & Vine?
Hollywood & Vine is located within the Hollywood Studios park of Walt Disney World. When you enter Hollywood Studios, you will be prompted to do the normal bag check line, as well as scan your tickets or magic bands. You must have a theme park ticket to visit Hollywood & Vine, since it is within the park!
When walking down Hollywood Boulevard, continue straight, towards the Chinese theater. Turn left just before you reach Sunset Boulevard. It is immediately next to 50's Prime Time Cafe, and right in front of Echo Lake (where the dinosaur and boat are located).
If you're lucky, sometimes you will find a Photopass cast member taking photos of families in front of Echo Lake. We did, and took advantage of this opportunity while we waited for our table!
✅ What characters are at Hollywood & Vine?
Like most character dining establishments at Disney, the characters vary by time of day and seasonally, dependent on holidays.
We were fortunate enough to meet Sophia the First, Vamparina, Goofy, and Doc McStuffins.
You can also see Minnie and "friends" for their seasonal lunch and dinner options. Usually, this includes Mickey, Goofy, Daisy, Donald Duck, and Minnie. Characters are always subject to change. During the holidays, you can find Minnie and friends dressed in different festive outfits. This includes Goofy dressed as Santa!
Is Hollywood & Vine a Buffet?
YES.
I have to be honest, we have never eaten at a "bad" buffet at Disney World, and Hollywood & Vine is no exception to that. We love doing breakfast buffets because we are obsessed with freshly made to order omelets. This is the place to go for a good one.
They also have more standard breakfast foods, which are listed below.
Is Hollywood & Vine 2 Dining Credits on the Dining Plan?
Hollywood & Vine is available on both the 2019 Dining Plan and the 2019 Deluxe
Dining Plan. The breakfast, lunch, and dinner are ALL only 1 dining plan credit. 
If you have the dining plan, or are planning on getting it, this is an awesome use of just one credit.
Menu
(Note that allergy menus are available upon request for guests of all ages with special diet needs.)
Breakfast
Omelet station
Pancakes
Waffles (including Mickey waffles)
fruit
Pastries
Meats
Potatoes (and potato tots for kids)
Lunch and Dinner
Salads
Soups
Peel-and-Eat Shrimp
Fish
Chicken
Vegetables
Pasta
Bread
Various Sweets
Ice Cream
Prices
Prices are subject to change based on availability and time of year. Taxes and gratuities are not included in the price of your meal.
Breakfast Prices
Ages 3-9: $23.00
Ages 10 and over: $34.00
Lunch and Dinner Prices
Ages 3-9: $32.99
Ages 10 and over: $52.00
If your child is under the age of 3 they get to eat for free. You can get them their own plate from the buffet, or you can share. Whatever works best for your family.
We were able to use our 10% Annual Passholder discount on our food only items (no alcohol).
If you are a member of Tables in Wonderland, they offer a 20% discount here, as well.
Amenties for Kids
As always, Disney is great at attending to the littlest guests in all parties. You can find stroller parking immediately in front of the restaurant, as well as off to the left.
They have a large decorative area when you first enter the restaurant that is
great for photo opportunities.
While meeting the characters and taking photos with them is the ultimate goal, do keep in mind that some children are afraid of the characters.
Click here for more tips about bringing toddlers to Disney!
Adult Perks
While Disney is supposed to be  all about the kids, let's face it – adults love it, too!
When sitting down at our table, a breakfast cocktail menu was available for guests over the age of 21. We chose to start our morning off with a Mimosa, but other drinks, such as Bloody Mary's, were also available.
I can only imagine that these drinks vary based on availability, however there are only so many breakfast cocktails out there!
✅ Hollywood & Vine Fantasmic Dining Package
Hollywood & Vine is one of three restaurants in Hollywood Studios that offer the Fantasmic Dining Package. (The other two are The Hollywood Brown Derby and Mama Melrose's Ristorante Italiano.)
The way the dining package works is that it includes both a full meal and reserved seating in the Fantasmic amphitheater. Note that this is not a reserved seat, but rather a reserved section in the middle. This means you get to show up only about 30 minutes before the show begins, as opposed to over an hour.
The important thing to know about the Fantasmic Dining Package is that you must book it specifically. You cannot just book a regular ADR at Hollywood & Vine and then ask for Fantasmic passes when you get there. It doesn't work that way.
Fantasmic Dining Package Prices
Breakfast – $42 for adults; $25 for children (plus tax and gratuity)
Lunch/Dinner – $58 for adults; $35 for children (plus tax and gratuity)
Hollywood & Vine or Mama Melrose?
It's common for people who are interested in the Fantasmic Dining Package to debate between eating Hollywood & Vine or Mama Melrose. (The third restaurant, The Hollywood Brown Derby, is considerably more expensive and takes 2 Dining Plan credits, so it's not really a fair comparison.)
The main question to ask yourself is, do you want:
1)A buffet with Disney characters (Hollywood & Vine); or
2) A sit-down restaurant with a nicer, more peaceful environment, but no characters (Mama Melrose)?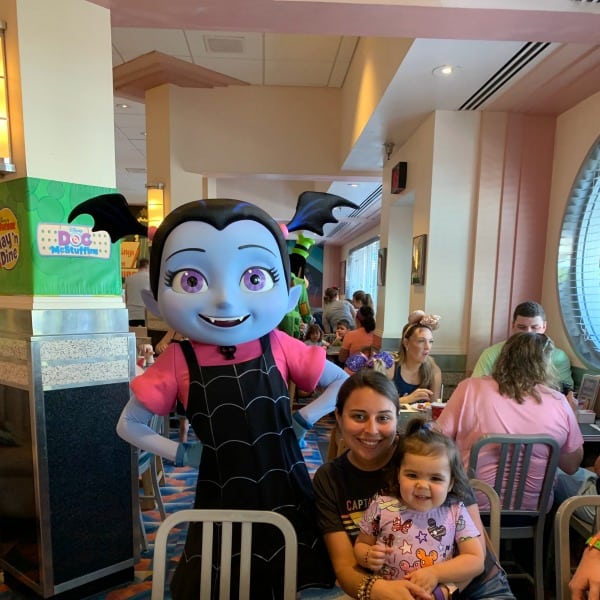 Review of Disney Junior Play and Dine
This character breakfast at Hollywood & Vine was so fun for our toddlers aged 2-5 years old. The food was wonderful, and as always the character interaction is the icing on the cake.
I recommend bringing your own character signature book and pen for when you meet the characters. The signature
book is a great souvenir that you can buy off property before arriving to Disney if you want to.
Minnie Mouse Autograph Book with Retractable Pen
Disney Princess 2 pc. Autograph Book Set
Disney Mickey Mouse Autograph Book
Beauty and the Beast Deluxe Autograph Book with Pen
The characters do usually need help opening the pen, so keep that in mind!
Or better yet, check out this pen below. It's great for character autographs because not only is it big, but it's also retractable, which means the characters (and you) don't have to worry about opening it:
Sharpie 32701 Retractable Permanent Markers, Fine Point
The staff at the restaurant was very friendly and attentive as well. We almost missed Sophia the First's signature, but the awesome cast members went and found Sophia, just to get her signature for us. We were super appreciative for that!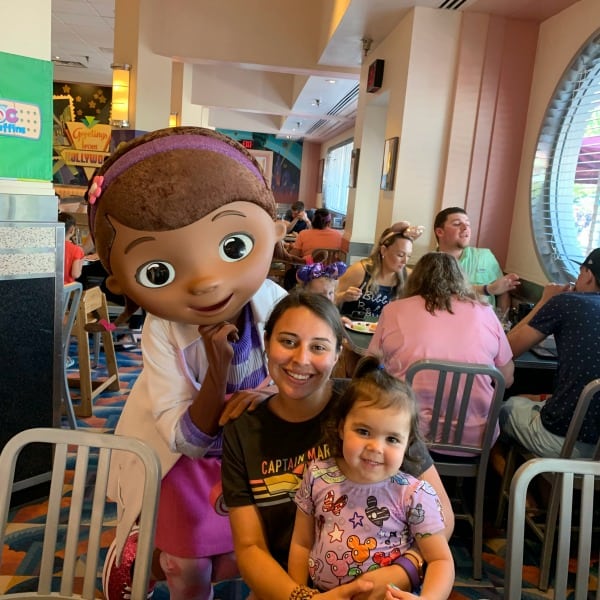 The only thing I truly noticed that makes this restaurant not stand out quite as much, is that they do not have their own signature food item. Upon visiting other character dining restaurants in the past, I noticed that a lot of them have something you can only find there.
For instance, 1900 Park Fare in the Grand Floridian has the strawberry soup that people specifically go back there for.
And Crystal Palace in the Magic Kingdom , has Pooh's Breakfast Lasagna, which is probably not as popular as the strawberry soup, but still a menu item that is unique to that restaurant. I think Hollywood & Vine could definitely use something along those lines.
While we have only done the breakfast buffet here, we fully plan to do the seasonal holiday dining with Minnie and friends when we return this winter. 
Now it's your turn
What's your experience at Hollywood & Vine been like? Would you recommend Hollywood & Vine or Mama Melrose for the Fantasmic Dining Package? Do you have a character buffet that you like better? Let us know below in the comments!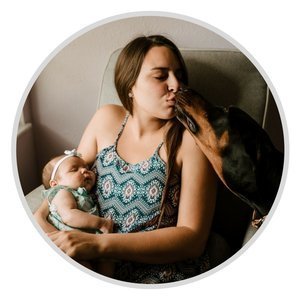 Amanda is best described as "a hot mess express, who tries her best." To mom, to wife, and to pet all of the dogs. All of them. She specializes in all things mom, wife, and Disney life. Follow along her journey of surviving on nap-times by checking out her Pinterest profile!
---
---