Disney Apple Watch Bands: Dooney and Bourke, Mickey Mouse, & More
This post probably contains affiliate links. You can read the details about what that means here.
According to Wikipedia, the Apple Watch was released in April if 2015 and quickly became the best-selling wearable device, with 4.2 million of them sold in the second quarter of 2015.
You maybe already own an Apple Watch, but maybe you never thought about how to make it a "Disney device."
Not only are their apps you can use on it to make your Disney vacation easier, but you can get a Mickey to tell time for you, make a hybrid out of your Apple Watch and Magic Band, or just show off your love for your favorite Disney character by getting a replacement watch band.
Wearing an Apple Watch at Disney World
There are several reasons why an Apple Watch is great to have with you on a Disney trip:
It's much handier than pulling our your phone all the time to check things
You can easily use Apple Pay (especially handy if you're not staying at a Disney resort and can't charge everything to your room)
You can keep track of how far you've walked and fill up your activity rings.
The Magic Guide app lets you check wait times and show times, has detailed super retina maps, and searchable menus.
Water tracking apps like iHydrate remind you to drink enough water, which is critical when you're walking for miles outside in Florida
The Dark Sky app sends notices with down-to-the-minute weather forecasts so you can be prepared for rain and thunderstorms
Most people who wear an Apple watch to Disney World tend to wear their watch on one arm and their Magic Band on the other. However, there is a way you can make a hybrid out of the two, which we'll talk next.
✅ Can I Use My Apple Watch as a Magic Band?
The My Disney Experience app is currently not compatible with the Apple Watch. So there is no way to, say, use your FastPasses with your watch.
However you can buy this product that creates a sort of watch/Magic Band hybrid which some people find very convenient.
Magic Band Apple Watch Sliders
Watch Adapter Compatible with Disney Magic Bands
Luke3DP creates a few different adapters, or "sliders," for your Disney Magic Band, depending on what size watch band you have.
This model is compatible with most traditional watchbands, including:
Apple watch (38 & 42mm)
Garmin 235, 645, 735, 935
Vivoactive
Vivosport
Fitbit Versa & Charge
Samsung Gear (active & classic)
Timex Triathlon
It comes in 22 colors, including pink, 3 different shades of red, blue, orange, purple, and "glow in the dark."
One nice little plus is that it comes with a screw driver to take the puck out of your magic band. (I don't know about you, but I always hate having to stop what I'm doing to run down to the basement and try to find a screwdriver.)
Amazon reviewer Stephen Donaldson is a DVC member who is thrilled to have found this product:
I thought Disney trips couldn't be more magical, then I found this product. As DVC Members, we frequent Orlando several times a year. I have often commented that I do not like wearing my watch and magic band on both wrists. I just don't like it so I was really excited when I saw this product.

Full disclosure, I have not used this at the park yet, but I cannot wait to do so on our upcoming trip.

It's a little snug on my ultra wide (.8in) silicone band … and it's a little wider than my wife's iWatch band but both fit nicely.

I was worried it might be cumbersome to wear on the inside of my wrist, but I don't even feel it.

I was also concerned about the puck falling out, but there is no movement at all; it is very secure.

I was expecting the material to be sort of gooey and stretchy based on the pictures. I was surprised at how solid it is. The material does move some, but I would describe it as pliable and not necessarily stretchy …

… I have already recommended this product to several friends who also make frequent trips to Orlando and, at least as of right now, I will continue to recommend this product to everyone thinking about making a Disney trip.
There were very few negative reviews about these adaptors, although most negative reviewers had a problem with the screwdriver stripping the screws.
You can read all the 1-star reviews here.
Click here and here to see customer photos of them wearing this on their watches.
How do I get Mickey Mouse on my iWatch?
If you didn't already know, there are many different faces you can choose to display on your Apple watch, including a few Mickey and Minnie Mouse options.
SolveYourTech gives these directions for setting Mickey up as your timekeeper:
Open the Watch app on your iPhone
Select "Face Gallery" at the bottom of the screen
Scroll down to find the style of Mickey or Minnie watch face that you want, then hit the "Add" button
Select "My Watch" at the bottom of the screen
Choose your Mickey or Minnie face in the "My Faces" section
Scroll down and select "Set as current Watch Face"
✅ Can You Turn a Magic Band Into a Watch?
Maybe you're not interested in investing in an Apple Watch, but you find yourself repeatedly "checking the time" on your Magic Band during your Disney vacation? Is there a way to have your Magic Band also work as a simple time-telling device?
The Main Street Mouse has a cheap and easy way to do that:
Buy a children's "slap watch" (see images below)
Slide the round "face" part of the watch off the band
Slide the face onto your Magic Band
Sea Turtle Slap Bracelets for Kids
Silicone Slap on Watch
Green Geckos Elastic Fabric Strap Watch
If you're like me, you might be wondering if covering up the puck of the Magic Band with a watch face will impact its functionality.
Fortunately, the answer is "no." The magic Radio Frequency (RF) technology inside the band is pretty strong and won't be hindered by something like a cheap children's watch face.
Does Disney make/sell Apple Watch Bands?
You'd think that Disney would make Apple-compatible bands decorated with their characters, but they don't. (Yet.)
However, you can get some cute "Disney-inspired" watch bands on both Amazon and Etsy.
Here are several that I personally liked that got good reviews.
Cartoon Mickey Mouse Apple Watch Band
https://amzn.to/2tdoWwg
Mickey Leather Band for Apple Watch
This cartoon leather band is compatible with:
Compatible Models of size [40 & 38 mm]:

40mm Apple Watch Series 4
38mm Apple Watch Series 3
38mm Apple Watch Series 2
38mm Apple Watch Series 1

Compatible Models of size [44 & 42 mm]:

44mm Apple Watch Series 4
42mm Apple Watch Series 3
42mm Apple Watch Series 2
42mm Apple Watch Series 1
The band fits for 6.5 inches to 8.3 inches wrists, making it a nice choice for girls, boys, and women.
Reviewers liked how this watch band was soft and comfortable, nice quality, and not overly feminine.
Click here to see photos on this watch band on a happy customer's wrist/in use
Mouse Ear Balloon Watch Band
Replacement Band Strap Compatible with Apple Watch 42-44mm or 38-40mm Band
This band is compatible with Apple Watch (Series 1, Series 2, Series 3, Series 4) and fits wrist sizes between 6 and 8 inches.
It is made of genuine calf leather, and a pair of metal connectors are included for assembly.
Reviewers particularly loved how this band matches these Dooney & Bourke products:
Disney Sketch Dooney & Bourke Purse
Disney Parks Sketch Dooney & Bourke Zip Wristlet
Silicone Watch Band with Mickey Mouse Ears
https://amzn.to/2ZDnIq4
Mouse Ears Silicone Bands for iWatch 38mm/42mm/40mm/44mm
This colorful band is made from eco-friendly soft silicone. The purchase includes a one year unconditional warranty, plus lifetime customer service.
Reviewers said the silicone band was very comfortable and were impressed by the vibrant colors and durability.
Minnie Mouse Watch Band
Polka Dot Apple Watch Band 38mm for women
This product is Amazon's Choice for the category "Disney Apple watch band."
If you're a Minnie Mouse fan, you'll love this band, which is red with white polka dots on one side and black with a red bow on the other side.
It also comes in a pink version.
The band is compatible with:
Apple Watch Series 3
Apple Watch Series 2
Apple Watch Series 1
Apple Watch Nike+
Apple Edition
Apple Watch Sport
Hermès 38mm Cases
Silicone Protective Watch Case with Minnie Mouse Bow
Soft Silicone Protective Frame with Minnie Mouse Bow
Another way to Disney-fy your Apple watch — while also protecting it from scratches — is to get a case like this one.
Be aware that this case does NOT come with a band.
Amazon reviewer Nicole says this case is "perfect":
I love this case! It fits my series 4 44mm watch perfectly and will be perfect for my upcoming Disney World trip.

I would suggest leaving the bands on when putting it on though as it makes it easier.

Keep in mind that if you are like me and wear your watch on your left wrist with the dial on the bottom left side, you'll have to switch it because it's cut specifically for the dial being on the upper right side.

Other than that, which is super minor, it's perfect.
Click here to see a photo of Nicole wearing her watch with this case.

Beauty and the Beast Apple Watch Bands
Mykola at ArtCaseDesingSHOP has over 70 watch band designs, including these two Beauty and the Beast bands:
Both bands are:
Made of leather
Have an adapter available in gold, silver, rose gold, or black
Can be personalized upon request
Disney Star Wars Watch Band
Mykola's shop also has this really cute band for people who know (or are) a Star Wars fan.
Little Mermaid Apple Watch Band
Courtney at BowsGlitzandMore has a shop full of Disney products, including matching family shirts, 3D mouse ears, and Disney cheer bows.
Her Ariel Apple Watch Band is made of polyester leather and comes in two sizes to fit both Apple 38/40mm and 42/44mm.
Lion King Apple Watch Bands
Courtney's shop also has these two adorable bands featuring characters from The Lion King.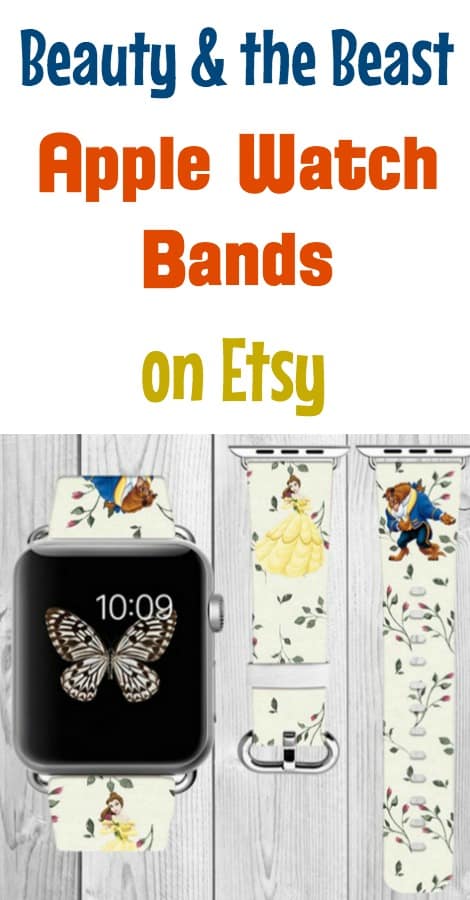 ---
---