13 Cute and Funny Matching Disney Family Vacation Shirts
This post probably contains affiliate links. You can read the details about what that means here.
I have to be honest. Getting matching family shirts for our Disney vacations is something we've never done. In fact, it's something we've never even thought about it when we do our Disney shopping and packing.
My husband always packs shirts like this that keep him cool.
And I like to feel "pretty" when I'm at Disney, so I tend to look for nice sundresses that I dress up with a little Disney jewelry. (You can see several examples, including links, in my article about cute outfits and dresses to wear to Disney World.
But I've been spending a lot of time on Pinterest and Etsy lately, and I see a LOT of really cute Disney shirts for the family.
I think matching shirts would be a must for an extended family reunion at Disney World. But even if there are just a few of you, matching shirts are a great idea because:
It's easier to stay together and not have kids get lost
They look great in photos
If you have a shirt for every day of the week, packing and getting ready in the mornings becomes super-easy
They're an automatic souvenir that you can use again and again and remember the fun you had on your trip.
You can use them to collect Disney character autographs (although I personally prefer using autograph books)
I did some research on Etsy and picked out the best shirts in each category. Which one is your family's favorite?
Get Started Planning Your Family's Disney World Vacation:
Funny Minnie and Mickey Family Shirts
I got a chuckle from these shirts, made by El and Bo from ElBoDreamTees have these
This set of shirts is a Bestseller in their shop. They are made from Ringspun cotton, using only Eco and Hypo-alergenic materials.
I think these are really cute. But interestingly, I don't think the "matching shirt protester" in our family would be either my husband OR my son.
Rather one of my teenage daughters, who I could picture saying they were "dorky" or "embarrassing."
Can anyone else relate?
Here are some funny family shirts from Mila at MyRandomTees
Another shop Bestseller, reviews were impressed by the super-soft material and speedy delivery. The shirts are available in different colors and can be made as T-Shirts, V-necks, or Tank Tops.
Family Disney Shirts for Christmas
Here are some shirts that would be perfect to wear to Mickey's Very Merry Christmas Party:
Eddie at PremiumSoftThreads has these colorful Christmas shirt, personalized with each member of the family's name: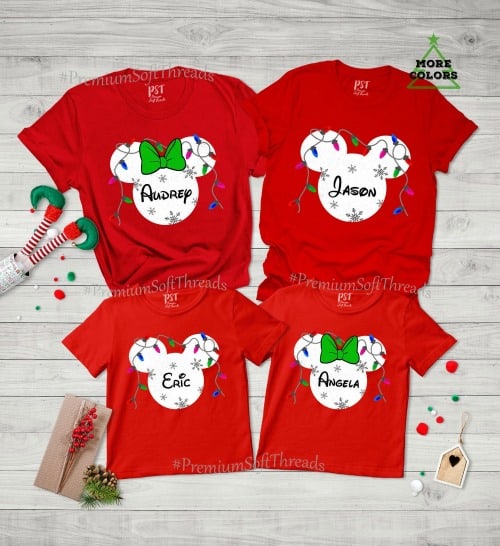 These shirts are available in 10 different colors and can come in several different styles, including a long-sleeved shirt or even a baby onesie.
Zara at ZSpecialDay has these clever Christmas shirts: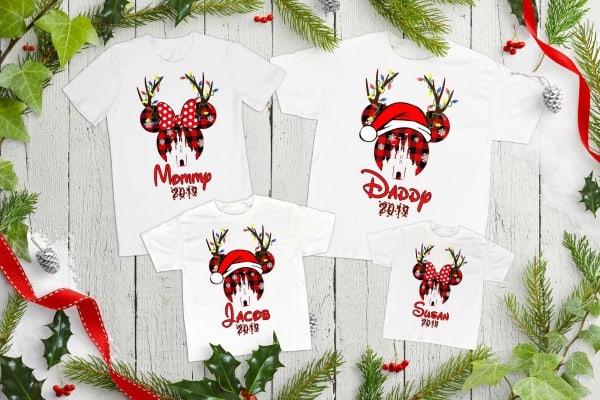 Etsy reviewers liked the vibrant colors in these shirts and called Zara's service "crazy fast and reliable."
Matching Beauty and the Beast Shirts
Are you a Beauty and the Beast fan? Then check out these shirts from Emma at StellarQueen:
These shirts are made from 100 percent cotton, with reinforcing tape on the neck.
Plus they're super cute!
Matching Birthday Shirt Ideas for the Family
If someone in your family is celebrating a birthday during your Disney vacation (whether you're wearing matching shirts or not), make sure you go to Guest Relations as soon as you enter the park.
They will give you:
A free "Happy Birthday!" celebration button for the birthday boy or girl
Free "I'm Celebrating" buttons for everybody else
You don't have to be overly technical about this — you can wear these even if Joey's birthday was last week, and you can wear them during your entire vacation, not just the actual day.
There are tons of great Disney birthday shirts with all kinds of different themes.
Here are my personal favorites:
Mickey & Minnie Family Birthday Shirts
Another cute set of matching shirts from ElBoDreamTees.
Disney Squad Birthday Shirts
Wanna show off that you're part of the Disney squad? Check out these shirts from PremuimSoftThreads.
Matching Mouse Ears Birthday Shirts
These beautiful pink and gold shirts from Cinthia at DelfisDesignsShop are perfect for the birthday girl and her family.
Don't worry, though, they're not just for girls! They come in several different colors and can be customized many different ways.
Toy Story Birthday Shirts for the Family</h3>
Is your birthday boy or girl a huge Toy Story fan?
Then Ashley-Paul at LvDesignTees has just what you're looking for!
Animal Kingdom Matching Shirts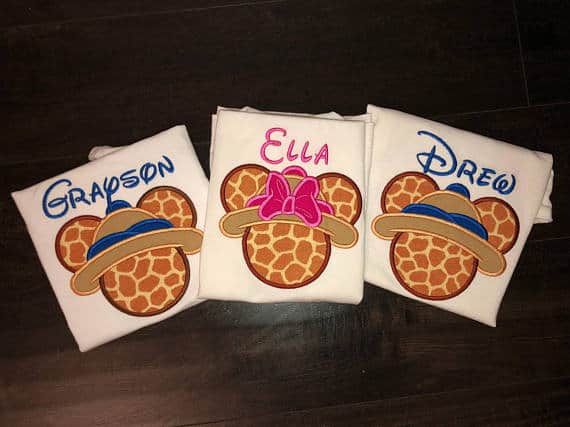 These embroidered safari shirts are beautiful and would be perfect for your family's day at Animal Kingdom. (And consider getting reservations for the Tusker House breakfast, one of our favorite character meals.
Halloween Disney Family Shirts
Disney likes go all-out during the Halloween season too, between the oversized pumpkins decorating Main Street, Halloween parties, and the Happy HalloWishes fireworks show at Disney World. These shirts are great for an October vacation.
Family Star Wars T-Shirts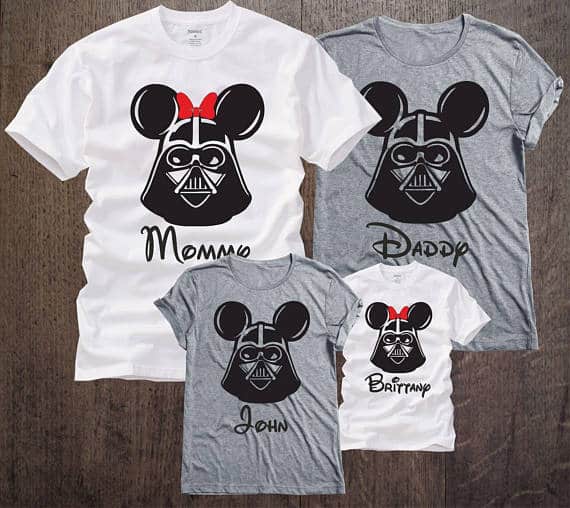 This would definitely be the shirt that my husband Robert and my son Benjamin would vote for, although it wouldn't get me or my girls very excited. (Sorry, Star Wars fans.) I wonder — do families ever split it up, so that some members are wearing one type of shirt while others are wearing something different? I don't see why you couldn't.
Matching Disney Pirate Shirts
This is for you if your family loves Pirates of the Caribbean, and/or consider September 19 to be one of your favorite holidays. Ahoy, Mickey!
---
---