What to Wear to Universal Studios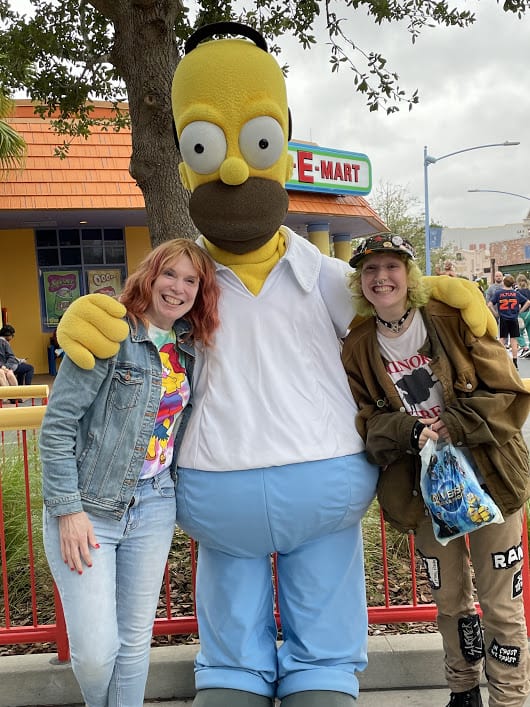 This post probably contains affiliate links. You can read the details about what that means here.
The last thing you want during your vacation to Universal Studios Orlando is for you (or your spouse or kids) to be uncomfortable.
Wearing shoes that hurt, socks that cause blister, or anything that's inappropriate for the weather is no fun. And Florida weather can sometimes be a little tricky to navigate.
In this post you'll learn what to wear in general, plus special considerations depending on what time of year it is.
In addition to practical suggestions, you'll also get some ideas that are just kinda fun.
✅ Comfortable Shoes
This is probably the most essential item on the list, since you'll be doing a lot of walking and your feet are sure to hurt by the end of the day (or sooner) if you're wearing crummy shoes.
I suggest you read my posts for the best shoes for Disney World and the best kids' shoes for Disney World for detailed reviews of specific sneakers and sandals that are comfortable, will give you good support, and might even be water-resistant.
If you're not interested in such a deep dive at the moment, here's a quick rundown of theme park shoe advice:
Body Glide Original Anti-Chafe Balm
Sanuk Women's Yoga Sling 2 Metallic LX
Merrell Women's Terran Slide II
Skechers BOBS Women's Sneaker
KEEN Women's Whisper Closed Toe Sport Sandal
Teva Women's Original Tie-dye Sandal
Small backpack or fanny pack
Okay, so it's important to understand the the bag situation at Universal is a little different than the bag situation at Disney World
There are several rides at Universal that don't allow backpacks or bags. (Some of these sometimes allow fanny packs, which I'll talk about more in a minute.)
Rides that don't allow bags:
Hollywood Rip Ride Rockit
The Incredible Hulk Coaster
Jurassic World VelociCoaster
Revenge of the Mummy
Men in Black Alien Attack
Harry Potter and the Escape from Gringotts
Harry Potter and the Forbidden Journey
Hagrid's Magical Creatures Motorbike Adventure
Honestly, if you can pull it off, try not to bring a bag to the park at all.
Instead, use a lanyard for your hotel room key, park tickets, credit cards and ID (here's a fun Harry Potter lanyard and then stuff your cell phone and a granola bar or whatever in your pocket.
We had one day in the park with a backpack, and one day without it (Rebecca was wearing a jacket with a lot of pockets) and it was very nice on that second day to not have to deal with the hassle of going over to the lockers before and after a bunch of rides. (Or, in one case, forgetting to pick it up right away and having to pay a $3 fee.)
Having said that, I realize that most people (me included) are not going to go the parks without some kind of bag, so here are your two best options:
Small Backpack
The operative word here is small. I brought this backpack (which I highly recommend, not just for theme parks, but for Real Life, because it's lightweight and totally adorable) and I even had to smush it a little for it to fit. A full-sized backpack, or a soft cooler, isn't going to fit in the free lockers, and you'll have to use the paid ones.
Loungefly Disney Mini Backpack
Loungefly ET Womens Shoulder Bag Purse
Loungefly Harry Potter Hedwig Faux Leather Mini Backpack
Loungefly Marvel Spider-Man Mini Faux Leather Backpack
Fanny pack
The bottom 5 rides on the list above might let you on with a fanny pack. I've heard it's up to the discretion of the team member, so there are no guarantees. Even if you do need to put it in a locker, at least it will fit easily into the free ones.
And hey — good news! Apparently fanny packs are no longer the shameful items they once were. They even have a new, improved name to go with their new image: waist packs. So you will no longer be shunned by high society (and perhaps not even mocked by your teenage daughters) if you choose to wear one.
MAXTOP Large Crossbody Fanny Pack
Waterproof Waist Pack for Women
What to put in your backpack or fanny pack waist pack
For a longer and more detailed list about this, check out my post about what to pack for Universal Studios.
Here are just a few items you'll want to consider:
Change of clothes (Jurassic Park River Adventure will get you very wet)
Reusable water bottle
Extra snacks
Sunscreen
Portable phone charger
Rain poncho or jacket
According to Orlando Insider Vacations, hurricane season in Orlando is from June 1 to November 20, which is … kind of a long hurricane season, don't you think? That's almost half the year!
Anyway, the point is that you want to be prepared for rainy weather, because you're probably going to get at least a little of it.
We've always brought these packs of disposable ponchos, but to be honest, I'm getting a bit disillusioned with them. They're hot, these particular ones have short sleeves, so your arms still get wet, and they're pretty wasteful.
On our next trip to Orlando, I just might invest in a good rain jacket like this one. It comes in a lot of different colors and looks much more effective and comfortable than a plastic poncho. Plus it would come in handy for a lot of other things (such as standing in car pool duty for 30 minutes in the rain at 7:30 in the morning.)
Columbia Women's Arcadia Ii Jacket
What to wear to Wizarding World of Harry Potter
The Wizarding World of Harry Potter is in both parks, connected by Hogwart's Express. Diagon Alley and Gingotts bank are in Universal Studios Florida, and Hogsmeade and Hogwarts castle are in Universal's Islands of Adventure. Each park's section of Harry Potter has at least one ride, a restaurant, and, of course, Butterbeer.
You can and should dress the part if you can. We saw many people walking around in black robes, (the chilly weather was perfect for it), and others in Harry Potter shirts.
Robes are available in the parks for $115 and up, so you might want to consider buying one somewhere else.
Hermione Granger Classic Girls Costume
Harry Potter Gryffindor Robe
Harry Potter Slytherin Quidditch Team Adult T-Shirt (Large),green
Harry Potter I Am Up To No Good T-Shirt
✅ What to wear to Universal during the summer months
The average high in Orlando in August is 92 degrees, which is pretty hot for anything, let alone walking around (and standing around for several hours.
Here are a couple things you wear specifically during the hot summer months:
Cool, comfortable clothes
Whether you prefer tank tops, t-shirts, crop tops, or sundresses, make sure it's comfy and works well in the heat. Whenever we go to Florida my husband swears by moisture wicking shirts like these.
Also, be sure to check out my post on the best shorts to wear to theme parks.
Cooling Towels
If you've never used a cooling towels, you might be suspicious of them and think they're just a gimmick.
But they really do work — as long as you temper your expectations a bit.
Two things I like about them are:
They "take the edge off," cooling you off just enough so you don't feel quite so beaten down from walking around for hours in the hot sun.
Since you drape them over your neck, back, and shoulders, they give you extra sun protection in those areas.
The Frogg Togg Cooling Towel is the only one that we've personally used (other than the one we bough at the Disney Parks, which was definitely not as good), but you can read reviews of other brands of cooling towels here.
FROGG TOGGS iCOOL PVA Cooling Towel
Sunhats, Sunscreen, and Sunglasses
Protect your face and eyes from all the Florida sun.
✅ What to wear to Universal during the winter months
The phrase "cold weather" doesn't typically spring to mind when you think about vacationing in Florida, but believe me, it can get downright cold in Orlando, especially in the evening.
On our late November trip to Universal, we wore jackets and long pants for the entire trip. One evening I wore two shirts under my jackets, plus my earmuffs.
So in addition to your t-shirts and shorts, if you're going to Universal in the winter, consider packing the following:
Long-sleeved shirts
These can be great for layering. Wear it over a t-shirt in the early morning, and then take it off and stuff it in your backpack or tie it around your waist when it starts to warm up.
Lisa Simpson Long Sleeve Shirt
Marvel Ultimate Periodic Table Of Elements Long Sleeve Tee
Harry Potter Up To No Good Long Sleeve T-Shirt
Gryffindor Quidditch Team Seeker Long Sleeve T-Shirt
Warm hats
My eighth grade science teacher, Mr. Foor, told us that a lot of heat escapes from your head, so one of the best ways to stay warm was to wear a hat. He went on to say that when he was a kid, the other kids called him a "sissy" for wearing a hat and he would just think to himself, "But I'm a warm sissy."
I wonder what odd things my students will still remember about me in 30 years.
Anyway, listen to Mr. Foor and pack a hat.
FURTALK Knit Beanie Hats
HINDAWI Women Warm Knit Cap with Visor
FURTALK Ponytail Beanies for Women
Light sweaters, jackets, or hoodies
Remembering, layering is the name of the game here, because what feel comfortable right now might not be so comfortable in three hours.
Hanes Men's Sweatshirt, EcoSmart Fleece Hoodie
Sofra Women's Thin Cotton Zip Up Hoodie
Splendid Women's Cash Blend Cardigan
ELESOL Women's Open Front Casual Cardigan Sweater
Does Universal Studios Have a Dress Code?
Kinda, not really. There are only two rules and my guess is that it's unlikely you're on the verge of breaking either one.
On their policies page, under "prohibited items," they list two types of clothing:
Clothing likely to create a danger, incite a disturbance or displaying offensive language or content
Clothing or accessories that represent someone as emergency personnel or that may create a false impression of employment by Universal
---
---