How to Prepare for Miles of Walking at Disney World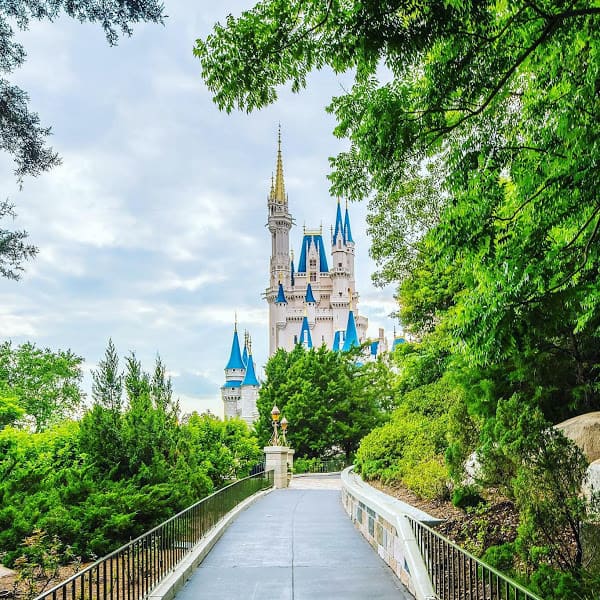 This post probably contains affiliate links. You can read the details about what that means here.
There are all kinds of things you need to do to prepare for a Disney World vacation, from making a packing list, booking a hotel, getting restaurant reservations, and finding out where to find your favorite characters.
But there's one thing you need to prepare for that's easy to forget …
All that walking!
After reading this post, you'll know
Why it's important to prepare for walking at Disney World
What you should do
How to make training more fun and get the kids involved
How to take care of your hard-working feet while at the parks
How many miles a day do you walk at Disney World?
Most sources say that you'll walk a bare minimum of 7-8 miles per day at Disney World, and that some people walk as many as 10 miles a day.
That's a lot of walking.
Which Disney Park has the Most Walking?
According to Disney Trippers, Here's the rough mileage for walking around each of the Disney parks:
Magic Kingdom — 2.2 miles
EPCOT loop around World Showcase Lagoon — 2.8 miles
Hollywood Studios — 1.40 miles
Animal Kingdom — 2.3 miles
So … yeah, Epcot is where you're probably going to walk the most. (Just circling around the World Showcase Lagoon is 1.2 miles.)
There's really two slightly different concerns you need to prepare for:
Physical stamina
Sore feet
Let's cover each of those separately …
Training for Disney World Walking
Let's face it; a lot of us don't exercise regularly — and even if we do, we certainly don't walk 8+ miles per day.
So if you don't want to sore and exhausted during your trip, you're going to want to prepare for all that walking.
There's no officially correct way to do this, but here are a few suggestions to get you inspired and give you a good starting point..
First of all, I suggest you start walking regularly at least 2 month before your vacation.
If you don't normally exercise much, start slowly — maybe even just 10-15 minutes a few times a week. Consider adding 5 minutes to your walks every week until you hit a full hour of walking.
Make it more interesting by tracking your walks on a Disney countdown calendar, walking together as a family, and/or walking while listening to a Disney playlist.
Don't forget that there are other ways to build your stamina besides walking. If you prefer something like swimming or bike riding, then by all means do that instead — or maybe mix it up with walking.
And don't forget to stretch. I don't mean just after your walk or bike ride (although you should do that too), but use this time before your vacation to build your flexibility in general.
Because not only do you have to walk a lot at Disney World, but you also have to stand a lot, which is a different kind of stress for your body. The less tight your muscles are, the less you'll have to worry about low back and other muscle pain at the end of a day at the parks.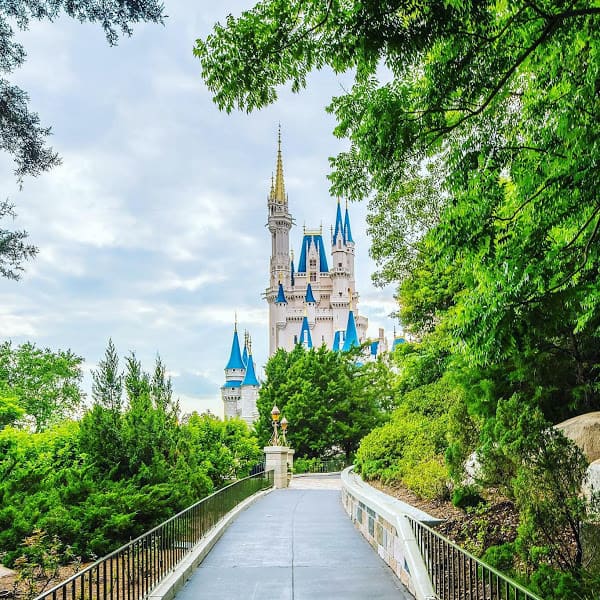 I'm a big yoga fan, and I particularly love this YouTube channel.
The instructor is encouraging and funny, and there's a huge amount of variety in the workouts. Some are are 6 minutes long and others are almost a full hour. Some focus more on relaxation on meditation, and others do a bunch of side planks and make you feel like you're going to die.
Even if you're not into yoga, I highly recommend spending five minutes doing "legs up the wall" in your hotel room every day during your trip.
Legs Up the Wall (after a day of walking at Disney World)
Speaking of exercise videos on YouTube, if you have a treadmill, you can watch this video, which takes you on a 21-minute virtual walk through Magic Kingdom.
Treadmill Series: Magic Kingdom
And if you want to exercise with your kids, check out Disney Family's short exercise videos with themes based on The Lion King, Peter Pan, or Moana.
Get Moving with Disney Family — The Incredibles
We all know that exercise is a great stress reducer, so this can be a great side benefit. Whether you've had a rough day at work, just got off the phone with your most difficult relative, or are starting to stress out because you still haven't been able to get reservations of Chef Mickey, I promise that doing your daily walk or swim or yoga will make you feel a whole lot better.
The Best Shoes for Walking in Disney World
You could be a world-class athlete and still be miserable after a day at Disney if you don't wear the right shoes and socks.
First of all, I highly recommend wearing shoes that don't require socks (like sandals or crocs)if you can stand it.
Between the possibility of rain, rides like Splash Mountain, and the fact that your feet will get sweaty, your socks are almost certain to get wet, which is not only kinda gross but can lead to blisters.
If you really can't live without socks, then be sure to keep an extra pair in your park bag so you can switch them out when needed.
I also like to apply Body Glide all over my feet every morning before I put on my shoes to reduce friction. (Body Glide is, by the way, the single most popular product among my readers.)
body glide Original Anti-Chafe Balm
Okay, now let's get to specific shoes.
These are the shoes that I've worn for my last 4-5 trips to Disney World.
No, they're not the prettiest things in the world (years ago I got a cute orangey-red pair, but haven't been able to find them since), but they work for me.
These are the most popular shoes among my readers.
I really wish I liked them, because they're much cuter and less expensive than the shoes I wear, but they just don't feel right to me.
These are the shoes my oldest daughter wore on our last trip, and they're quite popular too. Some people don't like them because they have a lot of straps, but my daughter liked them a lot.
This is a good sandal for men.
Here's a good sneaker for men.
And this is a popular shoe for kids.
I've often heard that it's good idea to pack 2 different pairs of shoes so you can switch them out, but I've never actually done this myself.
Oh, and one last thing — definitely break your shoes in for at least a week or two before your trip.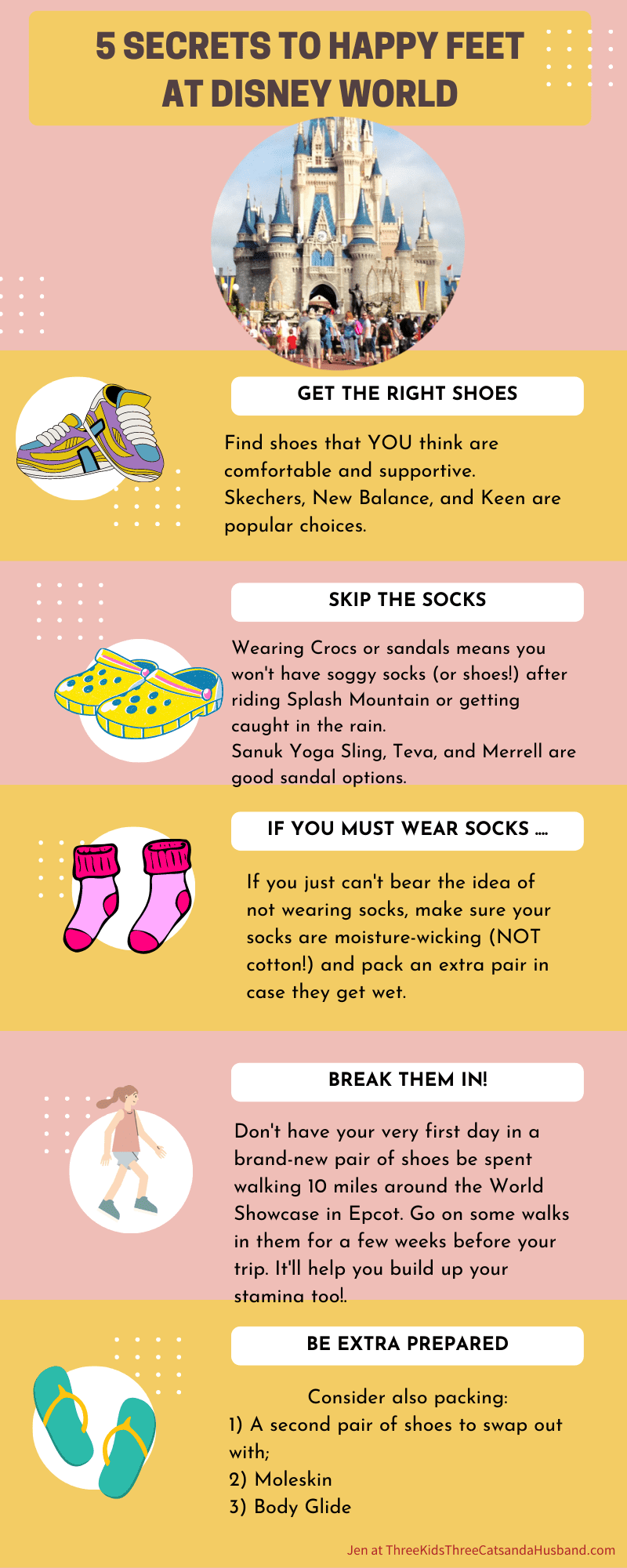 Did you having a Training Program Before Your Disney Trip?
Now I want to hear from you:
Did you have an exercise regime before you went to Disney World?
What are your favorite shoes to wear to the parks?
Any other advice to prepare for all that walking?
Let us know below in the comments!
---
---