3 Better Alternatives to Chef Mickey
This post probably contains affiliate links. You can read the details about what that means here.
I think a lot of adults, me included, have a love/hate relationship with Chef Mickey, located in Disney's Contemporary Resort. And if you're a regular reader of this blog, you know I like to make fun of Chef Mickey as often as possible.
Chef Mickey is often touted as THE best restaurant for toddlers at Disney World.
And for good reason: The main one being that it's the only restaurant where you can meet the "Fab Five" of Mickey, Minnie, Goofy, Pluto, and Donald Duck.
In addition:
It's right on the monorail loop, making it easy to grab breakfast and then be at the Magic Kingdom within minutes.
The monorail goes through the restaurant overhead, which is super cool for little boys in particular.
Not only can kids get things like sweets and Mickey waffles at the breakfast buffet, but they can also pile them high with all kinds of sugary toppings.
So your kids will almost certainly love Chef Mickey.
That's not the issue.
The problem is that you — the adults — might be counting the minutes until you leave. At the least, you might be wondering why you paid roughly $200 to eat at the equivalent of a Shoney's bar, only more chaotic.
I think there are several places at Disney World where you and your kids can meet Mickey and friends with better food and/or a quieter, more interesting atmosphere.
Here are my favorite alternatives to Chef Mickey, in no particular order:
Minnie's Beach Bash Breakfast at Cape May Cafe
Cape May Cafe, located in the Beach Club Resort, has a character meal only at breakfast.
You won't find Mickey Mouse there (when I asked Donald Duck where Mickey was, he pantomimed playing golf).
But you will meet Minnie, Goofy, Donald, and Daisy — all in cute beach outfits.
I had breakfast at Cape May Cafe on my one adult Disney vacation and enjoyed it quite a bit.
To me, it was a nice blend of being appealing for both kids and adults. There was a large variety of good food and the atmosphere was much quieter and less chaotic than it is at Chef Mickey. In fact, many of the characters came to our table twice.
Garden Grill in Epcot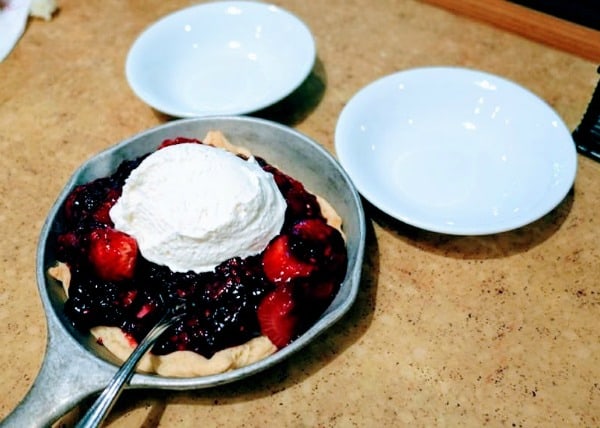 I think Garden Grill is a really neat character restaurant for two reasons:
Instead of a buffet, the food is served "family style," which means that servers will bring a set menu of food to your table and you can ask for seconds (or thirds) of anything you want.

This means you don't have as many menu options as a buffet, but it also means you're not leaping out of your seat every 3 minutes to get more food (which can be particularly tricky when you have toddlers in tow.)

The restaurant rotates. (Don't worry, it's not fast and is very unlikely to make you feel motion sick.) Even better, you get to see into different scenes of The Land attraction. It makes for a very interesting and unique dining experience, especially if you rode The Land sometime before your meal.
The characters at Garden Grill are "Farmer Mickey" in his plaid shirt overalls, plus an unclothed Pluto and Chip and Dale.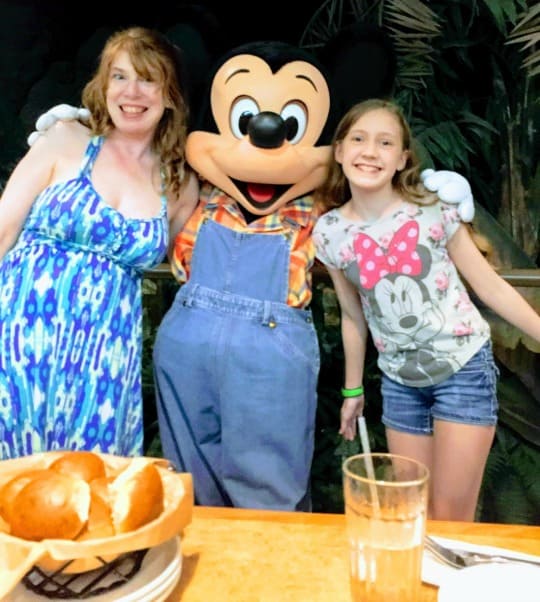 Tusker House in Animal Kingdom
If you want really good, and somewhat unique food, then have breakfast at Tusker House. (We've had both breakfast and lunch there and enjoyed both, but the Tusker House breakfast menu was definitely our favorite.
Here, any time of day, you'll meet Mickey, Goofy, Daisy, and Donald, all dressed in safari gear.
One of the things I love about Tusker House's menu is that they serve basic crowd-pleasers like scrambled eggs and waffles, but also have some "interesting" things like Beef Bobotie, Tabouli and Hummus Dips, Fruit Chutneys, and Jungle Juice.
And the Banana Bread Pudding. Oh, the Banana Bread Pudding.
Another plus about Tusker House is that it costs a little less than other character meals. Breakfast for an adult costs about $12 less than it does at Chef Mickey.
One downside to Tusker House is that, while the theming is very specific and interesting, it was a little too dark for my personal preference. I liked the bright, open feel of Cape May Cafe better.
Other Mickey Mouse Character Meals
There are two other places at Disney World where you can dine with Mickey. I've never eaten at either one, but in the interest of being thorough, I thought I'd give them a shout-out as well.
Best Friends Breakfast at 'Ohana
'Ohana in the Polynesian Resort has a character breakfast with Lilo, Stitch, Pluto, & Mickey. (You can read about dinner at 'Ohana here.)
'Ohana's character breakfast is similar to Garden Grill's meals in that it is family-style rather than a buffet.
Not surprisingly, the breakfast has a Hawaiian theme and the menu includes items like Hawaiian-style Ham or Pineapple-Coconut Breakfast Bread (in addition to things like scrambled eggs and Mickey waffles.)
Lisa F. from the Disboards loves breakfast at 'Ohana and also has some clever tips:
We love Ohana breakfast and do it every trip. I haven't noticed it being slow but we are generally not in a rush having allocated a good 90 minutes for breakfast.

My son LOVES Lilo and Stitch and we always get great character interaction from both – my son always talks to Lilo about how he sees the world differently than people too (he is on the spectrum) and she lavishes attention and hugs and kisses on him.

Stitch is always so much fun too, naughty and he loves to hear that he is the first character that my son ever met as a baby. Mickey and Pluto are of course Mickey and Pluto – what's not to love? but we're really there for Lilo and Stitch.

I love the food too, it's basic but has always been hot and fresh and good.

Pro-tip, ask for extra of the pinapple compote right away – it is SOOO delicious on the waffles. Also ask for bacon, it is no longer served by default but available by request. All you can drink POG juice and what's not to love? I don't even like ham normally but I scarf it down with that compote.
Like Chef Mickey (at the Contemporary Resort), 'Ohana is on the monorail loop, making it super convenient to grab breakfast and then get to the Magic Kingdom before rope drop.
Garden Grove at The Swan Hotel
The Swan and Dolphin resort is a kind of weird, Disney-property-but-not-really-Disney resort that I never fully understood and you might not either.
So let's cover that before we dive into the Garden Grove restaurant.
Located behind Disney's Boardwalk Resort (and within walking distance to Epcot), The Swan and Dolphin are on Disney property, but leased by Disney to the Tishman Hotel Corporation and MetLife and operated by Marriott International.
So what does that mean to you if you're a guest there? According to Touring Plans:
You're not eligible for the Disney Dining plan
You cannot take Magical Express from the airport
Magic Bands are not tied to the hotel (so you can't use them to pay for your meal at Garden Grove
There are no hidden Mickeys are other similar Disney theming in the hotels
Garden Grove is NOT on the Disney Dining Plan
So now that you understand what The Swan is and isn't, let's talk about the Garden Grove restaurant specifically.
You have to dig to find much information about Garden Grove. You could either view as a negative (it must not be very remarkable) or a positive (wow, a hidden gem!)
According to Disney Parks Mom, the character lineup is:
Dinner: Goofy and Pluto
Saturday Character Breakfast: Goofy and Pluto
Sunday Character Breakfast: Chip 'n' Dale, Goofy and Pluto
The centerpiece of the restaurant is a beautiful 25-foot oak tree, decorated with twinkling lights and paper lanterns.
If you have dinner on Friday, Saturday, or Saturday, you get a seafood buffet in addition to Goofy and Pluto.
So no, you don't get to meet the big-name mice and ducks … but hey, Chip and Dale are nothing to sneeze at.
According to discussion on the DisBoards, the food is pretty good and the desserts are literally world-class pastries from the kitchen of an award-winning pastry chef.
Oh, and possibly the best part — the price is about half what you would pay at Chef Mickey.
Which restaurant do you think is better than Chef Mickey?
So what do you think?
In your opinion, are The Fab Five and monorail overhead a combo that can't be beat? Or do you prefer one of these other restaurants?
Let us know your favorite place to meet Mickey and his friends below in the comments.
---
---