What is the Shortest Ride in Disney World?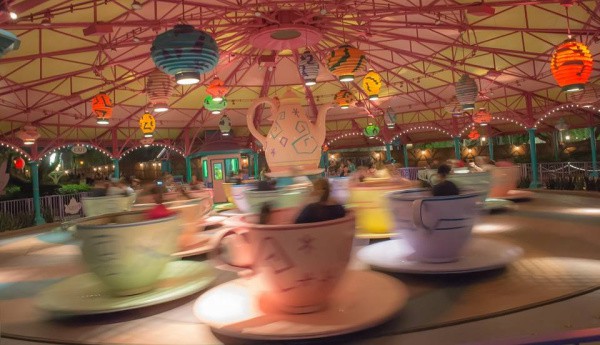 This post probably contains affiliate links. You can read the details about what that means here.
Being a fan of Disney World trivia, I was curious what the shortest rides at Disney World.
So I did a little research, found some great photos, threw in my two cents, and voila — this post was born!
All ride length times are from WDW Info.
Disney's World Shortest Ride
The Barnstormer
1 minute 3 seconds
I haven't ridden on The Barnstormer since it was called "Goofy's Barnstormer" and located in Mickey's Toontown Fair, which is now long gone.
The Barnstormer (now located in the Storyland Circus area ofFantasyland) is supposed to be an easy way to introduce toddlers and preschoolers to roller coasters.
It does that well, but that's about the only thing it's good for. At barely a minute long, it's ridiculously short, especially considering that almost half the ride is just getting you up to the top of the hill so the ride can begin.
Still, my oldest daughter loved it when she was four years old, so I have no hatred for the ride. I just have no plans to ride it again — until I have grandchildren to ride it with.
Disney World's Second Shortest Ride
Rock n Roller Coaster
1 minute 22 seconds
I was a little surprised that Rock n Roller Coaster (located in Hollywood Studios) was this short. I think it's because it, um, wastes no time getting going (to put it mildly).
This is definitely one of my favorite rides in Disney World. You can learn more about the ride and why they chose Aerosmith (and what band they really wanted) by reading my Rock n Roller Coaster post).
Disney World's Third Shortest Ride(s)
There are 6 rides that all clock in at 1 minute and 30 seconds, making them tied for the third shortest ride. They're also very similar to each other.
Dumbo the Flying Elephant
Astro Orbiter
The Astro Orbiter, located in Magic Kingdom's Tomorrowland, is the Dumbo concept, but up higher and with a rocket theme. It has a nice view of the park, especially at night).
Note: This is a ride that can be challenging (although not impossible) for "Pooh-sized" guests to get in and out of. If that's you, consider riding it alone (or at least with someone much smaller than you).
Magic Carpets of Aladdin
The Magic Carpets of Aladdin, located in Magic Kingdom's Adventureland, is the Dumbo concept, but on flying carpets (and with Dole Whip very nearby).
My kids actually liked this ride quite a bit, because you can try to dodge water that the camels are spitting at you.
Some parents love this ride as an alternative for Dumbo with a much shorter line.
Triceratop Spin
I kinda hate DinoLand USA, where Triceratop Spin is located in Animal Kingdom. It looks very unimaginative and un-Disney-like. (I do really like the ride Dinosaur, though, which is over to the side of all that garishness.)
Anyway, what can I say about Triceratop Spin? It's Dumbo, but with dinosaurs, and it looks like your basic carny ride.
Mad Tea Party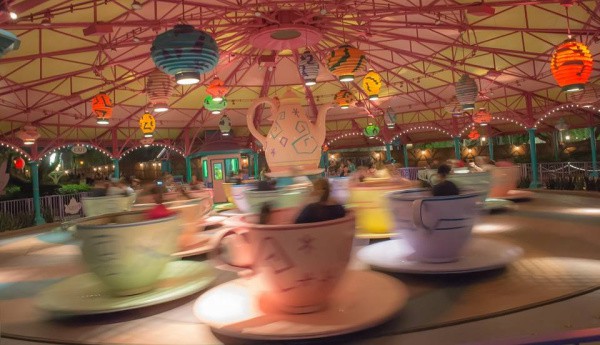 Ever since I was a kid I loved rides like the Tilt-a-Whirl, where you spin like crazy. So even though the Mad Tea Party (or "teacups," as my family always called them), is nothing special, I'm a little partial to it.
Alien Swirling Saucers
Alien Swirling Saucers, located in Hollywood Studio's Toy Story Land, is kind of a milder version of Mad Tea Party. I've never ridden it, but I've heard it described as "more of a whip than a spin," so maybe the takeaway is that it's okay to ride if you get motion sick, but something to avoid if you have a bad back.
Either which way, it doesn't look like the most exciting ride in the world, but I'm sure it's fun for little ones who love Toy Story.
More Posts About Disney World Rides
---
---