What are the Longest Rides & Attractions in Disney World?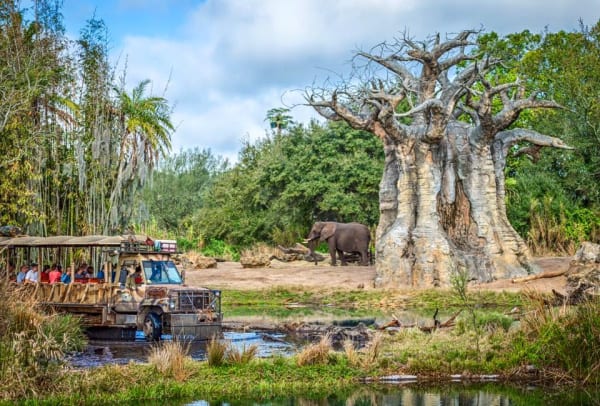 This post probably contains affiliate links. You can read the details about what that means here.
If you're a fan of Disney World trivia like I am, you might be curious what the longest ride in all of Disney World is.
After reading this post, you'll know both the longest ride and the longest attraction, as well as a few runners-up.
All ride and attraction length times are from WDW Info.
✅ What is the Longest Ride in Disney World?
Drum roll, please ….
It's Carousel of Progress in Magic Kingdom's Tomorrowland, clocking in at 20 minutes and 45 seconds.
"Wait!" you may be calling out in protest. "That's not even a ride! All you do is sit there and watch a show!"
True, but you do move in a rotating theater, so we will call it a ride, albeit a very slow one. (And don't let the word "rotating" scare you. The chances of getting motion sick on Carousel of Progress are pretty much non-existent.)
Carousel Progress is a four-act audio-animatronic stage show (within a revolving theater) illustrating how electricity technology made a positive impact on the life of an animatronic family during the 20th century.
Act One — Valentine's Day in 1900
Act Two — The 4th of July in the mid-late 1920's
Act Three — Halloween in the late 1940s
Act Four — A "Contemporary" Christmas (which, in reality, is around the early 1990's)
According to Wiki, the Carousel of Progress was originally created to be the prime feature of General Electric (GE) pavilion for the 1964 World's Fair in New York.
In 1967 it was moved to Disneyland in Anaheim, California until it closed in 1973.
In 1975 it re-opened in Magic Kingdom.
The attraction's ride's theme song, "It's a Great Big Beautiful Tomorrow," was written by the Sherman Brothers, who you might remember from the great (although wildly inaccurate) movie "Saving Mr. Banks." The Sherman Brothers wrote all the music to Mary Poppins, including "Feed the Birds," which was supposedly Walt Disney's very favorite song.
Carousel of Progress Theme Song
And speaking of Walt's favorites, Carousel of Progress was believed to be his favorite attraction. It's also the oldest attraction at Walt Disney World to have been touched by Walt Disney.
According to Disney Lists, thee are four hidden Mickeys in the final Christmas scene:
A Mickey nutcracker on the mantel over the fireplace.
A white Mickey peppermill in the kitchen
A painting on the dining room wall that looks like Mickey
A [not so hidden] plush Mickey within the presents
(Full Disclosure: I have actually never been on this ride. The first 2-3 times we went to Disney World, we didn't even know it existed (and honestly, the rest of my family still probably doesn't.) In general — especially for my husband Rob — we tend to be an "action ride" type of family, not a "sit still for a long time and slowly rotate ride" type of family.)
✅ The Second-Longest Ride in Disney World
If you're curious what the second-longest ride is (or if you just don't buy my argument that Carousel of Progress is actually a ride and therefore don't accept it counts as the real answer) ….
It's Walt Disney Railroad, clocking in at 20 minutes.
The railroad is in Magic Kingdom and opened on Disney World's opening day of October 1, 1971
Now what's interesting about this ride (and why some of you may argue that it doesn't count, either) is that most people probably don't ride it for the full 20 minutes.
We certainly haven't. We only ride it as an alternative way from getting from Main Street to either Frontierland or Fantasyland, and then hop off.
But if you stay on the train for the entire round trip, then yes, it will take 20 minutes.
✅ Disney World's Third Longest Ride
Okay, so if you're still not convinced that either Carousel of Progress or WDW Railroad count (or if you just enjoy playing this game), then the third longest ride at Disney World is Kilimanjaro Safari in Animal Kingdom, which clocks in at 18 minutes and 30 seconds.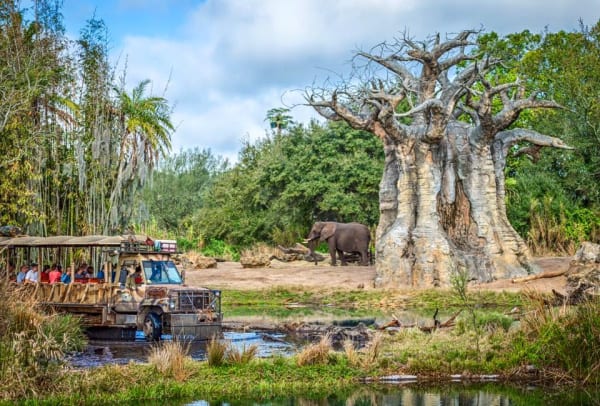 I remember years and years ago, when we were about to ride Kilimanjaro Safari for the first time, Rob an I were both a little confused — were these actual animals, or were they audio-animatronic, a la Jungle Cruise?
Well, I'm sure you already know this by now, but yes, they are actual animals. According to Wiki, it's 800 square miles (2,100 km2) of natural terrain, where you'll see elephants, giraffes, antelopes, springboks, crocodiles, mandrills, hippopotamuses, lions, cheetahs, hyenas, african wild dogs, warthogs, ostriches, rhinoceroses, storks, , flamingos, wildebeests, okapis and zebras.
✅ The Longest Attraction in Disney World
Okay, now let's talk about attraction that don't pretend to be rides in any way and where they is no movement, slow or otherwise.
The longest single attraction is American Adventure, clocking in at 28 minutes 30 seconds
Full Disclosure again: We have never been on this attraction either. (Are you sensing a theme here?)
Located in the World Showcase in Epcot, American Adventure is an Audio-Animatronics stage show of American history, narrated by figures of Benjamin Franklin and Mark Twain.
The Voices of Liberty, an eight-member a cappella singing group, performs patriotic songs in the pavilion rotunda throughout the day, often as a pre-show to the next scheduled performance of the main presentation.
Voices of Liberty
According to Wiki, Epcot recently announced that they will be adding a new exhibit to the attraction called "THE SOUL OF JAZZ: An American Adventure," based on the Pixar film Soul.
What is the Second Longest Attraction in Disney World?
The second longest attraction is the Hall of Presidents, clocking in at 21 minutes 35 seconds.
(Umm … guess what? Yeah, we've never see this one either. Clearly we are a family with short attention spans who have little desire to sit still and be educated during our Disney vacations.)
However, I have heard others say (no joke) that this is a great attraction for either:
Taking a nap; or
Nursing a baby
The Hall of Presidents is located in Magic Kingdom's Liberty Square, and, like WDW Railroad, has been around since opening day on October 1, 1971.
It features a features a short film that gives historical accounts of several American presidencies, including George Washington, Abraham Lincoln, and John F. Kennedy. After the film, there is a stage presentation of all the presidents in Audio-Animatronic form.
---
---