How Big Is Disney World in Orlando vs Disneyland?
This post probably contains affiliate links. You can read the details about what that means here.
I'm willing to bet that if you have kids (and maybe even if you don't), you're planning at least one trip to Disney World in the future — even if "the future" means three or four years from now.
And if you've spoken to anyone who's been already there, you know that there's a lot to know, and the more information you have, the better.
Because Disney World is huge. It really is its own little world.
So knowing just "how big is Disney World?" can give you a good place to start planning your fabulous Disney World Vacation.
In this post you'll learn some specific numbers about the size of Disney World, the size of its various "parts," and how Disney World compares overall to its California cousin (and the original park), Disneyland.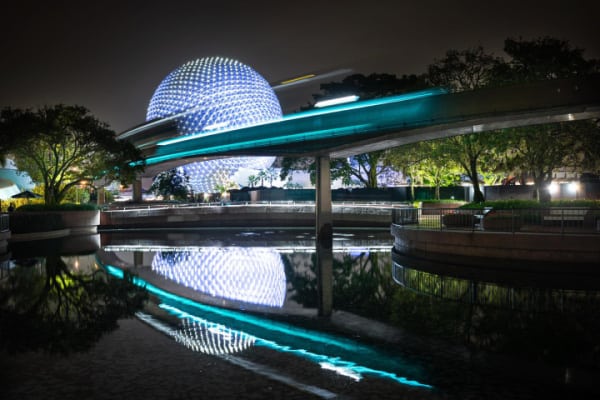 Where is Disney World Located?
Walt Disney World is located in central Florida in the city of Orlando. Orlando itself is a very large city, and it incorporates the world's biggest theme park (as well as Universal Studios, home of the Wizarding World of Potter) into its city limits.
Disney World actually spreads over 43 square miles of land, which is 27,000 acres. That means approximately 20,812 football fields would fit into Disney World.
Imagine walking all that with a toddler — or with crummy shoes. Yikes!
Disney World Florida, consists of six different parks. Four are Disney Theme Parks, and two are Disney Water Parks.
Magic Kingdom
Disney's Hollywood Studios
Disney's Animal Kingdom
Epcot
Disney's Typhoon Lagoon (water park)
Disney's Blizzard Bay (water park)
How Big is Magic Kingdom Park?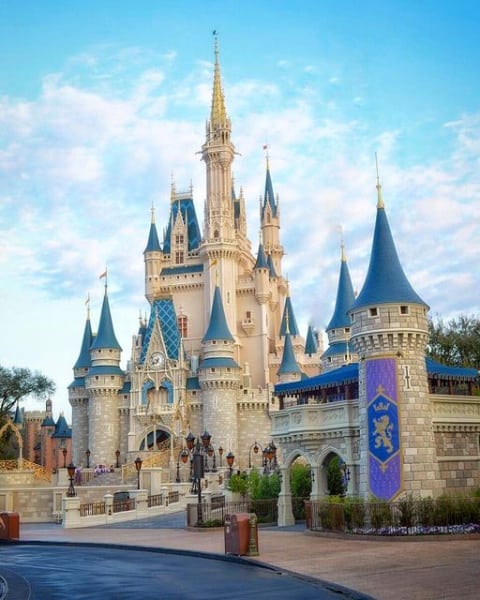 Here is a fun fact you may not have known … (I'm very big on trivia.)
Before it expanded into what it is today, Walt Disney World consisted of only one park…Disney's Magic Kingdom Park, built in 1971.
(More trivia — admission when Disney World first opened was $3.50, and then you'd have to buy tickets to ride the rides, kinda like a local fair.)
Magic Kingdom alone is 107 acres and filled with iconic and historical attractions built based on the original ideas and movies of the Walt Disney company.
Due to its size and number of attractions, you really need to spend at least one full day at this park if you want to see everything.
Magic Kingdom Main Attractions
Mickey Mouse and Minnie Mouse
Cinderella Castle
Space Mountain Ride
Big Thunder Mountain Railroad Ride
Pirates of the Caribbean Ride
It's A Small World Ride
Main street
Click here to see a thorough list and descriptions of all the Magic Kingdom attractions.
How Big is Epcot Park?
Epcot (originally EPCOT) was the second park built as part of Walt Disney World. Built in 1982, Epccot is 305 acres and therefore twice as big as Magic Kingdom.
The original EPCOT was very different from what Epcot is today. It was designed as a celebration of human accomplishment, dedicated to emerging technology and a celebration of global cultures. It was an educational park, and there were no Disney characters there other than Figment and Dreamfinder from Journey Into Imagination.
Some of the earlier Epcot attractions that are long gone include:
Body Wars
Cranium Command
Ellen's Energy Adventure
Food Rocks
The Image Works: Creative Playground of the Future
ImageWorks: The What-If Labs
Innoventions
The Living Seas (now The Seas with Nemo & Friends)
The Making of Me
Maelstrom (now Frozen Ever After)
Surprise in the Skies
Symbiosis
World of Motion
I gotta be honest: There's a part of me that wishes the original Epcot still existed. Not instead of the existing Epcot, but in addition to it. Wouldn't that be cool?
Epcot Main Attractions
Remy's Ratatouille Adventure Ride
Journey of Water – Inspired by Moana (coming soon)
Guardians of the Galaxy: Cosmic Rewind Ride
The Seas with Nemo and Friends
Spaceship Earth
Test Track Ride
Food and Wine Festival
How Big is Disney's Hollywood Studios?
Hollywood Studios was built third, in 1989, and is 135 acres, making it slightly larger than the original Magic Kingdom Park.
Hollywood Studios used to be quite a bit different as well. Originally named Disney-MGM Studios, the focus was on films and the process movie making.
Yes, I kinda wish that park still existed too. But on the other hand, current-day Hollywood Studios has Toy Story Land, Star Wars Land, and two of my favorite rides — Tower of Terror and Rock n Roller Coaster.
Hollywood Studios used to have a reputation of being geared toward a slightly older audience, but I don't think that's very true anymore.
Hollywood Studios Main Attractions
Star Wars: Galaxy's Edge
Star Wars: Rise of the Resistance Ride
Tower of Terror Ride
Toy Story Land
Toy Story Mania Ride
How Big is Disney's Animal Kingdom Theme Park?
Disney's Animal Kingdom is the largest theme park in Walt Disney World, but it is also the world's biggest theme park, period. At 580 acres of land, Animal Kingdom is home to roughly 2,000 animals that roam openly, plus rides and other attractions.
Animal Kingdom Main Attractions
Pandora: World of Avatar
Avatar Flight of Passage Ride
Na'vi River Journey Ride
Kilimanjaro Safari
Expedition Everest
Dinoland
How Big is Disney's Typhoon Lagoon?
There are two Disney World water parks your family can choose from. One is Disney's Typhoon Lagoon, and the other is Blizzard Beach.
Typhoon Lagoon is a 56-acre water park. It was the first water park built at Walt Disney World and is home to waterslides, raft rides, and other fun attractions.
Even though this is a water park, you can still see fun Disney parades, have character interactions, and see shows and fireworks.
Main Attractions
Typhoon Lagoon Surf Pool
Bay Slides
Castaway Creek
How Big is Disney's Blizzard Beach?
One water park was just not enough for Disney World. They had to defy expectations and build a second one on the resort.
Disney's Blizzard Beach is slightly larger than Typhoon Lagoon, coming in at 66 acres. Like Typhoon Lagoon, it is made up of fun water slides, shows, characters, and raft rides, you won't miss out on any of the Disney magic.
Cross Country Creek
Downhill Double Dipper
Melt-Away Bay
In the spirit of full disclosure, we have never been to either of the water parks — yet — but one key difference is that the wave pool at Typhoon Lagoon is more intense.
How Big are the Walt Disney World Resorts?
When Disney World opened in 1971, there were only three resort hotels:
Contemporary Resort
Polynesian Resort
Fort Wilderness Resort & Campground
Today there are over 25 hotels and resorts to choose from within Disney World Resort. But no matter which one you choose, they all give unique experiences you and your family will never forget.
Disney Springs used to be known as Downtown Disney (I'm feeling older as I write this post) and is the premier Disney shopping district.
Even though Downtown Disney Disney Springs isn't inside any of the theme parks, it's still part of the greater Disney World Resort. The area is 120 acres and consists of shopping, dining, and fun. The best part is that you don't need a park ticket to visit.
Restaurants and Shops:
The Edison (restaurant)
The Boathouse – (restaurant)
Chef Art Smith's Homecomin' – (restaurant)
DisneyStyle (shop)
Star Wars Galactic Outpost (shop)
The Lego Store (shop)

Disney Cirque Du Soleil (show)
How Big is Disney World Compared to Disneyland Park?
Disney World Resort in Florida = 27,000 acres
Disneyland, California, is only 500 acres
Put another way, about 51 Disneylands can fit inside Disney World
Disneyland is one park with nine distinct lands:
Adventureland
Critter Country
Fantasyland
Frontierland
Main Street, U.S.A.
New Orleans Square
Star Wars: Galaxy's Edge
Tomorrowland
ToonTown
FAQs
How big is Disney World compared to a city?
Disney World is about the same size as San Francisco.
Is Disney World bigger than New York City?
New York City is much bigger than Disney World. But Disney World is about twice the size of Manhattan (which is one of the five boroughs in New York City).
How big is Disney World in miles?
According to Encyclopedia Britannica, the Walt Disney Resort encompasses 47 square miles, or 122 square kilometers.
How long did it take to build Disney World?
According to DOZR, it it took over 19 months (and over 9,000 construction workers) for the Magic Kingdom to open on October 1, 1971.
How long did it took to build Disneyland?
It took a year to build Disneyland (the only park that was actually built under Walt Disney's supervision).
Does anyone live on Disney property?
Believe it or not, you actually can live on Disney property. (I did not know this until about two minutes ago.)
There's a neighborhood community on Disney World property called Golden Oak, located southeast of Magic Kingdom, near the Four Seasons Resort Orlando.
The people who live there have their own concierge service that helps them schedule things like VIP tours and dining reservations. In addition, this service is also available to help you with Disney-inspired holiday decor and basic household maintenance.
As you've probably guessed, it's very very expensive to live on Disney property. Houses in Golden Oak start at $2 million.
---
---