Storage for Stuffed Animals: Mesh Hanging, Chains & Hammocks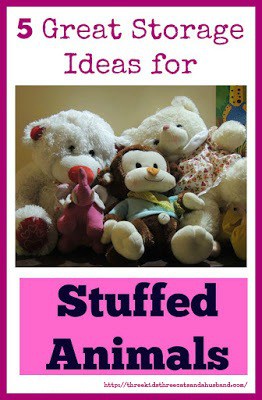 If you have as many stuffed animals as we do, you need some good storage ideas for them.
One thing that I've found to be an extra challenge about stuffed animals is that new ones come in … but the old ones rarely leave.
The stuffed Corduroy Rachael fell in love with when she was four, Benjamin's Woofie he got from his Grandma when he just a few days old, and Rebecca's entire collection of Friends, most of them huge … they're not going anywhere.
They're all here to stay, unlike the other toddler and preschool toys and board games that have gotten sold or donated over the years.
They're all part of the family.
So it's easy to accumulate a lot of stuffed animals, and storing them is always a challenge. Here are five different options that look promising and received good reviews.
Mesh Hanging Storage for Stuffed Animals
Mesh hangers are nice because you can still see all your stuffed friends, and they're up out of the way, instead of taking up half your floor or shelf space. Here are a few options:
Mesh over the Door Holder
Over Door Stuffed Animal Hanging Organizer
You've got a door, so you might as well use for storage, right?
This hanging organizer comes in six different colors (black, white, blue, grey, pink, and teal). It has four mesh pockets (the bottom pocket is the largest), so your stuffed animals aren't all in one huge, jumbled mess.
Reviewers loved that this held a huge amount of stuffed animals and could also accommodate very big stuffed animals.
However, there was an issue that some reviewers had with the hooks. Watch this short video to see what the problem is and how to fix it.
Hanging Mesh Teddy Bear Hammock
MiniOwls Toy Hammock for Stuffed Animals
This hammock comes in nine different colors, including a "rainbow" color and a "unicorn" color.
Two sizes are available:
Large: 70 x 46 x 46 inches
X-Large: 74 x 56 x 56 inches
Amazon reviewer Kimberly Valadez had some suggestions about where to drill the holes for hanging:
… The video instructions say to go down 22" from the ceiling. This might be okay if you're only doing 1 net, but I put two in the same corner.

I did 13" down from the ceiling and I wish I had done anywhere between 8" and 10" as it droops down a lot as you start filling it. I placed the second set of holes for the second one down 12" from the top one, but they are too close together. If I had gone up closer to the ceiling, a good space between the top and bottom holes going down would be 15"-17" to place the second one …So I had to put larger stuffies on the top one and smaller ones on the bottom one. It still looks great and works.

Also the drill bit I used to make the holes was 3/16.
IKEA Mesh Hanging Storage with 6 Compartments
This is kind of like giving your stuffed animals their own 5-story apartment building to live in. It easily attaches to a closet rod, although you could be creative and find other places to hang it from.
Be aware that if you put lots of animals in here, it starts to stretch and sag.
Mesh Hanging Storage Baskets
3pcs Hanging Mesh Storage Baskets
This is a set of 3 different hanging containers in 3 different bright colors. (Even though the photos show a yellow-ish container, reviewers say that it's really green.)
These hangers are a little shorter than 3 feet long, so by no means does it hang from the ceiling to the floor, or even close.
However, they work well for segregating oodles of small stuffed animals. And for 3 containers, it's quite a bargain.
Another nice thing about this set is that the hanging containers also work well for other purposes. Some reviewers used it for a hanging laundry basket or as a place to store kids' dress-up costumes.
Others say it's perfect for hanging dirty clothing while on a camping trip.
Video — How to Make a DIY Stuffed Animal Hammock
Want to be adventurous and make your own hammock? This video shows you how!
Hanging Basket Storage
Baskets are always pretty, and if you want something a little more decorative than mesh, this is a nice alternative. It could be on the wall or behind a door.
As you can see, it wasn't specifically designed for stuffed animals, so I'm kind of going out on a limb suggesting it, but I don't see why it wouldn't work.
These baskets are foldable and machine washable. They come with over the door hooks. They have a depth of 7 inches and a width of 13.5 inches. Each basket can hold hold up to nine pounds.
Over-the-Door Hanging Organizer
Stuffed Animal Storage Zoos
If you don't like the idea of hanging storage, another possibility is a "stuffed animal zoo."
Because of their vertical design, they don't take up much floor space.
Wooden Stuffed Animal Zoo Storage
Wooden Stuffed Animal Zoo Storage
This animal zoo is made of engineered wood and measures 18 x 20 x 54 inches. It has a firm bottom, making it easy to re-position or even transport if needed.
Reviewers liked how this zoo has a nice decorative look to it.
PVCStuffed Animal Zoo
This zoo is made with PVC and measures 60.6 x 21.8 x 13.7 inches.
Reviewers liked how this "zoo" was quick and easy to assemble and that it was sturdy and well-balanced, so that it wouldn't tip over easily.
It's worth noting that there's no bottom — which is fine if it's going to stay in the corner of your child's bedroom. But if you plan to move it around a lot, it wouldn't be a good choice, because the animals would keep falling out.
Stuffed Animal Storage Bean Bags
Your stuffed animal friends are soft and fluffy. Why not put them to good use and have them be the stuffing of a soft bean bag chair?
Creative QT Stuffed Animal Storage Bean Bag
Creative QT Stuffed Animal Storage Bean Bag Chair
This bean bag is available in twelve different designs, including ones with polka dots and stripes.
The large size in 33 inches in diameter, and the extra-large is 38 inches.
You wash put it in the washing machine on the gentle cycle, then hang it up to dry.
Amazon reviewer was skeptical that this would be a good solution for her kids' stuffed animal overpopulation issues, but was pleasantly surprised:
… After I filled it with 80% of the kids' stuffed animals, they brought me more and I said, "I don't think they will fit." But the kids insisted, so I tried, and much to my surprise and delight, they fit. They brought me more, and those fit, too. Then we zipped it up, and the kids all took turns jumping on it, jumping off it, curling up and taking a "nap," and rolling it around their room like a boulder.

Later that night, while their daddy read them bedtime stories, I plopped down on the stuffed-animal bean-bag chair and nearly fell asleep myself – it was certainly comfy even for my adult body.

So we eagerly purchased a second one to fit the remaining few stuffed animals and some extra blankets.

Pros:

Fits many, many stuffed animals.
Multi-functional storage – keeps floor clear of stuffies and also can be used as a bean-bag chair and in countless imaginative play scenarios.
Sturdier than I expected – looks like it would hold up to the wear and tear it will undergo.
Flap to cover zipper – looks nice, and discourages kiddos from playing with the zipper.

Cons:

Once filled, it's pretty heavy. Although it is sturdy, I try not to haul it around by the handle just in case it were to rip out. Thankfully, the kids really do like rolling it around.
Stuffed Animal Storage Bean Bag Chair
Stuffed Animal Storage Bean Bag Chair
If you find traditional bean bag too lumpy and awkward to actually sit on, you might prefer this longer design, which is more like a sort lounge chair.
If you actually want your kids to use the chair for reading, watching TV, or maybe even sleeping, this would be the better choice.
Amazon reviewer Brandi Williams looked at hundreds of these types of bean bags and is really glad that she picked this one:
The fabric is so soft. The print is amazing … Seems like it's not going to get too dirty too quickly. There is stretch to the fabric which is perfect because it conforms to the kids and the stuff inside. They are quite large, my 10 year old son can lay on them and not be hanging off. I'd say its probably the same size advertised online. But it stretches, so may be a little bigger after stuffing if.you want.

Great for a 2 year old too, it's like a cozy couch/lounge when watching TV, reading or playing quietly. Seems to be pretty durable as my 6 year old drug her's from one room to the other by the loop and it didn't get damaged. The zipper seems to be made well and works with ease … I'm incredibly happy, and so are the kids …
MiniOwls Storage Teddy Toy Chain
MiniOwls Storage Teddy Toy Chain
Hanging toy chains are a nice option if you have less toys, smaller toys, and want to use minimal space.
They're also great if you want to always be able to see the stuffed animals, and not forget about them because they're buried in a mesh net, hanging up in the closet, or inside a bean bag.
This is a white chain that comes with twenty hooks.
DIY Stuffed Animal Storage Ideas
DIY Hanging Animal Swing Set
DIY Branch Swing Shelves
Video — DIY No-Sew Stuffed Animal Storage Solution
Video — Stuffed Animal Storage Hacks
---
---