This post probably contains affiliate links. The full disclosure policy is pretty boring, but you can see it here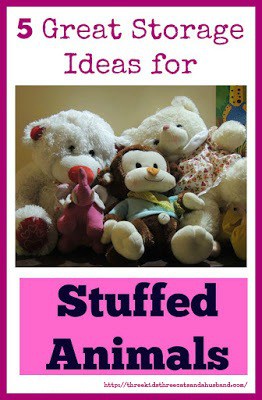 If you have as many stuffed animals as we do, you need some good storage ideas for them.
One thing that I've found to be an extra challenge about stuffed animals is that new ones come in … but old ones rarely leave. The stuffed Corduroy Rachael fell in love with when she was four, Benjamin's Woofie he got from his Grandma when he just a few days old, and Rebecca's entire collection of Friends, most of them huge … they're not going anywhere. They're all here to stay, unlike the toddler toys and preschool board games that have gotten sold or donated over the years.
They're all part of the family.
So it's easy to accumulate a lot of stuffed animals, and storing them is always a challenge. Here are five different options that look promising and received good reviews.

Mesh Hanging Storage with 6 Compartments

Related posts: