Storage for Stuffed Animals: Mesh Hanging, Chains & Hammocks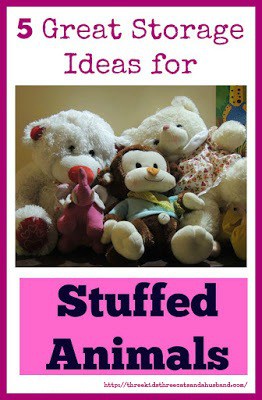 If you have as many stuffed animals as we do, you need some good storage ideas for them.
One thing that I've found to be an extra challenge about stuffed animals is that new ones come in … but old ones rarely leave. The stuffed Corduroy Rachael fell in love with when she was four, Benjamin's Woofie he got from his Grandma when he just a few days old, and Rebecca's entire collection of Friends, most of them huge … they're not going anywhere. They're all here to stay, unlike the toddler toys and preschool board games that have gotten sold or donated over the years.
They're all part of the family.
So it's easy to accumulate a lot of stuffed animals, and storing them is always a challenge. Here are five different options that look promising and received good reviews.
Mesh Hanging Storage for Stuffed Animals
Mesh Hanging Storage Baskets
3pcs Hanging Mesh Storage Baskets
This is a set of 3 different hanging containers in 3 different bright colors. (Even though the photos show a yellow-ish container, reviewers say that it's really green.)
These hangers are a little shorter than 3 feet long, so by no means does it hang from the ceiling to the floor, or even close.
However, they work well for segregating oodles of small stuffed animals. And for 3 containers, it's quite a bargain.
Another nice thing about this set is that the hanging containers also work well for other purposes. Some reviewers use it for a hanging laundry basket or as a place to store kids' dress-up costumes.
Others say it's perfect for hanging dirty clothing while on a camping trip.
IKEA Mesh Hanging Storage with 6 Compartments
5-Tier Hanging Mesh Organizer
MiniOwls Toy Hammock for Stuffed Animals
Video — How to Make a DIY Stuffed Animal Hammock
Over-the-Door Hanging Organizer
Stuffed Animal Storage Zoos
Personalized Wooden Stuffed Animal Zoo
Stuffed Animal Storage Bean Bags
Creative QT Stuffed Animal Storage Bean Bag
Creative QT Stuffed Animal Storage Bean Bag Chair
Jumbo Stuffed Animal Storage Bean
Jumbo Stuffed Animal Storage Bean Bag [Unfilled]
Boon Stuffed Animal Storage Bag
Boon Stuffed Animal Storage Bag
(Interestingly, also comes in orange, at a cheaper price)
Stuffed Animal Storage Chains
Dreambaby Toy Chain
Dreambaby Hanging Toy Chain and Hammock Combo
Dreambaby Super Toy Hammock and Toy Chain
MiniOwls Toy Chain with Clips
DIY Stuffed Animal Storage Ideas
DIY Hanging Animal Swing Set
DIY Branch Swing Shelves
Video — DIY No-Sew Stuffed Animal Storage Solution
47 inch Big Plush Teddy Bear

Stuffed Grey Elephant

Giant Stuffed Puppy Dog (51 inch)

Giant Teddy Bear

Giant Cute Soft Teddy Bear (White, 47 Inch)

Giant Teddy Bear, 4 Feet Tall, Brown

Video — Stuffed Animal Storage Hacks
---
---