Kona Cafe at Disney's Polynesian Resort
This post probably contains affiliate links. You can read the details about what that means here.
About a week before our trip, I realized that we still had another Table Service meal on our Dining Plan that was unaccounted for. I knew that I didn't want to eat at yet another restaurant in one of the parks, and I was pleasantly surprised when I could easily get a lunch reservation at Kona Cafe this late in the game.
If for no other reason, going to Kona Cafe was worth it just to go to the Polynesian Resort. We had never seen it before, and it was beautiful to say the least. It also gave us a reason to ride the monorail. As Rachael said, "It's not really a Disney vacation unless you ride the monorail."
Not only was it nice to get out of the parks and see a new resort, but the food here was fantastic. The girls were afraid to be adventurous, and each of them got a bacon cheeseburger and fries, which they enjoyed very much. I ordered the Grilled Teriyaki Steak with Pineapple Salsa, which also came with sticky rice and pasta salad.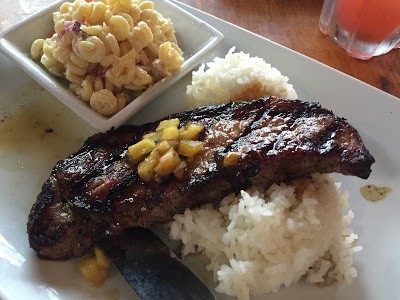 The desserts were amazing too. I loved the Chocolate and Banana Creme Brulee, while Rachael ordered the Kilauea Torte. (We thought the Mickey whipped cream and raspberries was a nice touch!)
---
---