6 Things to Know About Disney World in Summer 2021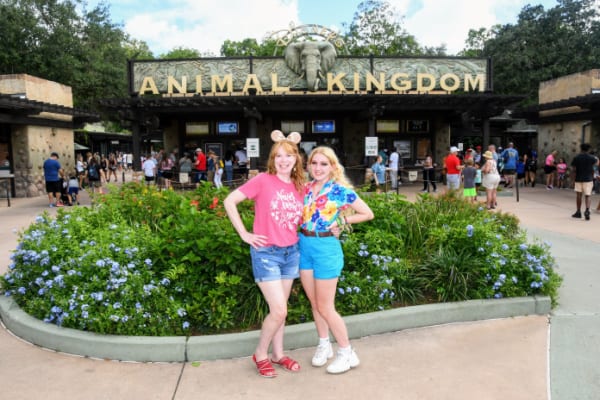 This post probably contains affiliate links. You can read the details about what that means here.
It's quite unlike me to take a Disney World trip with such little notice, but between the fact that
I was about to start a brand new job
Masks were (for the moment) no longer required
After a few years of not caring, my daughter really wanted to go to Disney World
we booked a quick trip in July 2021 only two weeks ahead of time.
There weren't many bells and whistles; we stayed in a cheap hotel that was adequate but certainly nothing special, and the only dining reservation we had was at Raglan Road in Disney Springs.
It was first post-Covid trip, and over a year later, there were still many changes that made the parks different.
Here were the things that struck me during our first post-Covid Disney trip:
1. I hated my park bag — and know exactly which one I want for my next trip.
You'd think that after writing about this kind of stuff in depth, I wouldn't screw it up, but I did.
Since our trip was so last minute, I grabbed a cheap, brown crossbody purse at Target, thinking I would use it in "real life" too. I didn't even test it out.
Stupid, stupid.
It was way too small for the trip. I couldn't fit both my phone and the charger brick into my purse at the same time, which meant my phone always died before the end of the day. Also, my sunglasses wouldn't fit. Extras like sunscreen were out of the question. I was annoyed and complain-y about it the entire trip.
What made me really want to kick myself was that I saw many people with Loungefly Disney mini-backpacks that I loved. They were cute, easy to carry, and held a bunch of stuff.
I tried shopping for one a couple days into our trip, but the only one I could find that I liked at all was a Fox and the Hound design, and like … really? Did anyone even see that movie?
As much as I have nothing against foxes (or hounds), I just couldn't bring myself to spend that kind of money on something I didn't really love.
So I [very stupidly] had to suffer with an ugly, inadequate park bag, while people with the perfect Disney bag were walking past me all day.
DO NOT DO THIS.
Get a good bag. Test it out beforehand.
[By the way, even though I'm not going to Disney World again any time soon, I still want to get a backpack, but can't decide between these three. Feel free to leave your vote in the comments below.]
Loungefly Disney Cats Mini-Backpack
Loungefly Disney Aristocats Piano Kitties Mini Backpack
Loungefly X Disney Alice In Wonderland Allover Print Mini Backpack
2. There are still no Fastpasses. (although it may look like there are).
So Fastpass stopped being a thing once Disney World was temporarily shut down in March 2020 due to the pandemic.
In the middle of me working on this post — somewhat ironically, I had to set it aside because I got Covid — it was announced that Fastpass would never, ever be returning.
I don't want to get into all that right now, but let's just say that, at the moment, it's going to look like Disney World is still using Fastpass. You'll see people walking through the Fastpass queues and boarding the rides much more quickly than you. And you might [understandably] be confused.
More importantly, you'll be thinking — like a saw a man ask a cast member when we walking through the Fastpass line at Peter Pan — "How do I get in that line?"
Well, right now the Fastpass line is the Disability Access Service (DAS) line.
Quite unexpectantly, we were able to use DAS on this trip because of my daughter's friend's sensory issue. Expect a post from me sometime about DAS, how it works, who qualifies, and who doesn't.
Although I might wait a while before writing it, because it sounds like it's all going to change fairly soon anyway with the arrival of the new Genie + system.
3. You need to wear masks only on Disney transportation indoors.
See why it's so hard being a Disney blogger? Things change about every five days.
We were lucky enough to be at Disney World in mid-July when masks were no longer required (except for on Disney transportation, and yes, it was enforced) but within less than two week after we came home, that changed. At the time of this writing, masks are now required indoors.
4. Parks are already almost at full capacity.
One of my readers specifically asked me what the park capacity was right now. Like the good blogger that I am, I sought out a cast member at the monorail and asked exactly that.
She told me that she couldn't give me specific numbers, because it depended on the park and the day, but that Epcot would be back at full capacity by the end of the week (July 17).
I'm guessing that if Epcot is already at full capacity, the other parks aren't too far behind. In retrospect, I'm kinda sorry we didn't go to Disney World a few months earlier when crowds were significantly lower.
5. There are no character meet and greets (and yes, it's kind of a bummer).
You probably already knew that there were no Disney character meet and greets at the moment. Instead, there are "cavalcades" like the photo above.
These are cute, and certainly better than nothing, but man, it's not the same thing.
In the first place, they were practically a blink-and-you'll-it event. In Epcot, my daughter was walking ahead of me and called out, "Look, it's Winnie the Pooh chasing butterflies!" By the time I caught up with her and saw where she was pointing, Pooh had literally turned around and was walking back over the hill.
Second, there weren't very many of them. I think we saw about three or four character cavalcades per a day, which isn't very many at all for an experience that lasts less than two minutes, depending on where you are.
So not only do you not get to meet the characters and get your photos taken with them, but you just don't get to even see the character out and about very much. And yes, it did make the parks feel different to me.
6. You can use the Photopass photographers to use your cell phone, but they may decline.
I didn't want to pay for Memory Maker for this particular trip, partly because it was only for 3 days, and partly because of the lack of character meet and greets.
So I tried the money saving hack of just giving my phone to the Photopass photographer.
Two photographers took some photos no problem, one refused, and one was hesitant, but agreed when I told her that she could sanitize my phone.
Apparently it's up to the photographer's discretion right now. I'm assuming that's a Covid thing, although that's a guess.
Anyway, you can still try it, just don't be disappointed if the photographer tells you no.
7. There's not much pin trading right now.

My favorite thing about Disney pin trading, personally, is that it's fun to always be on the lookout for cast members with pin lanyards, then go up to them and chat a little while you're checking out their pins.
Well, due to Covid, the Disney cast members aren't wearing lanyards, which made pin trading on this trip almost non-existent. You can still ask in the gift shops if they have a pin trading board, but we didn't think of it most of the time.
What has your recent Disney World trip been like?
Have you been to Disney World post-Covid? Were you disappointed? Anything else you want to share? Which backpack should I buy?
Let us know below in the comments!
---
---