How to Beat the Disney Rash on Legs — Symptoms & Treatment
This post probably contains affiliate links. You can read the details about what that means here.
So I guess I'm really slow when it comes to certain things ,,, but I just discovered last week that there is something called "The Disney Rash."
As you'll see in a moment, it isn't really a rash at all, but it is kinda ugly and often uncomfortable.
Since the last thing you want is to physically uncomfortable during your Disney trip, I did some research about this so-called "Disney Rash," what causes it, how to help prevent it and what treatments are effective.
Of course I need to put the disclaimer that I am not a medical professional in any way, and my only "qualification" to discuss this is that I spent a couple hours doing Internet searches. (You can see the bibliography at the end of this post.)
What is the Disney Rash?
The medical term for "Disney rash" is Exercise-Induced Vasculitis.
It technically isn't a rash at all, but rather an irritation of the blood vessels due to prolonged exercise in the heat.
What does the Disney rash look like?
The "rash" is typically on the lower legs and can appear as red blotches, purple patches, or small dots. It may or may not cause itching and is usually accompanied by swelling (or what medical people call "edema").
Is the Disney Rash Dangerous?
Nope.
(It's not contagious, either, since it isn't really a rash.) It's just yucky-looking and irritating.
How Long Does it Take for the Disney Rash to Go Away?
The Disney rash will resolve on its own several days after you come home from vacation. There are some treatments that may help reduce it a little or at least make you feel a little better, which will talk about in a moment.
✅Disney Rash Prevention
There are a few things you can do to reduce the likelihood of getting a Disney rash:
Don't be a woman over the age of fifty.

I'm really sorry to say that woman over fifty years old are more likely to get Exercise-Induced Vasculitis that anyone else.

But you can't do much about that one way or the other, so let's move on to number two …

Start training before your trip.

Getting in the habit of walking regularly means less of a shock to your body when you have to trek ten or more miles around Epcot in the heat. Consider making a family walk each evening party of your Disney vacation countdown. This is also a great way to break in your walking shoes.

Drink plenty of water.

This is always a good idea at Disney World. Remember that you can get free ice water at any counter service restaurant. If you consider Florida tap water to be kind of nasty-tasting, consider getting a filtered water bottle.

Use sunscreen.

Again, this should be a non-negotiable on any Disney trip, but some people report that it helps prevent the Disney rash in addition to protecting them from sunburn.

Take a NSAID before and during your trip.

This doesn't seem to work for everybody, but some people claim that taking non-steroid anti-inflammatory drugs (NSAIDS) like aspirin, ibuprofin, or naproxen before the start of the trip.

If you don't normally use those medications, you might want to check with your doctor first, because there are some people (who like) who shouldn't take them.

Motrin IB, Ibuprofen 200mg TabletsAdvil Coated TabletsBayer Genuine Aspirin (500 ct.)Aleve Liquid Gels, Naproxen Sodium Capsules 220 mg (NSAID)

Elevate your legs.

When you get back to your hotel room at the end of the day or during your midday break, prop your feet up on a couple pillows while you nap, check your email, or watch Netflix.
✅Disney Rash Treatment
Okay, so you walked regularly before your trip, elevated your feet, slathered yourself in sunscreen, and popped Advil every day … but you still have itchy bumps all over your legs.
How do treat this "Disney rash"?
First of all, remember that there is a First Aid center in every Disney park, including the water parks They carry anti-itch cooling gel, and antihistamines, which should be able to provide at least some relief.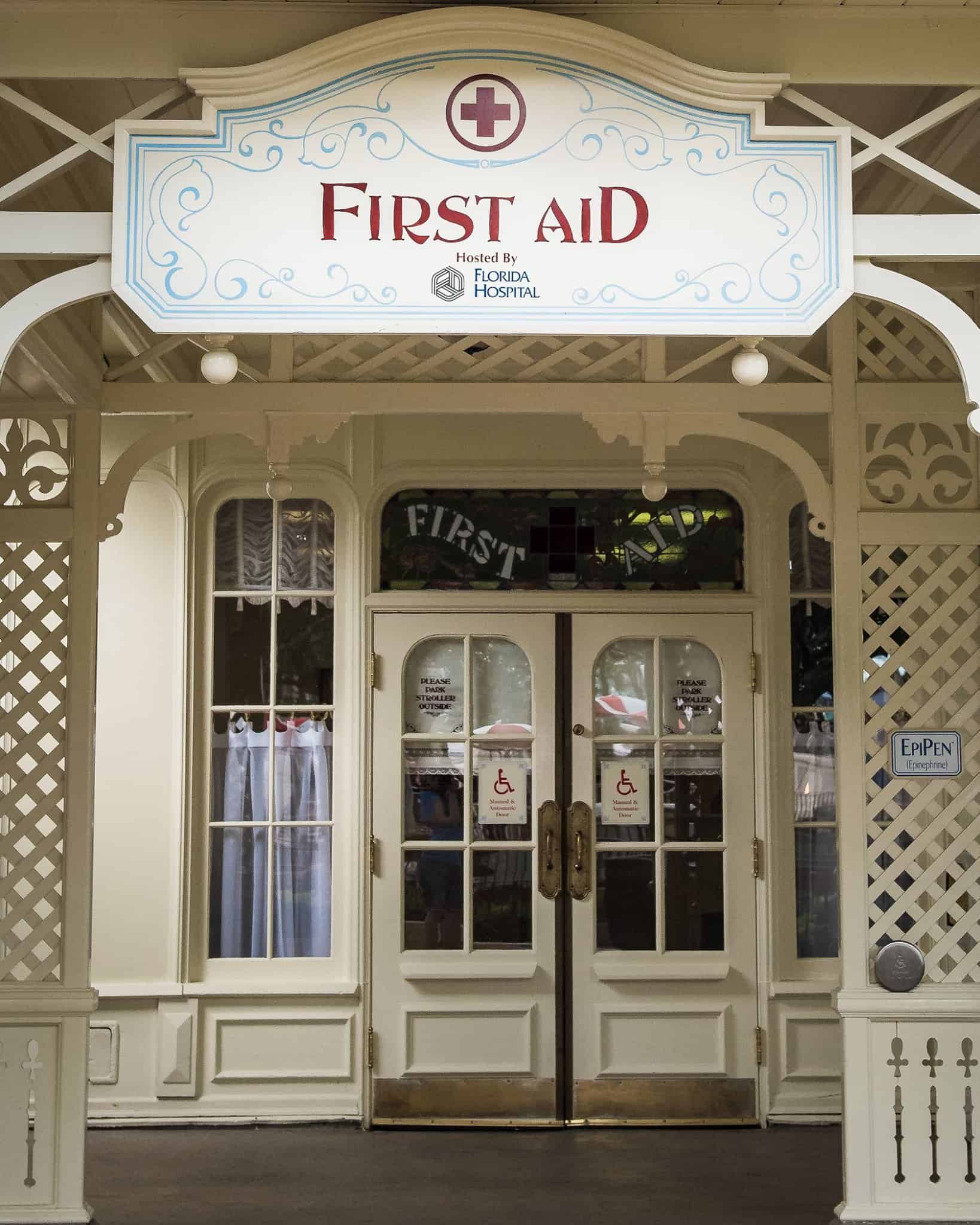 Using witch hazel towelettes and itch-reducing lotions can also helpful.
Dickinson's Original Witch Hazel an Towelettes
Eucerin Eczema Relief Cream – Full Body Lotion
CalaGel: Medicated Maximum Strength Anti-Itch Gel 6 oz
AllerClear Loratadine 10 mg Antihistamine Tablets
Nohal on the DisBoards found something that worked like a charm for her:
I always get the Disney Rash … The older I get the worse the rash is … This trip I brought Gold Bond medicated powder so [my husband's] suggestion was to put the powder on my legs (also worked for chafing when the Gold Bond stick didn't work), let it sink in a little, then put suntan lotion over top.

The rash started to clear and for the next 6 days of our trip didn't come back and neither did the chafing on my thighs. Worked great for me hope it works for others.
Gold Bond Extra Strength Medicated Body Powder
Narnia_girl on the Disboards lists several things that helped her:
I get the Disney rash (golfer's vasculistis) every time and it's miserable for me. Very itchy.

I've searched every tip and suggestion. I've also been to first aid at WDW and Universal for the Calagel lotion (it does help).

For relief when you have it, a few things helped me:
1) Resting and elevating my feet up every chance I got–during shows, breaks, in transportation etc…

2) Having a couple of non-park days.

3) I also take a small dose of Benadryl (break a 25 mg tablet in half) and take that every four hours during the day; at night I take a full tablet. This helps relieve itching.

4) I've read that drinking a lot of water and starting Ibuprofen a week ahead helps, but I'm not sure if that was effective for me.

5) What has helped me prevent it the most is wearing tall socks. Last July when we were there I actually wore toe socks with my Birkenstocks and I looked well, goofy.
But it worked! The pressure from the socks must prevent blood vessels from expanding.
Now I know there no-way-no-how-no-heck I'm wearing socks like that to Disney World (if for no other reason than my teenage daughters would refuse to be seen with me), but … I guess if you're in enough discomfort, you'll do what you gotta do.
Other Rashes That are Common at Disney World
In addition to Exercise-Induced Vasculitis, there are a few other things that may be going on if you experience a rash during your Disney trip.
Polymorphic Light Eruption
This actually is a rash, and it's caused by sun exposure in people who have developed sensitivity to sunlight. It looks like a Dense clusters of small bumps and blisters and is often accompanied with itching and burning.
Fair-skinned females are more at risk for PLE (sigh).
Like Exercise-Induced Vasculitis, treatment includes using sunscreen (or avoiding the sun), and using anti-itch cream, oral antihistamines, and Ibuprofen.
Prickly Heat Rash
Heat rash is caused when blocked pores trap perspiration under your skin. It manifests itself in blisters and/or deep, red lumps. It may feel prickly (hence the name) or very itchy.
Heat rash usually develops in skin folds and places where your clothing causes friction. It can be prevented somewhat by wearing loose, lightweight, cotton clothing.
Now it's your turn.
Have you ever gotten the "Disney Rash"? Do you have have any tips or suggestions on how to prevent or treat it?
Have you ever had the Disney rash?
How about you?
Have you ever had the Disney rash?>/li>
If so, what helped?
Do you think you would do anything differently next time to prevent it?
Let us know below in the comments!
Bibliography
Healthline

---
---