Review of the Aroma 8-cup Digital Rice Cooker with Delay Timer
This post probably contains affiliate links. You can read the details about what that means here.
[This was originally written when I was researching which rice cooker to buy. After doing some preliminary research, the Aroma appealed to the most, so I drilled down and did the following research on it, then decided to purchase it. You can scroll down to the bottom to read my updated notes that I added after we'd used it for a few months.]
We're big rice eaters in my house — especially my oldest daughter Rachael, who considers rice one of her favorite foods (along with Cheerios and oatmeal).
I like rice because it's cheap, easy, and go with almost anything to make a decent meal. I've served rice alongside salmon or chicken, combined it with beans and/or sausage or even heated up some frozen peas to stir in it. I've dressed up rice with lime juice and cilantro, and even stirred in a combo of feta cheese, pine nuts, and raisins. (Which I love, but I might be the only one.)Rachael has recently informed me that rice tastes way better at her friend's house, prepared on the stove, than it does in the microwave like we always do it. And in fact, the Pampered Chef micro cooker I've been using to cook rice for the last fifteen years is definitely looking pretty sad — warped and slightly stained on the bottom. And let's face it, microwaved food usually doesn't take as good. So I decided it was time to look into getting a rice cooker.
Okay, so the first one that I investigated was the Aroma 8-Cup (Cooked) Digital Rice Cooker and Food Steamer. It appears to be a very popular rice cooker, has a 15-hour delay timer, and is very reasonably priced. I know I don't want to pay a fortune on this to get bells and whistles that we don't really need.
Aroma 8-Cup Digital Rice Cooker with Timer
Does the Aroma Cook Anything Other Than Rice?
In addition to cooking rice, the Aroma 8-cup Digital Rice Cooker also steams vegetables and [pre-cooked] meat. You can steam the vegetables while you cook the rice, or you can prepare either the rice or the vegetables alone. 
I love this idea because you can easily prepare an entire healthy meal. using just this one appliance. However, keep in mind that steaming vegetables make them a little more bland than, say, sauteeing them in a ton of butter, so depending on how you prefer your vegetables, this may not be your thing.
There are two different rice settings — one for white rice, and the other for brown rice. It takes about twenty minutes to cook white rice (depending on the amount) and about forty-five minutes to cook brown rice. My research found that the white rice "comes out perfectly every time," but the brown rice was more challenging and required adjusting the amount of liquid.
You can also prepare oatmeal in this cooker, which is another plus for our family because several of us enjoy having oatmeal for breakfast.  The oatmeal boiling over and making a mess was often a problem. I did read that adding a dash of salt, leaving the lid off, or stirring it periodically makes that less likely to happen.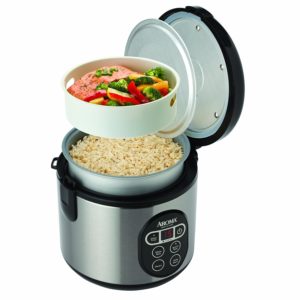 Does the Rice Cooker Have a Delay Timer?
This cooker has a 15-hour delay timer, which is fantastic for several reasons. Even on days when I'm home, I often like to set up as much of the dinner prep as I can in the morning so I'm not scrambling to do everything at dinner time. And it goes without saying how helpful this would be for people who work away from home full-time, or for afternoons when you're running errands or at kids' activities.
There is an animated indicator display while it cooks, which switches to a countdown timer for the final minutes. When it's finished cooking, it beeps (a rather shrill beep) and automatically switches to Warm mode, where it can stay for up to ten hours. However, I would not recommend keeping it in Warm mode for more than two hours max, or else the rice will start to dry out.
It Says 8 Cups, But How Much Rice Does it Really Cook?
It can cook as little as half a cup of uncooked rice, and claims to cook up to four cups of uncooked rice. However, it really does not hold that much rice and water, and if you try to make that much rice in it, you will probably end up with a big mess.Still, two cups of uncooked rice (which comes to four cups cooked and seems to be the maximum "safe" amount) would be plenty for our family. We don't like leftover rice, so we would never want to make twice as much rice as we need and save the rest for later. However, if you often have company for dinner, or have a family of six or seven people who all adore rice, you might want to consider the Aroma 20-cup Rice Cooker instead.
Is it Easy to Clean?
The Aroma Rice Cooker is not dishwasher safe, but it is easy to clean. The inner cooking pot (which is non-stick) and all accessories remove for easy cleanup. In addition to the cooking pot, you also need to wash both the lid and the small plastic attachment that captures the condensation when the lid is open. It normally takes a minute or two to completely clean after use.
The one possible exception to this is the top rim of the cooker, which is very difficult to clean if the rice boils over — which, of course, is more likely is you make more than two cups of rice.
What are its Dimensions? 
The cooker itself is 8.7 inches x 8.5 inches x 9.3 inches, and the vegetable tray, which is made of BPA-free plastic, is 6.5″ in diameter and 1.75″ deep.
The cooking pot is made of Teflon-coated aluminum. Teflon coatings flaking off is often a concern, but in this case it's unlikely that you would ever scrape cooking utensils against the pot.The power cord is not retractable.
The cooker comes in two colors, white and silver. And here's something interesting: Did you know that products on Amazon can cost different prices depending on the color? Click here to view the two slightly different prices depending on whether you purchase a white or silver cooker.
What Accessories Does it Come With?
In addition to the pot, lid, and Steam tray, the cooker comes with a rice measuring cup, a 7.5 inch serving spatula (and a hook to hang it from), and recipes and coupons for Mahatma® and Carolina® Rice.Keep in mind that the "measuring cup" is really 4 oz and not a full cup. Instead of the cup, you could also use the raised measurement lines that are inside the inner pan.
Pros
The Aroma 8-cup Digital Rice Cooker with delay timer is very easy to use and makes very fluffy, flavorful rice that comes out perfectly. (The possible exception is brown rice, which is a little more challenging to find the right balance of rice and liquid.)
In addition, the cooker doesn't take up much counter space, which is great if you either a) Have a small kitchen counter; b) Already have a bunch of appliances in your kitchen; or c) Simply hate clutter.
Cons
There were some mixed reviews about whether this rice cooker was messy. Most people said it was very quick and easy to clean; however, others said it made a "huge mess" with the rice bubbling over. and particularly getting stuck in the rim, where it was almost impossible to clean.My best guess is that this discrepancy might be from the amount of rice being cooked. As mentioned before, even though this rice cooker claims to cook eight cups of rice, it doesn't work well — if at all — with more than two cups of uncooked rice (which comes to four cups cooked rice).
Other possible cons are that the beeping sound when the rice is done is loud and reminiscent of a fire alarm, and the cooking time is a little longer than some other rice cookers.
Consumer Ratings
This rice cooker has very good reviews overall on both Amazon and Wal-Mart. Comments that were repeated again and again were that "the rice comes out perfectly every time" and "easy to use even for people who can't cook."
Price
This is one of the lowest-priced rice cookers I could find listed online. In fact, I found two rice cookers that were over twice as much, and two that were over four times as much. 
Summary
As of this writing, the Aroma 8-cup Rice Cooker with Delay Timer is the only rice cooker that I have thoroughly researched.
Right now it sounds perfect for our family's needs — it has a timer, is easy to clean, it also steams vegetables and makes oatmeal, it makes a decent amount of rice for our purposes, and the rice comes out well.
Update After I Bought It: 
I was originally going to write at least two more in-depth posts about other rice cookers, but I ended up buying the Aroma 8-cup after I finished writing this one and doing some more brief research. I suppose one could chalk that up to laziness, but I'd like to think that it was because I was convinced that it was a good fit for us.
So what are my thoughts after using it for a few months?
First of all, the rice does, in fact, come out perfectly every time. We've used it countless times and never once had an issue with it being crunchy, or bunt, or watery. I've never used it to make brown rice, simply because I don't like brown rice, so I can't speak to that. But white rice? Fantastic!
We also cook oatmeal in it, setting the delay timer the night before so that it's ready when we wake up in the morning. This is a real treat, because we've tried oatmeal in the crockpot with … well, sometimes strange results.

On the negative side, the rim is difficult to clean throughly, because it's hard to get into. I either a) Wet a paper towel, stick my index finger in it, and wipe it the best I can; and/or b) Try to ignore the fact that it's not perfectly clean under there.
As for cleaning the removable parts: Other members of my family ending up putting them in the dishwasher multiple times even though you're not supposed to, and it's caused no problems. I'm not saying that I recommend doing that. I'm just reporting the facts.
Our biggest complaint about the Aroma, interestingly, is that the vegetable steamer is too small. My daughters, believe it or not, really like broccoli. I cram the steamer as full as I can, but there's still not enough for everybody. Strange problem to have, I know.
Click here to add this post to your Pinterest board!
Other Kitchen Appliance Reviews
Best Waffle Makers with Removable Plates
---
---