Mickey Mouse Grilled Cheese Sandwich Makers and Cutters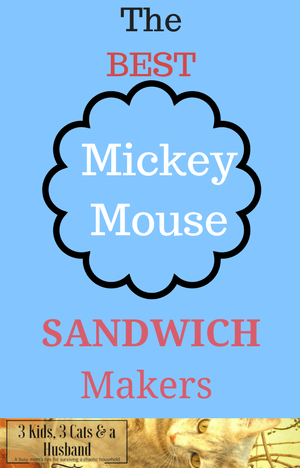 This post probably contains affiliate links. You can read the details about what that means here.
Part of the fun of going to Disney World is the anticipation. Whenever we have a Disney trip planned, our family spends months preparing for it by watching videos, reading restaurant reviews, and buying unique things that we need for the trip.
One way to get in a "Disney mood" is by making Mickey Mouse food!
I researched Mickey grilled cheese sandwich makers as well as cutters that can turn any type of sandwich into a set of mouse ears. I also included some cute containers for kids to put their sandwiches in, plus a Mickey Mouse toy that lets kids create pretend sandwiches out of wooden play food.
So here we go …

Mickey Grilled Cheese Sandwich Maker

This chrome hot sandwich maker has Mickey's face emblazoned on both the inside and outside. It has a non-stick interior (it just needs some cooking spray before using) and makes two pocket sandwiches.
Two features that parents will particularly like are the cool touch handles and the lock that prevents little finger from opening the lid during baking.
It comes with a booklet that contains not only instructions, but also some sandwich and dessert recipes.
Amazon reviewer Kaylasmomma loves how it is so much more than just a grilled cheese maker:
Originally I bought this for my daughter so I could make her quick grilled cheese sandwiches with a face she could recognize. She loved it.
Then I started using it to make me breakfast sandwiches …
✅ Click here to read the rest of Kaylasmomma's review.
Here's another hot sandwich maker with Mickey's face on it. Unlike the above sandwich maker, which shows Mickey's face from a front angle, this one puts Mickey's profile on your sandwich, as well as the name "Mickey" underneath it. The appliance itself also has a little more of a "fun" look to it, due to its red color and the fact that Mickey's face on the outside of it is much bigger.
This sandwich maker got several 5-star reviews and people who said that they or their grandkids "loved it." It's also considerably less expensive than the VillaWare above.
However, there were definitely several people who did NOT like this sandwich maker and gave it one star.
✅ Click here to see all the ONE-star reviews for this sandwich maker.
If you just want to take an existing cold sandwich and make it in the shape of Mickey ears, this cutter is a clever and inexpensive tool. One of the nice things about this cutter is that is just the right size to remove the crusts (which are vile to many kids) while not creating too much waste. It also works well for shaping burgers, which could be a great idea for a Mickey Mouse birthday party!
This isn't a specific "Mickey" cutter, but it's the same concept and still gets the job done. The top is made of red BPA free plastic, which makes it not only fun, but also much easier to push down. The bottom is made of stainless steel so it can easily cut through bread, cookies, brownies, and rice krispie treats.
Amazon reviewer Jennifer Comeaux says:
The quality of the cutter is really nice. The grip makes it comfortable to use. The metal is sturdy yet made thin enough on the cutting side to easily slice through sandwiches, thus avoiding the smashed effect we have found with a lot of cutting tools. I was even able to cut through flat bread sandwiches for days that my boys wanted that as an option. This definitely will be the "go to" cutter in our box of lunch tools!
This video shows a clever way to "dress up" your a "mouse ears" grilled cheese sandwich by using tomato soup, some extra cheese, and a pastry bag tip.
Mickey Mouse Grilled Cheese | Dishes by Disney

Disney Minnie Mouse Plastic Sandwich Cutter

If you're like us and have some Minnie fans at your house, you can use this cutter to make them Minnie Mouse sandwiches! Some reviewers claimed that having the bow cut all the way through caused some messy peanut butter sandwiches, but others said it created "super cute sandwiches" after a little practice. It's great for cutting biscuits as well. And it's a very pretty pink color, as you can see from the side angle photo.
It occurred to me that all these fun Minnie and Mickey sandwiches needed a cute way to be brought to school or on a picnic.
I didn't see any Mickey Mouse sandwich containers on Amazon that I liked, but I thought this official Disney pink plastic container was cute and would do the job to prevent your daughter's sandwich from getting smushed:

Minnie Mouse Sandwich Container

There weren't any plastic containers on etsy, but there were some attractive reusable bags:
This is a really pretty 12×12 inch bag that closes with a zipper to keep your child's lunch fresh. It can be turned inside out and washed on the top rack of the dishwasher.
The etsy seller, WetBagsbySara, also has a similar bag with Minnie Mouse: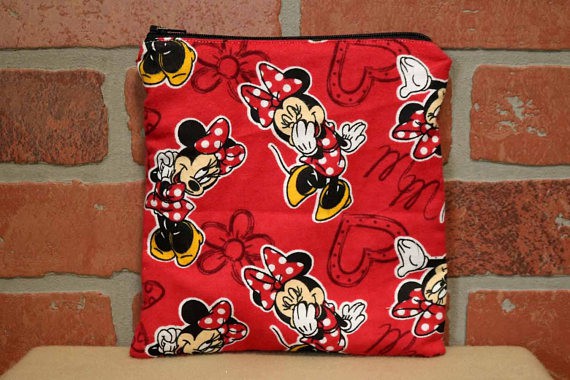 This is a clever way for a child to transport a sandwich — a wrap with velcro closures that doubles as a placemat!
It is made of 100% cotton fabric on the outside and rip stop nylon on the inside and measures approximately 12×12 inches. The lining can be wiped off easily with a damp cloth or tossed in the washing machine with like colors if the sandwich was messy if not. You can lay it flat to dry or simply toss in the dryer.

Disney Wooden Sandwich-Making Play Food Set

If your little ones love Mickey Mouse sandwiches, they might also enjoy making play sandwiches with this play set!
It has 18 wooden pieces including 4 slices of bread, 2 buns, burger, turkey, bologna, 2 slices of cheese, 2 lettuce pieces, 2 tomatoes, pickles, a wooden knife, and a place mat. There are self-stick tabs to hold the sandwich pieces in place, which cause it to make a cutting sound when kids "slice" it with a knife.
Mixing and matching different creations is a great way for Mickey lovers to practice their counting, sorting, and fine motor skills.
My kids had a similar version of this toy, also from Melissa and Doug, that was a birthday cake. Everybody loved it so much that's it one of the few toys that we stored in the attic so that someday my grandchildren can play with it.
I hope this post has helped you choose the best way to create — and pock — fun sandwiches that your Mickey Mouse-loving family will enjoy!
---
---