9 Beautiful Custom Bookmarks with Tassels
This post probably contains affiliate links. You can read the details about what that means here.
I once told my family, "Hey, if you ever have trouble figuring out a gift for me, get me some sort of nice bookmark."
It hasn't happened yet (I think I need to repeat to say it again closer to my birthday or Christmas), but if you're a fellow bookworm, you probably know exactly what I'm talking about. You've probably used receipts and the cheap paper bookmarks they give away at the library to mark your place (and of course, never ever place an open book face-down, but you know how special a nice bookmark can be.
The only "real" bookmark I own right now is a plush lion bookmark that my husband bought me over a decade ago when we went to Lion Country Safari in Florida. (It looks kind of like these, but mine is cuter. :))
These days it's so easy to get customized gifts for people, and it really does make a difference. I volunteer at my church children's program, and one of "my kids" got me a coffee thermos with my monogrammed initials on it. I was so touched that they took the time to get something specifically for me.
I found these lovely custom bookmarks, all with tassels. (Because doncha hate it when your bookmark slides down into the book and you have trouble finding it?)
Now if you'll excuse me, I need to send this post to my husband … 😉
Antique Wood Bookmark with Custom Monogram

Custom Monogram on Walnut Wood Bookmark

If you like the look of antique books, you will love this bookmark. It is made of natural grain walnut, complemented along both sides by inlaid solid wood accents, with your initials placed on the front "book spine."
Silver Music Note Bookmark with Blue Tassel

Silver Musical Notes with Blue Tassels

I used to teach private piano lessons as well as work as a music teacher in the public schools, so of course I love these bookmarks with a musical theme.
They are intended as party favors and come in a sets of 12, 24, or 48. Each bookmark is either a silver metal eighth note, pair of eighth notes, or treble clef with an attached dark blue tassel. They are packaged separately in a little box with a clear top, and tied with a white satin bow.
The customization part requires a little effort: you can include your own text to be included on separate stickers, which you can attach to the box. So the bookmark itself is not customized, but the message on the box can be.
These would be fantastic for a music teacher to give to their students after a recital, festival, concert, or some other achievement.
It would also make a great gift for a music teacher ( know I would love one!) The only possible problem is … what do you do with the other 11 bookmarks? But if you start thinking about it, I bet you could think of other musical people in your life. Your church choir director … your aunt who plays the violin … your godchild who just started taking piano lessons …
See? It can meet not just one gift need, but several!
Wooden Bookmark with Personalized Butterflies

Personalized Butterflies in Color Wooden Bookmark

These wooden butterfly bookmarks are very colorful and can be engraved with a personalized message or name on the back.
Those were the bookmarks I found on Amazon that I really liked. But as we all know, if you want customized and unique, the place to go is etsy! There are some really beautiful bookmarks there, so let's head over and check out some of my personal favorites …
Custom Bookmarks with Tassels on Etsy
These vintage silverplate bookmarks are custom made just for you. You can choose which color tassel you want as well as which message (or create your own). The spoons used for creating the bookmarks have some natural signs of their age and use, such as minor scratches, giving them a rustic charm.
This is my favorite version of the spoon bookmarks. I love the multi-colored tassels. And I definitely know the feeling of "One more chapter."
Engaged couples are always looking for clever ways to send out "Save the Date" cards so their friends and family can plan ahead for their wedding. Why not send it with these bookmarks that are customized with your engagement photo? Your guests can continue to use it for years to come.
You can customize the message on the back and also choose from a variety of different tassel colors.
These bookmarks make an adorable keepsake as guest favors for a baby shower. They come in pink and blue, of course, but also yellow, green, and lilac. (Because some weird people, like us, don't like to know the baby's gender before it's born.) They can be personalized with the child's name and birth date.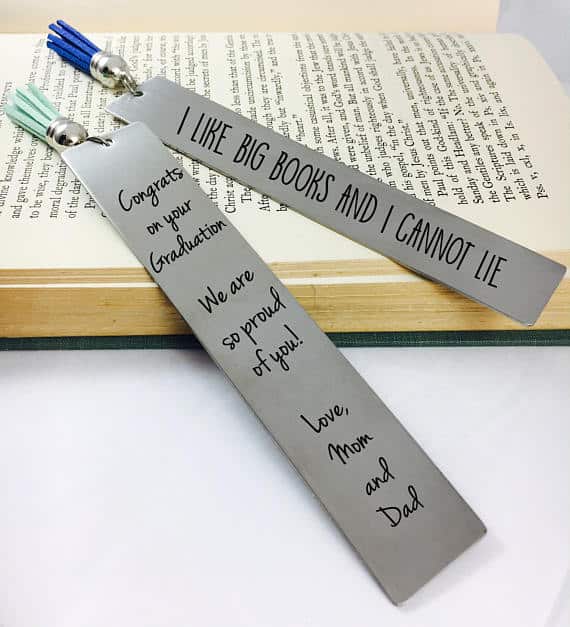 Other Posts for Book Lovers:
---
---