7 Beach Themed Crafts for Toddlers and Preschoolers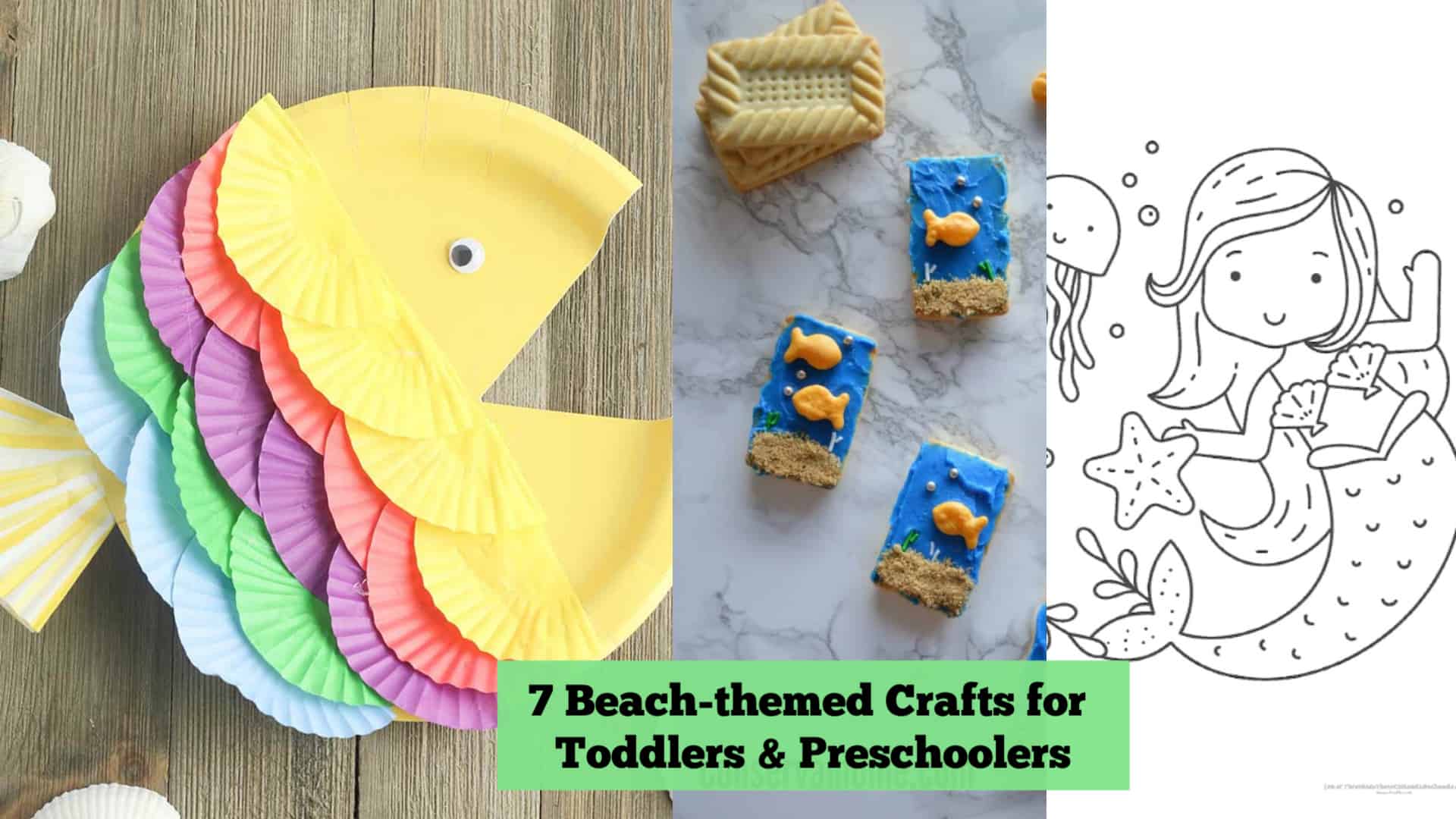 This post probably contains affiliate links. You can read the details about what that means here.
If your family can't get to the beach this summer, you can the beach to your home by doing these crafts with your kids.
And heck — if you are going to the beach this summer, these are great crafts to help you get in the mood!
Plush Talking Sea Creature Set with Carrier
Finding Nemo Squirt Toys
Photo Credit: www.creativegreenliving.com
One of my daughters was crazy about mermaids when she was little.
This is a lovely mermaid craft that's is easy to make.
It uses succulents, which are a great choice because:
1) They have a resemblance to ocean plants like seaweed, coral, and anemones
2) They are easy to kill (even for someone like me!) as long as they're in a spot with plenty of light.
Materials:
* Glass Terrarium Bowl
* Sea Shells and tiny starfish
* Mermaid-styled fairy house (optional)
Photo Credit: lifeanchored.com
This Jellyfish Stained Glass Suncatcher will get everyone in the mood for summer and trips to the beach -- and it will make your window look pretty!
This activity definitely needs adult assistance, but it's a great way for your child to get some cutting practice using safety scissors.
Materials:
* Scissors
* Black Construction paper
* Ribbons
* Scotch Tape
Photo Credit: threesnackateers.com
These Beach Day Pudding Cups are a perfect sweet snack or dessert to beat the summer heat.
They can do double-duty at a beach or pool party, by being not only the craft, but also the snack!
Materials:
* Vanilla pudding cups
* Graham crackers
* Airhead Extremes
* Gummy Lifesavers
* Teddy Grahams
Photo Credit: www.simpleeverydaymom.com
If your girls are like mine, they'll love making multiple copies of themselves and their friends as mermaids.
This is a great for a play dates -- or, of course, a mermaid themed birthday party!
Materials:
* Colored card stock
* 3-inch photo of child's head
* Markers
* Scissors
* Glue stick
Photo Credit: www.hunnyimhomediy.com
This cute Paper Plate Fish is the perfect way for toddlers and preschoolers to bring the ocean home.
Not only is this craft easy to make, but you probably already have everything you need to make it at home.
Materials:
* Yellow paper plate
* Mini cupcake wrappers in yellow, red, green, blue, and purple
*Full-size yellow cupcake wrapper
* Googly eyes
* Glue
* Scissors
Photo Credit: conservamome.com
Why not make a craft that you can also eat?
These Under the Sea Cookies are adorable and easy to make -- and no baking is required!
They're perfect for an afternoon snack or a beach-themed or pool party.
Materials:
* Goldfish crackers
* Shortbread cookies
* Blue buttercream icing
* Brown sugar
* Round silver sprinkles
* Green and white sprinkles
* Toothpick
Photo Credit: threekidsthreecatsandahusband.com
Crafts don't always have to be fancy -- sometimes just a simple coloring page will do.
Kids can simply color one of these 3 pages (I recommend using these) and then hang it on the fridge and go on with their day.
For more creative ideas:
* Color them with water paints
* Decorate them with glitter or stickers
* Print them on cardstock and cut them out to make decorations.
Hide and Seek Harry at the Beach
Good Night Beach (Good Night Our World)
At the Beach
Spot Goes to the Beach
You might also like:
---
---