Alice in Wonderland Costumes for Kids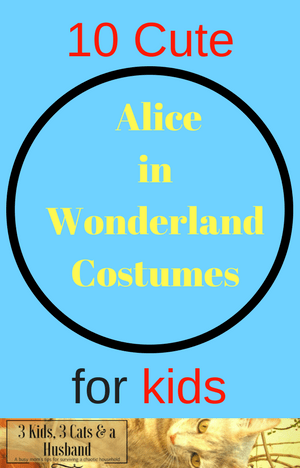 This post probably contains affiliate links. You can read the details about what that means here.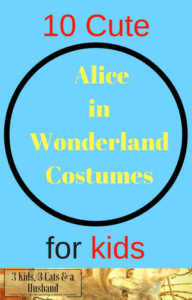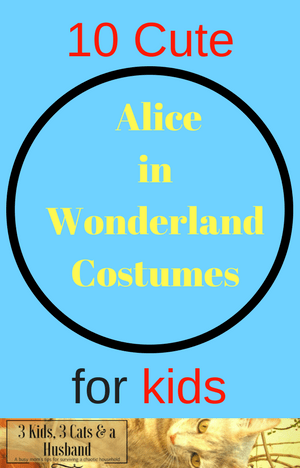 Do you have a kid who loves Alice in Wonderland and needs a costume for Halloween or another occasion? I found these five costumes of Alice herself, plus one of the Queen of Hearts and a cute Mad Hatter costume just for girls.
When my oldest daughter, Rachael, was five, she went through a phase where she loved Alice in Wonderland. She would get dressed most days in the one blue dress she had (although it was dark blue, not light blue) and tie a long-sleeved white shirt around her waist to look like an apron. She would ask me to go outside and hold a book and pretend to be Alice's older sister, and she would tell me what lines to say so we could act out a beginning scene from the book. (I did this many times.)
She would even write "Alice" as the name on some school papers.
It never occurred to me at the time to buy her an Alice costume — probably because she seemed to be doing so well with it on her own! But if you want a more authentic-looking costume, here are nice ones to consider.

Alice in Wonderland Costume for Toddlers

This costume for toddlers comes with a plastic black headband, a little black ribbon bow, and lace on the capped sleeves and around the hem. The apron is attached to the dress, and the material is a little thicker than that of traditional Halloween costumes. The illustration on the corner of the apron of the White Rabbit, complete with his "I'm late" stopwatch, is a cute touch that little girls will love. Your daughter is sure to get many compliments when she wears this dress to a costume party or trick or treating on Halloween night.

Authentic Costume with Cotton Apron and Lace Petticoat

This Alice costume has a very basic, authentic look to it that very closely resembles the "Alice" look that Disney made famous. It comes in four different sizes and is made of polyester with a cotton apron. Just add some simple white tights, black shoes, and a black headband, and your daughter will look like she stepped right out of the Disney movie!

Alice Costume for Tweens with Glovelettes and Leggings

This costume comes in two sizes and is designed especially for tweens. With striped glovelettes and leggings included, it strikes a nice balance of being trendy without being inappropriate or immodest. It's also great for a tween who wants a more "dark Alice" theme without actually going all the way into goth and creepy. Interestingly, there is a hiddenon/off switch that makes the fiber optic-lined skirt light up. Batteries are included.

Blue Dress with Ruffled White Apron for Little Girls

This is another dress that has the very authentic, basic look of "Disney Alice," although this one only comes in toddler sizes. The white apron is removable, which gives you more options for mixing and matching.
Amazon reviewer Stacy explains why this is a cut above most store-bought costumes:
I normally wouldn't spend this on a dress or something for my daughter. But figured I was using it for her birthday (Alice in Wonderland tea party) and she could use it for Halloween and ever day dress-up. So I figured we'd get our money's worth. The quality of this item is PHENOMENAL! good, strong, cotton material, very well made. And the picture doesn't really do it justice. its ADORABLE. My daughter is only 20 months right now so its a bit big on her (rightfully so) so I have to wrap the apron strings around a bit. But its perfection.

Girls' Dress with Ruffle Skirt and Heart Apron

This is a good choice for a girl who wants to sport a "unique" style of Alice, as opposed to looking like the spitting image of the traditional version. The dress has a checkerboard ruffle skirt, and the attached apron is decorated with red hearts. It also comes with a black headband with a mini-bow. (The striped leggings in the photo are sold separately here.
This skirt is very short, so you may wish to consider having your daughter wear a little pair of shorts underneath it.
Some kids find it much more interesting to dress as the Mad Hatter than as Alice! This costume works well for either boys or girls and includes a jacket, cravat (or neck bow), and hat. Just add your own jeans and sneakers, and you're good to go! It's a very colorful outfit with a lot of details. Do note that reviewers said that the sizes aran small.
This is a very unique and colorful Mad Hatter costume designed just for girls. The dress is decorated with purple and green tea cups graphics, and the beautiful purple hat is included. This costume also has a skirt that is a little on the short side, so you might want to consider getting a pair of shorts to go with it.
Amazon reviewer Momof2Girls explains why this costume was a great deal for the money spent:
My daughter looked so cute in this costume, she wore it three times for Halloween events, and it is still in good enough shape to be worn again. She is 7 and kinda hard on things, so for the price I was very impressed. She usually wears a 10/12 and it fit hit just fine. The lime green and black tights suggested to go with it were super cute as well. I highly recommend this product.
When I was in fifth grade, my school did the Disney musical of Alice in Wonderland and I tried out for the part of the Red Queen because I thought it would be fun to be loud and bossy. (I did not get the part.) If you know a girl who feels the same way, this is a great costume for them. It's very detailed, includes gold trim, and has crinoline under the skirt has a bit of a hoop, making the dress stay poofy.
Unfortunately, the crown and scepter are not included, but you could either buy them separately or pick up something at a local Dollar Store.

Queen of Hearts Dress with Leggings and Crown for Tweens


Queen of Hearts Costume for Toddlers

Alice in Wonderland — Mad Tea Party
Other Costume Reviews
:
---
---