Angel Costumes for Girls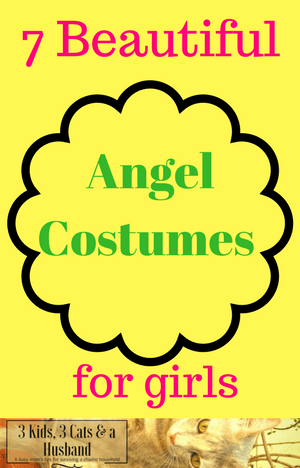 This post probably contains affiliate links. You can read the details about what that means here.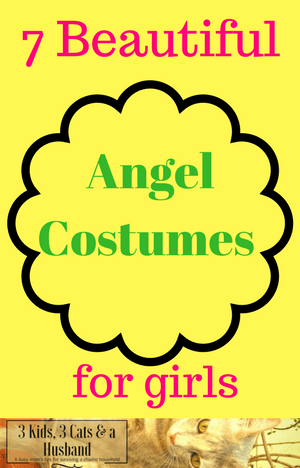 It's November, and girls (and possibly even boys!) all over the country will soon be needing angel costumes for Christmas plays and pageants.
Of course, if your daughters are anything like mine, they don't need any reason at all to dress up. I remember them dancing, running errands, or even just hanging around the house playing dressed as all kinds of things, from princesses to mermaids to Winnie-the-Pooh.
I did some poking around online and found these seven beautiful angel costumes for girls. I included a variety, from costumes representing dark tween angels to fluffy, sweet-looking white angels for little girls, and even included some handmade ones that are custom made to fit girls just right.
This costume lets tweens dress as a "dark angel" but have a pretty quality as well. It is made of polyester and needs to hand washed and line dried. It includes the dress, wings, halo, glovelettes, and fish net stockings. If the idea of your twelve year daughter going out in public wearing fish net stockings is somewhat disturbing for you, you can easily replace them with regular black leggings, and the costume will still look great (and be warmer!)

Black Angel Dress With Leggings, Wings, and Halo

Here's another option for tween girls who want to rock the "dark angel look." This one, in my opinion, has a little less of a "pretty" look and more of a "fantasy/middle earth" kind of look.
It includes a textured dress with a rope belt, wings, a pair of glovelettes, leggings, and a halo. Shoes are not included, but I personally really like the chunky black boots they have in the photo.
This lovely costume had a quilted bodice, full length skirt, and both wings and a halo that are feathered. Some reviewers commented that the wings kept closing, especially while trick-or-treating on a windy night, so it was suggested that you tape or velcro them to stay in an open position.

Gold and White Angel Dress with Wings and Halo

None of my babies would stand for being put it in costume, but if you have a baby who is more co-operative than mine were, baby costumes are just adorable. This polyester, hand wash angel costume includes dress, wings and a headband. This an easy costume to put on over regular clothing. Several reviewers commented that the wings were soft, yet sturdy.

Toddler Costume with Tutu and Tights

The image shown here is of the toddler version of this costume, but it also comes in a size small and medium. It includes wings, tutu, halo, leotard and tights. The shoes are not included, but ballet slippers would work perfectly with this. The material for the wings and halo is fairly thin and a bit flimsy, so it you plan to have it worn more than 2-3 times, this probably isn't the best choice. Having said that, however, both the tutu and the shirt can easily be re-purposed long past Halloween (or your church's Christmas pagean, as the case may be.) The shirt can be worn with jeans as an everyday clothing item, and the tutu can be worn … well, whenever and wherever little girls like to werar tutus, which in my daughters' case where anytime and anywhere.
Here's a really unique costume from Etsy shop Fuzzy Ducking Design, who makes tulle tutu dresses. I chose this one to feature because I really like the stretchy, crocheted bodice. It looks flattering as well as comfortable. Another plus is that your daughter can wear it for an extra year or two, as it will stretch while she grows.
This dress includes a matching sparkly ribbon crown, princess wand, and fairy wings. It is designed to be tea-length and hit at approximately mid-calf.
This is a really pretty 2-piece set of white angel wings and tutu from the Etsy shop TutuTiara. The tutu, custom to fit, is made in what she describes as a "pixie cut style" and the wings are pre-made, 12 inches tall with a wingspan of approximately 12 inches as well.
Did you and your daughter find an angel costume that you both love? I hope so!
Other Costumes
Alice in Wonderland Costumes for Kids
Tinkerbell Costumes for Adults
---
---