West African Peanut Stew with Sweet Potatoes (Slow Cooker Recipe)
This post probably contains affiliate links. You can read the details about what that means here.
This recipe for African Peanut Stew has such a bizarre combination of ingredients that it feels like someone closed their eyes and started randomly grabbing things out of the fridge and pantry.
Apple juice with tomatoes and … peanut butter??
But however weird it may sound — it works!
This stew not only tastes delicious, but it's also very nutritious. It makes a warm, filling meal that's particularly nice in the fall.
I've made this stew for guests a few times and they've always been very impressed.
I got this recipe years ago when I was a member of a meal-planning subscription called The Six O'Clock Scramble.
Stew Ingredients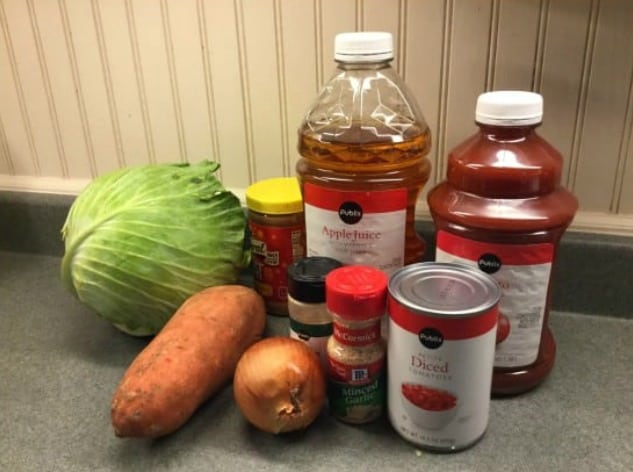 1 cup apple juice
2 cups tomato juice
1/2 cup peanut butter
15 oz. can diced tomatoes
1 large sweet potato, peeled and diced
1 chopped onion
4 cups chopped cabbage
1/4 teaspoon ground ginger
1 teaspoon minced garlic
Cooked rice and pita chips for serving (optional)
How to Make the Stew
Place the peanut butter, apple juice, and tomato juice in the slow cooker.
Put the slow cooker on high and wait for about ten minutes.
Whisk to combine.
Add remaining ingredients to slow cooker and stir well.
Cook on low for 8-10 hours or on high for 4-5 hours.
Serve with rice and pita chips if desired.
That's it!
Some Possible Substitutions:
I've never deviated from this recipe because I like it so much as-is, but here are some suggestions if you want to mix things up, have different ingredients in the house, or have a nut allergy:
Use sunflower butter instead of nut butter
Use butternut or acorn squash instead of sweet potatoes.
Use chard, kale, or spinach instead of cabbage.
How to Peel Sweet Potatoes Instantly
I don't know about you, but I don't enjoy peeling potatoes.
I always make sure I have some good music playing in the background (the Grease soundtrack is one of my favorites for "cooking playlists"), but even that, it's a pain.
Not only does it take forever, but I always miss patches and have to go back.
Well I haven't had a chance to try this yet, but according to Divas Can Cook, you can instantly remove potato peel without a peeler by following these steps:
Use a knife the scores the potatoes around the center
Boil a pot of water
Add the potatoes to the water and boil for about 15 minutes
Remove the potatoes from the pot and place in a bowl of ice water
Swish the potatoes around in the water for a few seconds
Remove a potato from the water and the skin should just slip off!
If you happen to try this method before I do, please let us know how well it worked below in the comments.
---
---