11 Easy Slow Cooker Chili Recipes
Chili is such a crowd pleaser at my house.
It makes the house smell good, and the kids like it because they can "dress it up" any way they like by adding gobs of shredded cheese, hot sauce, rice, etc. They like having that feeling of "ownership" in creating dinner.
Another great thing about chili is that you can make a ton of it! My husband Rob always likes me to freeze a bunch of single-servings for him to take to work for lunch over the next couple weeks.
This inexpensive tool is SO helpful for freezing single servings of chili — and it keeps you from making a huge mess!
Baggy Rack – (4 Pack) Sandwich Bag Racks

✅Crockpot Chili Recipes With Ground Beef
Personally, whenever I think "chili," I immediately think "ground beef." (Which I realize is not completely fair to the many other types of chili out there, and we'll get to those in a minute.)
So let's start with good, basic beef chili recipes:
Slow Cooker Chili With Ground Beef and Sausage
I personally love adding sausage to things, whether it's eggs, pizza, or spaghetti sauce. It gives it a little bit of a "kick."
This recipe from The Spruce Eats combines beef and sausage with black beans, bell peppers, and diced jalapeño peppers.
Slow Cooker Chili With No Beans
I've never been to Texas, but I've heard there's a saying there: "If you know beans about chili, it's that there's no beans in chili." Apparently, Texans consider chili with beans to be a "Yankee thing."
Whether you're from Texas or not, here's a delicious no-bean chili recipe from Sugar-Free Mom:
Chili in the Slow Cooker Without Browning Meat
Most crockpot recipes for chili have you brown and drain the meat first. Not only is this supposed to enhance the flavor to do it this way, but it's also to avoid having the chili be overly greasy.
However, this chili recipe from Dining with Alice just has your dump the uncooked ground beef into the pot along with everything else. No extra skillet to have to clean!
Spicy Slow Cooker Chili Recipe
I admit it; I'm a wimp when it comes to spicy foods and have a ridiculously low tolerance for it. Here's a spicy chili recipe from A Family Feast for those of you who like some fire when you eat chili!
Video — Easy Slow Cooker Chili Recipe: How To Make Chili In A Crock Pot
✅Slow Cooker Steak Chili
I don't think I've ever had steak chili before, but this recipe from Perry's Plate looks and sounds really good.
Interestingly, it contains both butternut squash and …. wait for it … chocolate chips!
Fix-It and Forget-It Big Cookbook: 1400 Best Slow Cooker Recipes!

The Whole30 Slow Cooker: 150 Totally Compliant Prep-and-Go Recipes for Your Whole30 ― with Instant Pot Recipes

The Complete Slow Cooker: From Appetizers to Desserts – 400 Must-Have Recipes That Cook While You Play (or Work)

✅White Bean Chicken Chili in the Crockpot
Sorry, chicken! I love you, really I do (especially when you're in a casserole with rice, cheese, and broccoli) but when it comes to chili, I tend to forget that you, too, can be the main ingredient.
Here are some great chili recipes starring the "forgotten" chili meat (at least for me), chicken:
Crockpot Chicken Chili Verde
This white chili from Maebell's includes salsa verde, lime juice, and fresh jalapeños.
Video — Healthy Slow Cooker Chicken Chile Verde

Slow Cooker Chicken Chili With Cream Cheese
Yum, anything with cream cheese is sure to be good! This creamy chicken chili from The Chunky Chef has half and half and cream cheese stirred into it.
I could picture my family really loving this one, especially served over rice!
White Chicken Chili Recipe from The Pioneer Woman
Who doesn't love fellow redhead Ree Drummond, aka The Pioneer Woman?
Here's what Ree has to say about this chili recipe:
[My white chili] is more of a bean-centered delight—simple, warm, hearty, and filling, with plenty of flavor to spare.

But here's what I do. I make "simple, hearty white chili." Then I proceed to doctor the simple, hearty white chili with about a thousand different garnishes, and the "simple" pretty much goes out the window.

I just love garnishing things! It allows me to believe that I'm being simple and minimalist…while not actually being simple and minimalist. It's perfect for people in denial!
The Pioneer Woman 10-Piece Nesting Mixing Serving Bowl Set features Unique Vibrant Colors

14-Piece ,TURQUOISE,The Pioneer Woman Cowboy Rustic Cutlery Set,

The Pioneer Woman Lazy Susan 12 Willow Pattern Wood Decor (1)

The Pioneer Woman Cooks: Come and Get It!: Simple, Scrumptious Recipes for Crazy Busy Lives

The Pioneer Woman Traveling Vines Nesting Mixing Bowl Set, 10-Piece

The Pioneer Woman 6 QT Country Garden Portable Slow Cooker with Sealed Lid

The Pioneer Woman Country Garden Teapot

The Pioneer Woman Pioneer Vintage Floral 6.75-Inch Utensil Holder

✅Vegan Slow Cooker Chili Recipes
If you're vegan — or just wanting a "Meatless Monday," or to try something a little different — there are still plenty of great chili options!
3-Bean Vegetarian Chili in the Crockpot
Wow, this 3-bean chili from Aberdeen's Kitchen is so colorful! It looks hearty and healthy.
Slow Cooker Vegetarian Chili with Bulgur
Bulgur wheat is a good source of fiber, protein, iron and vitamin B-6.
This chili recipe from Naturally Ella uses half a cup of it.
Sweet Potato and Quinoa Chili
I love sweet potatoes, but the rest of my family does not. (In fact, my oldest daughter considers them to be one of her most disliked foods. Strange girl!)
From The Roasted Root.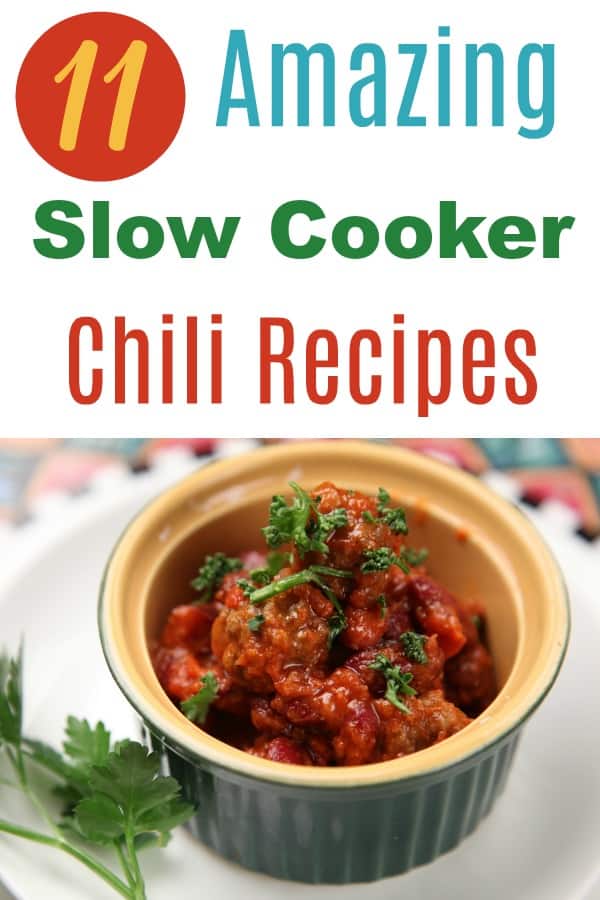 ---
---