Easy Father's Day Fingerprint Craft Card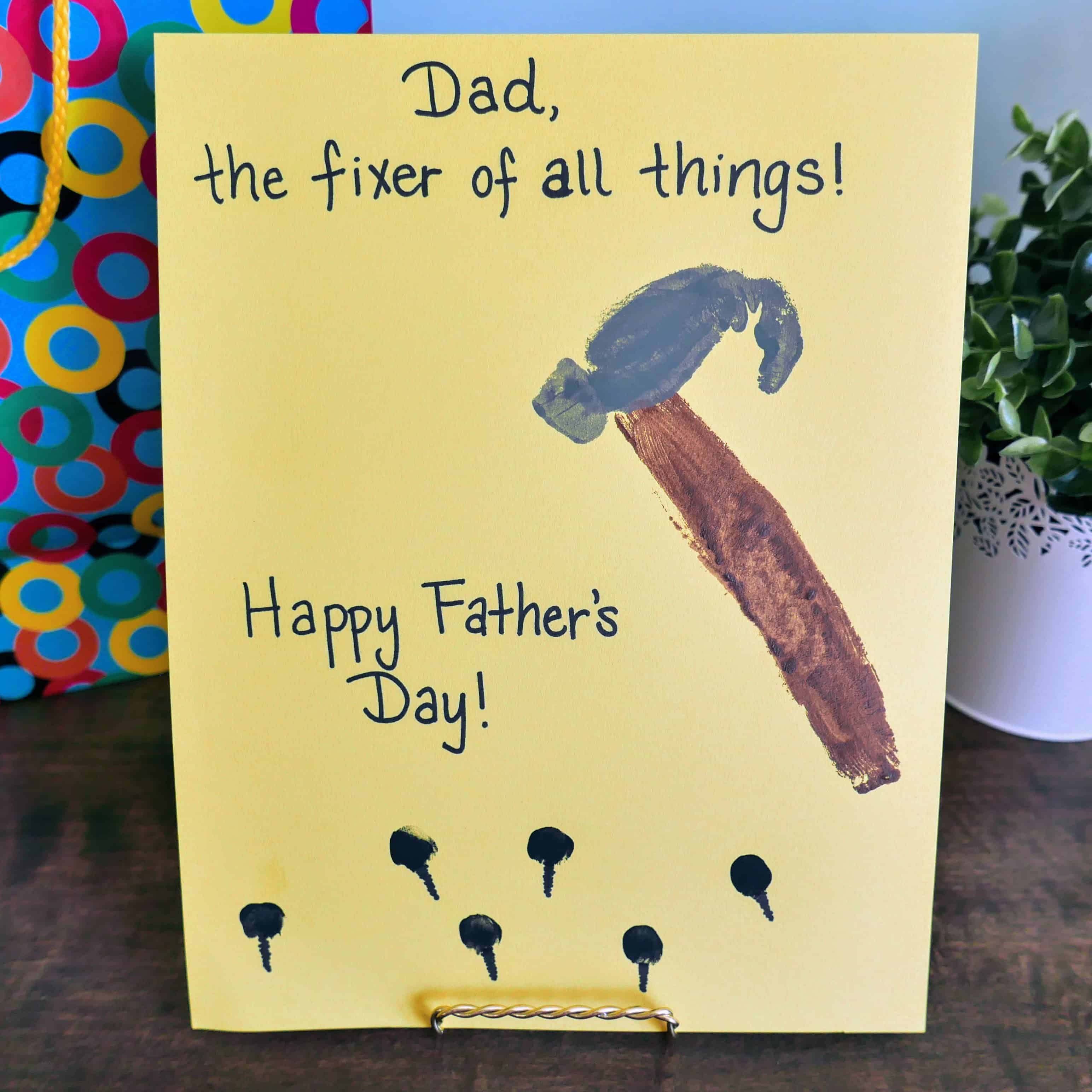 This post probably contains affiliate links. You can read the details about what that means here.
Looking for an easy idea for a homemade Father's Day Card to make Dad feel special?
This Hammer & Nails card craft is both unique and super easy. And it's perfect for guys who are particularly handy.
Kids will get paint all over their arm and hands for this one, which most kids will love (except for one of children who hated getting anything sticky or messy on their hands, even as a toddler).
To wash the paint off your kids when they're finished, use warm water and dishwashing liquid. If you need something stronger, you can try baby oil and a couple cotton balls.
Supplies Needed for this Craft
Set of 12 Acrylic Paint Colors
Paint Brushes Set
Art Paint Tray Palette for Kids
Scotch Painter's Tape
Astrobrights Colored Cardstock
Craft Directions
Begin by tearing off a medium size piece of painters tape, and folding it backwards onto itself to create a loop.

Put one "tape loop" at the top of your cardstock, and another one at the bottom.

Turn the cardstock over, and press down gently on the table or counter where you'll be painting.
(This keeps the cardstock from sliding around.)

Paint a thick line of brown paint down your child's outside forearm.

This will be the "wooden handle" of your hammer, so make sure you paint your line thick enough to look like a handle.

Have your child lay their arm onto the cardstock, and lightly press to make an imprint on the cardstock.

Have your child make a fist with their hand and then paint the outer side of their fist, all the way down their pinky finger with the grey paint.

Have your child lay their painted fist across the top of the brown handle on their cardstock, with their fist slightly loose.
Press lightly on their fist to ensure they make an imprint. This will be the head of the hammer, with the pinky making the "claw" of the hammer.

Paint your child's thumb with the grey paint …

… and make a large thumbprint on the opposite side of where their pinky was on the painting.

This will be the "face" of the hammer.

Now your child's fingertips black, and have them make dots around the bottom of the cardstock …

… to make it look something like this:

Use a black Sharpie marker to draw little lines under the fingerprints to make "nails".

Use the black sharpie marker to add a fun saying to your painting, write "Happy Father's Day," or anything else you like.

And there it is!
More Crafts for Kids
---
---