Toilet Paper Roll Cat Craft for Kids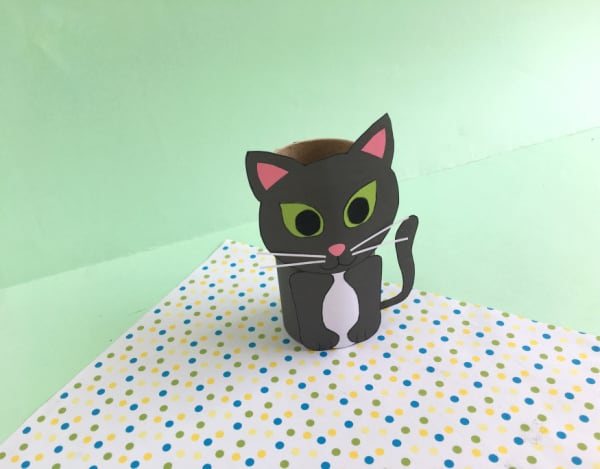 This post probably contains affiliate links. You can read the details about what that means here.
This cat craft is super easy and requires almost literally no skills other than hitting your computer's "Print" button and cutting out and gluing shapes.
However, if you want to be more creative, you can certainly dress it up by varying the colors, drawing designs with markers, and even adding stickers.
We chose to make a black cat with green eyes because I'm looking ahead to get good ideas for Halloween. But of course you can make whatever color cat you like. Or maybe make a bunch of different cats!
NOTE: If the idea of you or your kids crafting with a toilet paper roll grosses you out, you can substitute a "kitchen paper tube" (aka a paper towel roll) that's cut in half.
If you don't already have the super-secret password to my Resource Library, sign in below so you can access the free template for this craft.
Cat Craft Supplies
Template pieces (included below)
Colored cardstock
Toilet Paper Roll
Pencil
Black marker
Glue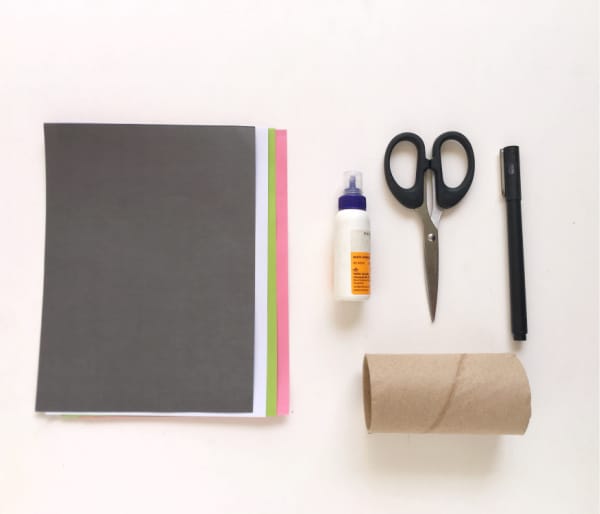 Toilet Paper Roll Cat Instructions
Download, print, and cut out the templates.

Trace the templates on different colored cardstock, depending on what you want your cat to look like, and then cut them out.

Glue the green eyes on the top of the cat's head and the small pink pieces on the inside of the cat's ears.

Glue the cat's nose right below the eyes.

Use a black marker to draw the cat's mouth using a black marker and cut out some white paper strips for the whiskers.

Glue the black circles in the middle of the green eyes. Now your cat's head is complete! Set it aside for now; we'll come back to it in just a minute.

Cut out a piece of black cardstock that's the same height and circumference as your toilet. Put some glue on your toilet paper roll, then wrap the black piece of paper around it.

Glue the kinda-sorta-oval white piece on the bottom center of the tissue paper roll. (This is your cat's tummy.)

Glue the cat's front paws on each side of the cat's tummy.

Glue the cat's face on the top of the tissue paper roll.

Finally, glue the cat's tail on the side of the tissue paper roll.





More Toilet Paper Roll Crafts for Kids
---
---