23 Best Open Ended Toys for Toddlers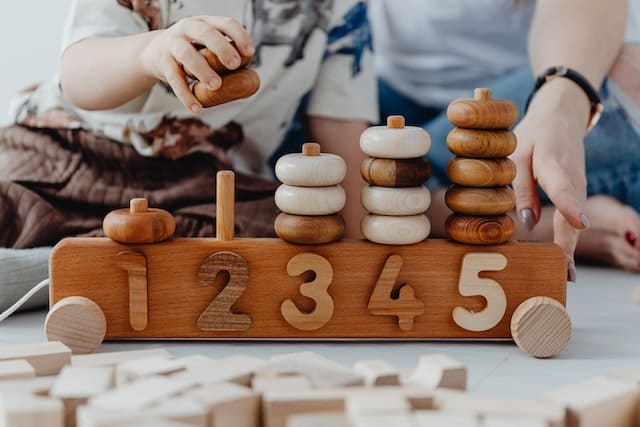 This post probably contains affiliate links. You can read the details about what that means here.
Isn't toy shopping for your kids fun?
I always think it is. But sometimes it can be overwhelming, or even confusing. There's tons of stuff out there. And you don't want to buy just any toy. You want a fantastic toy that's high quality, lasts a long time, and gives your kids hours and hours and hours of play time.
Well, open-ended toys are really good for that.
After reading this post, you'll know:
What makes a toy open-ended
The difference between open-ended and close-ended toys
Benefits of open-ended toys
Some of my favorite open-ended toys for young children, and why I love them
What is an open-ended toy?
Simply put, open-ended toys are toys that can be played with in multiple different ways. It doesn't have a clear outcome or ending. (As opposed to, for example, "put together the jigsaw puzzle together until it's completed.)
Open-ended toys allow for a lot of imaginative play. Instead of being toys that entertain a child, they're toys that encourage children to entertain themselves.
What are the benefits of open-ended toys?
Open-ended play helps foster a child's imagination, exploration, creativity. In addition, it helps children develop:
Fine motor skills
Social skills
Problem-solving skills
Hand-eye coordination
Critical thinking skills
Another, more practical, benefit is that children usually can get more play time with an open-ended toy. They can use it different ways, and even modify they way they play with it as they get older. That can means buying fewer toys, and that can mean saving money and having less clutter.
Are close-ended toys bad?
So if some toys are described as "open-ended," then what is a close-ended toy?
And should close-ended toys be avoided?
There's nothing at all wrong with close-ended toys; they just serve a different purpose. Close-minded toys have a specific purpose and a clear beginning and end. According to Montessori in Real Life, they "give children a sense of purpose, order, and satisfaction of accomplishment."
Some examples of close-ended toys include:
Toys that Promote Physical Activities
Little Tikes Foldable Large Slide
Little Tikes Foldable Large Slide
I highly recommend investing in an indoor slide.
I also recommend that you get one that can accommodate a slightly older kid. (Say, up to about five years old) as opposed to one designed just for toddlers.
We had this Little Tikes slide when our kids were little.. I think we bought one when our oldest was almost two, and it we used it for several years. The kids loved sliding their stuffed animals down it, and our girls spent one afternoon decorating it with stickers! It was a big hit when other kids came over, too.
One thing we liked was how easy to fold up and stash away for a while when the weather got warmer, so it wasn't always sitting in our living room.
Flybar My First Foam Pogo Jumper
Flybar My First Foam Pogo Jumper
This pogo stick is available in 13 different colors and can be used either indoors or outdoors.
One great thing about this toys is that it your child may very well still enjoy it when they are eight or nine years old. (And hey, check out this video of a 200-pound dad jumping around on it!)
It does have a squeaker, but if you're afraid that it will lead you to having murderous thoughts, don't worry: the squeaker can be removed pretty easily. Just use needle-nose pliers to grasp the squeaker piece (not the entire bulb) while being careful not to pinch or pull the foam.
Wooden Wobble Balance Board
This exercise board is 37 inches long and 11.8 inches wide. It can safely hold up to 480 pounds, so adults can also use it for yoga, core work, and other physical activities.
Kids can use it as a rocker, a slide (for themselves or their stuffed animals and toy Matchbox cars), a chair, a see-saw, a bridge, or a tunnel.
Toys for Pretend Play
Wooden Dollhouse with Elevator
Wooden Dollhouse with Garage and Elevator
This open-sided dollhouse is designed for kids ages 3-6 and includes three play figures and 15 pieces of furniture. It has six rooms, an elevator, and a garage. It's built at a standard ratio, so furniture from other brands can be used with it.
It takes roughly an hour to assemble. (Based on some reviews, come prepared with both a flashlight and your favorite expletives.)
Reviewers particularly liked the fact that this dollhouse was gender-neutral.
Melissa & Doug Examine and Treat Pet Vet Play Set
Melissa & Doug Examine and Treat Pet Vet Play Set (24 pcs
I had a doctor kit when I was a kid. My kids had a doctor kit when she little.
This kit is even better because you can pretend to be an animal doctor.
It has a total 24 pieces, including things like:
Stethoscope
Thermometer
Tweezers
Syringe
Ear scope
Cast
"Treatments
Click here to see close-up photos of some of the pieces.
Best of all, it comes with a plush dog and cat. And it has tote bag, making it easy both for storage and travel.
Meland Kids Camping Set with Tent
Meland Kids Camping Set with Tent
If there's one things that kids love, it's tents and forts, whether it's just a few blankets thrown over furniture or something more elaborate. (After our family moved to a different state when I was little, my new neighborhood friend and I would hanging out in my garage, making art projects inside one of the really big boxes that the movers had used.)
This camping set includes not only a play pop-up tent, but also 30 camping accessories including:
sun hat
Campfire with extendable stand
Binoculars
Oil lamp
Pretend hatchet with knife
Magnifier
Cooking pan with pretend foods
The true-to-life campfire with extendable stand and oil lantern actually lights up. (It needs 3 AA batteries, which are not included.)
Reviewers were impressed by the durability of the tent and said that this toy was a great value, considering everything that comes with it.
While this can certainly be a indoor toy, several reviewers said it was great for outdoor camping trips and picnics, where it keeps a toddler occupied and happy in their own safe space.
Small Soft Body Baby Doll
I have a photo of one of my daughters holding a baby doll that my mother just gave her for Christmas, and it makes my heart melt to see the joy and love just radiating from my daughter's face as she looks down at the doll.
This doll is 11 inches long, making it perfect as a child's first baby doll. It can be washed by hand or even put in the washing machine.
Reviewers like how its features were realistic, it had no odor, and it wasn't made of hard plastic and didn't have a "creepy look" like a lot of baby dolls do.
The doll's hat has elastic sewn in the back so that it stays on well and you don't have to worry about losing it.
The photo above is the Caucasian doll, but you also choose the Hispanic or African-American dolls.
Wooden Blocks with Storage Tray
Solid-Wood Building Blocks With Wooden Storage Tray
Every toddler home, day care, or preschool should have at least one set of blocks. (I certainly did when I was a kid.) They provide endless possibilities of how kids can use them. They're great both for cooperative or independent play.
This set contains 60 natural-finish, smooth-sanded hardwood blocks, plus a wooden crate for easy storage.
Magna-Tiles 100-Piece Clear Colors Magnetic Tiles Set
Magna-Tiles 100-Piece Clear Colors Magnetic Tiles Set
We've never had this toy, but parents absolutely rave about them on Amazon, so I had to include it here. (It has a 4.9 rating, with over 9,000 5-star reviews.)
Here's an excerpt from Absolute's review, where they explain why Magna-Tiles are well worth the price:
These blocks are not expensive, not for when you think about the cost associate with one dinner for a family of 3.

Go to your Red Lobster or go to Olive Garden one night and tell me how much you spend. Oh.. you spent a 100 bucks on some pasta and breadsticks great… you could have had a toy your child/children would play with for 10 years and hand down to their kids one day …

Possibilities:
These things are almost entirely unlimited in regards to what they will allow someone to produce. When my son first started playing with them he would make 'floors' for his trucks to drive over, then it was simple enclosure unites, then enclosure units with roofs, then villages with roads and buildings, then airports and firehouses, etc… hence the reason we need more blocks. I am having a hard time keeping up with his very creative mind …

Perks:
So easy to store and for the analytical/OCD type person who loves to clean up after their kids, these blocks are ideal. A few minutes and they are exactly as neat as they were when they first arrived in their original packaging …

… These blocks are sturdy, safe and break proof (or so they appear to be). I am a very hands on father and I spend countless hours with my son playing games … I've found great joy in playing with him with these blocks and watching his brain develop in a number of fashions..

Below are some of the learning benefits I believe these blocks offer:

Patience in understanding how long it takes to build something up
Mechanical Dexterity
Resiliency in rebuilding things that fall
Geometry/Shapes recognition
Mathematics/Counting
Physics; Forces; Magnetism/Leverage
Teambuilding
Creative play
Pre-approach

We have since started branching out with these blocks:

Plays with them in the shower
Bringing them to grandmas house
Bringing them into the sandpit (Mr. Crabbie)
Toy Kitchen and Pretend Food
Everyone likes food, so it's not surprising that toddlers love to play pretend involving making food, serving food, and having parties with food.
Step2 Best Chefs Kitchen Playset
Step2 Best Chefs Kitchen Playset
This stylish kitchen playset is interactive — the fridge door open, the water tap turn, the frying pan sizzles, and the pot bubbles.
One of the best things about this set is that its accessory hooks, shelves, and recycling bin help store all 25 accessories so the room isn't a mess.
Reviewers liked that it wasn't too large and was lightweight enough that it can easily be moved.
Melissa & Doug Birthday Party Cake (Wooden Play Food)
Melissa & Doug Birthday Party Cake – Wooden Play Food
My kids are no longer toddlers, but this toy is in our attic waiting for future grandchildren. I thought it was such a great toy that I had to save it.
Kids can put different candles and toppings on this wooden cake, then "slice" and serve it.
My girls loved using this to celebrate birthday parties for their stuffed animals.
Interestingly, an occupational therapist said this was a great toy to use in therapy:
… I have found that kids will do just about anything if it involves playing with this or any of the other Melissa and Doug food toys. We often use it as a relay game at the start of the session. I put all the cake and decorating pieces in one place and the cake plate about 10-15 feet away. I have kids crab walk, bear crawl, bunny hop, scooterboard, etc to get the cake pieces and decorations and then do the same movement back over to the cake plate to put the pieces together.

It's a GREAT way to incorporate gross motor skills, motor planning, and proprioceptive input before we sit down to work those fine motor skills. After the cake is all put together with their chosen decorations, we sing happy birthday. I've had so many birthdays in the past few weeks, I'm about 100 years old now!

This cute little birthday cake also helps kids work on play skills at the same time. This sounds crazy, but I have so many students that don't know how to appropriately play with toys. They throw toys, dump out multiple bins, chew on toys, or just ignore them all together. Using the cake and it's many pieces, we work on social interactions, pretend play, interactive play, turn taking, making a choice, whatever that kiddo needs to work on to help them be successful in areas they're struggling in.

I've had multiple students with VERY limited vocabularies say "cake!" or "birthday!" in the middle of other activities to let me know they want to play with this particular toy. It was an incredible thing to hear these sweet babies let me know what they wanted when it's normally such a struggle for them. I'm not a speech therapist, but I can imagine it would be a great tool for them too …
Push and Go Ca Construction Truck Set
Push and Go Ca Construction Truck Set
My son was absolutely obsessed with construction sites and construction vehicles when he was a toddler and preschooler.
This toy car set includes a crane, mixer, excavator and dump truck. Each vehicle is 3 x 3.5 inches.
Kids can push these cars forward, then let go, and they're keep going. No batteries needed, just basic inertia! They even do some cute tricks and turns when they hit something.
Reviewers liked the amount of detail in the design and the amount of sturdiness in these vehicles, saying that they can stand up to a lot of abuse.
Kinetic Sand Box and Tools
Kinetic Sand, Folding Sand Box with 2lbs of All-Natural, 7 Molds and Tools
One of my children has also been a definite tactile learner and always craved things that were squishy and gooey.
I was delighted to discover kinetic sand, which satisfied those cravings without getting stuck in our carpet or staining our clothes, like some of her other toys did. Plus I found it very soothing to sit and play with the kinetic sand along with the kids.
This folding sandbox is large enough to hold two pounds of kinetic sand. It snaps shut when you're finished, making it easy to put away or bring to a friend's house.
Several reviewers said that, while their child loved this toy, it didn't come with enough sand to fill the box — so be aware that you might also want to purchase some extra sand to go with it.
Outer Space Sensory Bin
Sensory bins can keep kids happily playing for a a really long time.
This bin measure 14.5 x 10.25 x 4.75 inches. It's filled with glow in the dark stars, space rocks, foam planets, sparkly pom-poms, an astronaut, a squishy alien
If outer space isn't your kid's thing, Creativity for Kids has several other sensory bins to choose from as well:
COUOMOXA Marble Run Building Blocks
COUOMOXA Marble Run Building Blocks
Usually the words "marble" and "toddler" don't go together, but they can with this great open-ended toy.
It has 110 Pieces and 3D illustrated instructions to build seven different marble run models. Toddlers and preschoolers will almost certainly need help putting it together at least, but after all they'll run with it and eventually come up with their own imaginative creations.
The best part is that they work perfectly with Lego Duplos.
Wooden Peg Dolls
Peg dolls are such a simple toys, but th
This set of 40 unfinished wooden dolls includes five different shapes and sizes of doll:
Men – 2-3/8″ tall x 7/8″ diameter
Women – 2-1/4″ x 5/8″
Angels – 2″ x 7/8″
Child – 1-11/16″ x 5/8″
Tots – 1-3/16″ x 5/8″
You can use acrylic paints to paint them any way you like. You could do something as simple as making a set of rainbow dolls, or you can get creative. You can see some cute examples of how people painted these dolls here.
Animal Toys
Animals are always super fun. Here are a couple animal toys that I was very impressed with:
Wooden Farm Animal Figurines
Wooden Farm Animals Toy for Toddlers
This wooden toy is Amazon's Choice in the category of Montessori Toys for 2 Year Olds.
It comes with 10 farm animals, 7 vegetables, 1 farmer boy, 6 worms, and a five-sided cart.
Putting the shapes into the wooden sorting cart will help children build their fine motor skills and hand-eye coordination. You can also use it as opportunity to talk about different farm animals, vegetables, and even gardening.
Reviewers liked how the pieces were painted nicely and had perfectly smooth edges.
IMPORTANT NOTE: Although this toy is listed as being for ages 12 months and up, many reviewers felt that some of the small animals — particularly the worms — were too small for a 12 month old and could be a potential choking hazard. Please use caution, especially if your child likes to put things in their mouth.
Peekaboo Farm Animals Counting & Sorting Toy
Peekaboo Farm Animals Counting, Matching & Sorting Toy for Toddlers
This simple and adorable toy contains five number two-piece barns, each in a different color. Each barn pops open to reveal a different animal finger puppet:
Black and white cow
Pink pig
Gray goat
Yellow duck
Brown horse
Kids can learn counting, color, matching, and sorting skills, as well as use this toy for pretend play. They also work great as a bath toy!
Reviewers were impressed by how durable and well-made this toy was, and by how much their toddlers enjoyed naming the animals, making animal sounds, and taking them in and out of the barns.
Click here to see a photo of a one year old girl playing with this toy.
Lego Sets
LEGO DUPLO Disney Mickey & Minnie Birthday Train
My son was a huge Lego fan for several years. Interestingly, he didn't particularly enjoy the building part of the Lego sets, but just saw that as a means to the good part — playing with the city or vehicles or whatever once they were built.
Other kids prefer to just have a big bin of loose Legos and build whatever they want.
There are tons of Lego sets out there (even several nice ones for adults!) but here are a few ideas to get you started:
Musical Instruments
I'm a music teacher, and every day I see how excited and happy kids get when they play musical instruments.
Band-in-a-Box 10-Piece Musical Instrument Set
Band-in-a-Box 10-Piece Musical Instrument Set
Being a music teacher, of course I love this 10-piece musical instrument set.
Children can enjoy them alone, or with friends or family members. You can play along to your favorite songs, sing along, or play a rhythm and have your child repeat it.
NOTE: If you really want to go all-out, you can get Melissa & Doug's Deluxe Band Set, which contains 17 wooden musical instruments, plus a storage crate.
Caterpillar Xylophone Musical Toy with Wooden Mallets
aterpillar Xylophone Musical Toy with Wooden Mallets
This rainbow-colored xylophone includes a complete octave of notes and the two mallets are "antennas" that are stored at the top of the xylophone like ears. How clever is that?
Speaking of mallets, it's great that there are two of them. Not only can a child play with two hands if they like, but two people can share the instrument. A parent can even play a short phrase, then have their child echo it.
As cute as this toy is, I — sadly — have to mention that several reviewers said that this xylophone was badly out of tune.
The idealistic part of me wants to hope that they've fixed it, or that maybe there were a few defective products for some reason. After all, this toy got over 3,600 5-star reviews, and at least a handful of them specifically said that it is well-tuned.
You can read the reviews that discuss the tuning (good or bad) here.
Train Sets
Trains are always a big hit with kids. When mine were little, we used to go to certain toy stores and bookstores just so they could hang out and play with the train tables. (Sometimes I'd even invite a friend and make a playdate out of it.)
Tiny Land Wooden Train Set for Toddlers
Tiny Land Wooden Train Set for Toddlers
This train set features double-sided design tracks, a bridge, people, an engine, passenger car, hauler, and other accessories that kids can use to build their own tracks.
The best part is that these tracks are compatible with other brands like Thomas, Brio, Melissa and Doug, and Chuggington.
Magnetic Wooden Train Cars
This set has eight wooden train cars, including a steam engine, caboose, coal car, passenger car, and more. Each one is approximately three inches long. They link together with magnetic couplers in lots of different combinations, which makes it perfect for pretend play.
Reviewers were impressed with how well made these cars were, particularly how the tires don't break easily like they do on die cast vehicles.
More Great Toys for Toddlers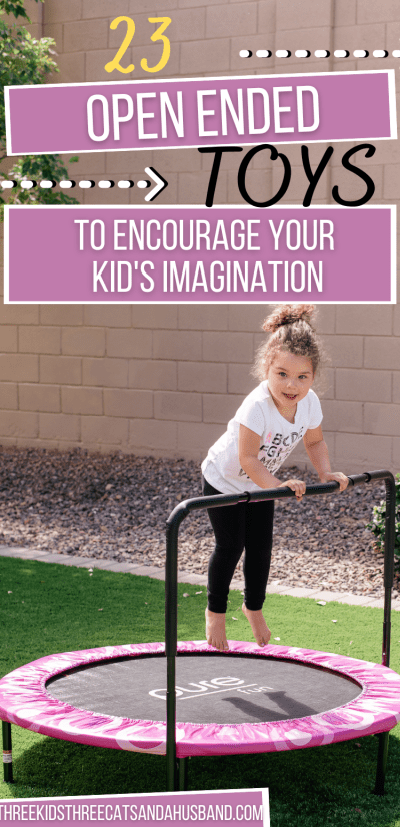 ---
---