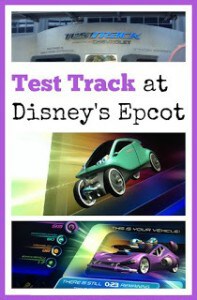 Test Track at Future World in Epcot is a great ride, but one that you definitely need to plan for.
Earlier this week, we arrived at Epcot several minutes before Rope Drop, immediately headed straight to Test Track the minute the park opened …
And still had a 30 minute wait.
This morning we had a Fast Pass, and even then, the wait was still about 15 minutes. However, it was much faster than the Standby time, which was 80 minutes.
Test Track — the wait is long!
If you're not already familiar with Test Track, you design a SimCar, then get in a test car to see how it performs in different four areas. The final test takes you outside to go around a track at something like 70 mph.
Rebecca found this Hidden Mickey while we were waiting in line:
Hidden Mickey!
The first time we rode it this week, we didn't really have a strategy except to create a car that looked kinda cool, and we came up with this:
Our car!
But today, the girls wanted to maximize our car for Power, so they kept playing with the different dimensions until it scored a 93 in Power — and it won second place in the Power category!
Our powerful car!
Post navigation