This post probably contains affiliate links. The full disclosure policy is pretty boring, but you can see it here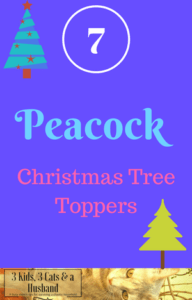 My family has always been pretty simple and traditional when it comes to Christmas tree toppers. We've always put a star on top, and in fact it wasn't until a year or two that we upgraded and replaced our star with a newer, bigger one to go with out newer, bigger tree. Our middle child, Rebecca, claimed the job of putting the star on the tree when she was about two years old, and she is still adamant about being the one to do it even now that she's a teenager.
However, there are a lot of choices for tree toppers that are more creative and colorful than ours, and one very popular one is the "peacock style" topper. Some of these have the actual design of a bird, while others simply have the blue and green effect of a peacock's wings.
I found a lot of really lovely toppers on Etsy, so this particular post is unusually sparse on Amazon products and unusually heavy on homemade Etsy products. Enjoy!
This festive topper has a 10-point star design and measures sixteen inches. The biggest complaints were that it was too big and too heavy; one reviewer said that he had to tie it and place a steak to hold it in place. If you have a very large tree, it

Purple and Blue Feather Peacock Clip

On the flip side, some reviewers didn't like this feather clip because they thought it was too light and too small. (It weighs less than two ounces and is made of feathers, plastic, mica, and metal, with a long tail.) So choose accordingly depending on what size tree you have and what kind of look you're going for! Of course, if you do have a big tree, you could still use this peacock. Just clip it onto the front of the tree instead of using it as a topper!
If you prefer handmade decorations, Etsy has some beautiful choices. This topper has thirty loops of wired, glittering ribbon and six two-foot long streamers to cascade down your Christmas tree. The bow is twelve inches wide and fourteen inches from the tops of picks to the bottom of the bow.
This "shabby chic" style decoration is a little different than the others. Instead of having the blue and green color scheme, it has genuine pearl white feather wings, tail and the queen crown. It's also we hand-embellished with sparkling mica and has black beaded eyes. If you click on the image above, you can better see the beautiful detail on the feathers. They are very sparkly and luminous. There are subtle, but study, wired feet at the bottom for mounting.
I love the color turquoise, so it's not surprising that this ribbon topper jumped out at me. It's a little more soft and muted then some of the others, with more of a greenish-blue hue, as opposed to purple.
The bow is twelve inches wide and has a total of over thirty loops. It's comprised of three different ribbons — a glitter gold, a glitter turquoise, and a feather-pattern turquoise. The tails are six feet long and detachable.
This item is described on Etsy as a "Dancing Peacock," which made me think at first that it was animated. (Obviously I've been reviewing too many toys.) But no, it's called that because it "exudes the beauty of a dancing peacock."
I like this one because it incorporates a deep red color, making it more Christmas-y looking. Also, since it does not have tails or streamers, it could work as a holiday table centerpiece as well. (The Etsy seller does warn, however, not to use it as a cake topper.)
Most Beautiful Peacock Dance
If you want something that really resembles an actual peacock, then this is the topper for you! Standing at nine and half inches tall, this peacock has pearl black eyes, a feather crown, and a full tail which is customized with large peacock eye feathers. I could picture it not only on a tree, but also as a centerpiece or wreath enhancement.
While researching tree toppers, I also found a few pretty peacock ornaments that I couldn't resist throwing in as well:

Acrylic Glitter Peacock Ornament Set Of 2

This made-to-order ornament has the metallic jewel tones of a peacock feather and is carefully coiled placed, and cut by hand, then finished with a light sanding and sealant to bring out the sparkle in the clay. It measures just over two inches across.
Well, if it's peacock colors you like, this post hopefully gave you more than enough ideas to decorate your tree, your dinner table, and your front door this holiday season!