This post probably contains affiliate links. The full disclosure policy is pretty boring, but you can see it here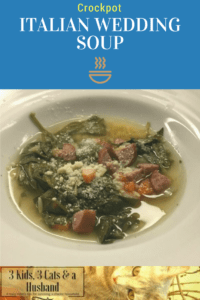 I absolutely love making dinner in the crockpot. It makes the house smell nice all day, it's easy to prepare in the morning or even the night before, and it's fantastic to come home to dinner all ready to eat!
However, I've found that crockpot recipes are often … uh, a bit gloppy. I've actually seen crockpot recipes that combined cream of mushroom soup, frozen tater tots, and ground beef.
Hurl!
So I'm always happy to find an easy crockpot recipe that's made with real food.
I made this Italian Shotgun Wedding Soup that I got from the Six O'Clock Scramble and served it with homemade garlic toast. It was delicious and very healthy.

The Ingredients
10 oz chicken broth
1 small yellow onion, finely chopped
3 carrots, halved and finely chopped
12 oz pre-cooked Italian turkey sausage
6 oz baby spinach
1 cup orzo (in the pasta section)
1 teaspoon Italian seasoning

Add all ingredients except the orzo  to the slow cooker, and cook on low for 8 – 10 hours or on high for 4 – 5 hours.
Add the orzo to the slow cooker for the last 30 minutes of cooking time.
Served topped with parmesan cheese and garlic bread on the side. Yum!