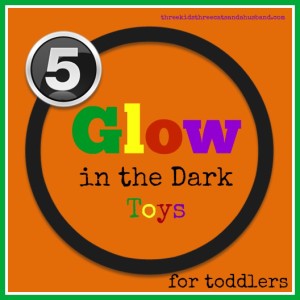 Glow in the dark toys can be super fun for toddlers. Whether it's part of a costume, party favors, or part of  a game, there is a certain fascination that comes with glowing toys.
When my kids were very little, we used to play hide and seek in the house with glow sticks after it got dark. Little Rebecca used to get scared, so changed the game to "hide and hug," where you would hug the person when you found them.

Plush Teddy Bear with LED Night Light

Isn't this stuffed teddy bear just adorable? It's white, made of cotton, eight inches tall, and super soft. When you press the "On" button, the LED lights inside glow and change colors. This is a great gift if you want to give something a little more interesting than just your ordinary bear. It works wonderfully as a nightlight and cn be very soothing to toddlers at bedtime.
It requires two AA batteries, which are not included.

Princess Tiara, Wand, and Necklace Set

If you know a toddler girl who loves Disney princesses, they will probably adore this set, which includes one glow tiara, one glow wand, a princess necklace, and three glow sticks. This is glow in the dark that little girls will enjoy long after they stop lighting up.
If your little princess is a huge fan of Anna and Elsa from the movie Frozen, they might prefer this version of the same toy:

Glowing Neon Lizard Party Favors

These glow in the dark lizards are simple, but sure to delight little kids. Each set comes with a dozen lizards, each about five inches long, in a variety of colors. They are great for favors or for a backyard treasure hunt at a kid's party. They're also a clever way to accent Halloween decorations. Amazon reviewer Mary C. Collins says, "These were perfect for gluing inside my large witch's cauldron and they glow in the dark so they were perfect for my outdoor display for the kids on Halloween night."

Glow in the Dark Sensory Ball for Toddlers


Glow in the Dark Superhero Capes and Masks


Pink Princess Castle Tent with Glow in the Dark Stars