Copycat Restaurant Dessert Recipes
This post probably contains affiliate links. You can read the full legal mumbo-jumbo explaining all that here.
I've always had a huge sweet tooth. Desserts — especially creamy ones — have always been my weakness. I've made a conscious decision in the last couple years to cut back … but deep down, I still love sweets!
I found these 7 copycat dessert recipes from popular restaurants like Starbucks, Cheesecake Factory, and Applebee's. I'm sure you'll find something delicious that will be just the thing for the next time you need a sweet treat.
Cracker Barrel Double Fudge Coca-Cola Cake Recipe
I briefly waitressed at Cracker Barrel many years ago. I remember their peanut butter pie and fruit cobblers, but I don't remember this cake, so maybe it's new. (Well, new-er. It's been over twenty years since I worked there!
This cake is made with a cup of Coke (of course) and half a cup of buttermilk — which, I've discovered, always makes cakes taste good. (Well … of course there are some other ingredients too.)
If you want to be really decadent, you can serve it with a scoop of vanilla ice cream.
Cheesecake Factory Pumpkin Cheesecake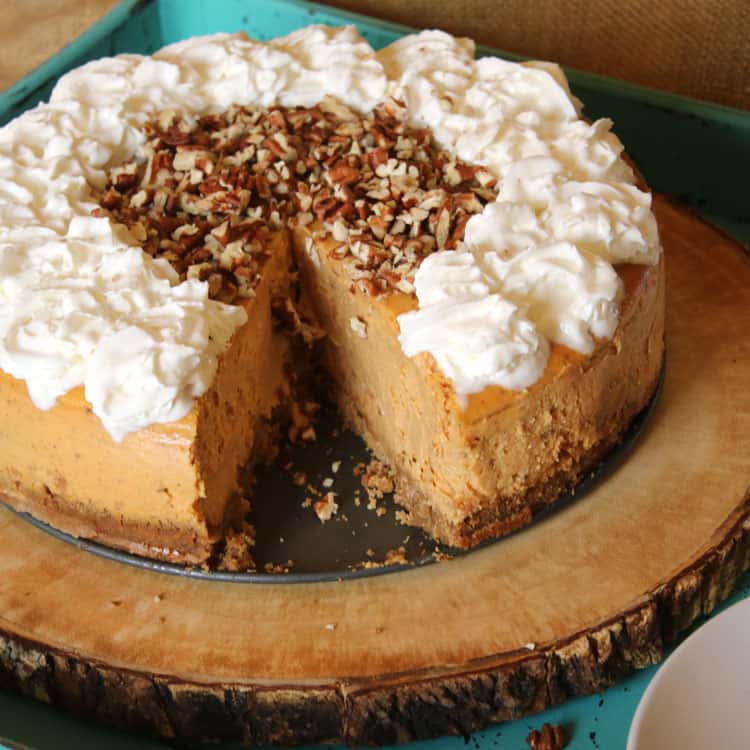 I once brought some pumpkin cake to my neighbor, who then stated, "Everything pumpkin is always good." I had to agree. Plus you can semi-delude yourself into thinking that it's a least a little bit healthy. This cheesecake would be great to serve for Thanksgiving dessert or any time during the month of October, when you're required by law to consume pumpkin desserts and beverages.
Oreo Cheesecake from The Cheesecake Factory
Mmm … two beautiful things, Oreo cookies and cheesecake, blended together into one amazing-sounding dessert. This cheesecake has Oreos in the crust, Oreos in the batter, and Oreos sprinkled on the top. Yum!
A general purpose water bath like this one is highly recommended to make this recipe.
(I had to look up what that even was. Apparently it keeps cheesecakes from tend to cracking and custards from becoming rubbery.)
Starbucks Lemon Loaf Pound Cake
I love Starbucks pound cake; I think because it's so moist. There is a full cup of sour cream in this cake, so I bet that's why.
This is a dessert that freezes really well. (Although if you're like me, you might say, "Hey, I'll bake and freeze enough to last for the next two months" and then have it be gone within the week.)

This book includes 12 Starbucks copycat dessert recipes!

Starbucks Blueberry Coffee Cake
I've always thought it was funny that you can get away with eating cake for breakfast as long as it's coffee cake.
Seriously, though, I've heard that blueberries are one of the best foods you can eat. They are a good source of vitamin K, fiber, manganese, and other antoxidants. Some people even claim that blueberries help protect against heart disease and some cancers.
Applebee's Apple Chimicheesecake
I've never had one of these, but I think I would love it. Apples … brown sugar … cream cheese … what's not to like? This is another dessert that would go great with a scoop of ice cream.
Shoney's Hot Fudge Cake
Wow, I haven't been to Shoney's in years and years … but back in the day, I loved it for its breakfast bar … and its Hot Fudge Cake! This is a great dessert if you're a fan of chocolate and creamy gooey-ness.
So what do you think? Let me know your favorite in the comments. I think if I were to try one of these recipes, it would be one of the copycat Starbucks recipes. I love having baking goods with my coffee in the morning!

---
---