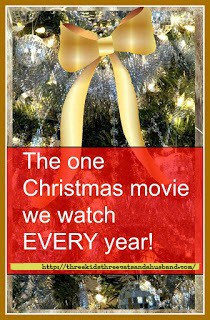 I'm not a huge fan of tons of Christmas movies; maybe because my family never really watched them when I was growing up. I know many families watch certain movies together every year, and we never did that.
Just to prove it: I never even saw Miracle on 34th Street until just last year ( I really liked it, though), and I still have never seen It's a Wonderful Life (but I finally will this year — I swear!)
I thought Muppet's Christmas Carol was pretty good, and Elf was surprisingly fun, but I wouldn't knock myself out to see them year after year.
Other Christmas movies, like Jingle all the Way; Christmas With the Kranks; Fred Clause; I'll Be Home for Christmas; and Jack Frost look so incredibly idiotic that I have no desire to see them ever ever ever.
But there is one Christmas movie that I never get tired of, and neither does the rest of the family, and we watch it again and again.
What's interesting about A Christmas Story is that most people don't know it's based on a book by Jean Shepherd (the man who narrates as adult Ralphie.)
My parents had seen Jean Shepherd speak/perform somewhere when I was a kid; and I read one of his books myself (in fact, I was very kindly scolded by a school librarian because I couldn't stop reading funny sections to one of my friends.)
So when A Christmas Story came out in the 80's, our first response was, "Oh wow! A Jean Shepherd movie!"
And I just discovered this awesome video a couple minutes ago that points out (among many other interesting things) that Jean Shepherd has a cameo appearance when the kids get on line to see Santa.
Change the Way You Watch a Christmas Story
A few years ago when we watched A Christmas Story, one of daughters told me that the mom in the movie was like me. I was amused by that, and now every time I watch it, I marvel that she is a lot like me, which is not a bad thing.
It would be impossible to choose a favorite scene from this movie, but here's just one that never stops being funny:
A Christmas Story — Chinese Restaurant Scene
Post navigation