This post probably contains affiliate links. The full disclosure policy is pretty boring, but you can see it here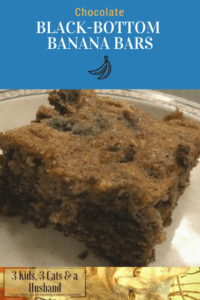 I love bananas, but like Jerry Seinfeld said, "They're only good for one day." So I always have a ton of over-ripe bananas in my freezer.
I like banana bread fine, but was getting a little tired of it, so I went in search of something new and found these. They're actually called "Black-Bottom Banana Bars," so I was singing this the whole time I was making them:
I prefer to call them "Chocolate Banana Bars." And they are very good.
Ingredients
1 stick of butter, softened
1 cup sugar
1 egg
1 teaspoon vanilla
3 mashed ripe bananas
1 1/2 cups flour
1 teaspoon baking powder
1 teaspoon baking soda
1/2 teaspoon salt
1/4 cup baking cocoa
Directions
Cream together butter and sugar until light and fluffy.
Beat in egg and vanilla.
Stir in bananas.
In a separate bowl, combine flour, salt, baking powder, and baking soda, then add to creamed mixture and mix well.
Divide the batter in half. Stir the cocoa into one half, then spread onto the bottom of a 9×13 pan.
Spoon the remaining batter on the top and swirl with a knife.
Bake at 350 degrees for 25 minutes.
Some people said they added chocolate chips to the batter, plus mayonnaise to the chocolate half, but I think that would be too sweet for me. It tastes fantastic just as it is.
Other Recipes You Might Like
Baking Sets for Beginners
Our Favorite Dessert — "Better Than Robert Redford"
Gluten-Free Chocolate Chip Banana Bread
Post navigation