This post probably contains affiliate links. The full disclosure policy is pretty boring, but you can see it here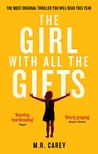 The Girl with All the Gifts by M.R. Carey
My rating: 3 of 5 stars
I picked up and considered getting The Girl With All the Gifts in the bookstore three different times before I finally went and bought it. The cover and blurb really intrigued me, but I was hesitant to get it because it was so vague that I wasn't sure what I was getting into.
In the end, intrigue won out.
Aaaand … it turned out that I was right about my concerns. If you haven't already heard, (view spoiler)[ it turns out that this is a zombie apocalypse novel. (hide spoiler)]
As many other reviewers said, the beginning of this book was fantastic. I couldn't put it down. But then, after the group left the compound, I had a sneaking suspicion that the story would start to drag, and drag it did.
What's a shame is that I still think it could've been a pretty good read. Yes, the characters were flat stereotypes, but considering the situation everybody was in, I found each of their viewpoints interesting at times.
But the book was just too long for the story it was telling. By the time I got to the last hundred pages, I just didn't care anymore. I bet it could have been half the length and much more effective.
One good thing, I guess, was that it got me to read a genre I never would have chosen otherwise.
(And probably never will again.)
Love books? Check out these posts:
11 Fun and Unique Gifts for Book Lovers
12 Christmas Ornaments for Book Lovers
Post navigation