7 of the Best Strawberry Dessert Recipes
This post probably contains affiliate links. You can read the full legal mumbo-jumbo explaining all that here.
Every spring for the last thirteen years I've gone strawberry picking with my kids. If you've never had fresh-picked strawberries, I hightly recommend that you try it. They are much sweeter and tastier than the ones you get at the grocery store.
Over the last few years, my middle child, Rebecca, is the only one who goes with me, but at least the tradition is continuing. Not only is Rebecca a faster berry-picker than I am, but every year she helps me in the kitchen to prepare some strawberry treats.
Since it's almost that time of year again, I went searching for some great-looking desserts made with strawberries so we can whip up some delicious treats when we come home from the berry field.
Tools for Hulling and Slicing Strawberries
I don't have either of these tools, but they look like they would come in handy, especially if you're working with really large amounts of strawberries:

Chef'n StemGem Strawberry Huller

I usually cap our strawberries with a knife, but using this huller looks quicker, safer, and like it saves more of the actual berry. It also would be the perfect tool if you were going to fill with the strawberry with something like … oooh, say, a cream cheese and sugar mixture.
Click here to watch a video demo of how this strawberry huller works.

Chef'n Hand-Held Strawberry Slicer

This tool lets you slice strawberries quickly with one hand and can "shoot" them directly into the blender or bowl … no more having to scrape them off the cutting board after each batch. Plus I'm quite sure that the slices look a lot better than they do when I slice strawberries with my knife — and again, it's probably safer.
Another nice thing about this tool is that it's very versatile. You can use it to slice mushrooms and olives (pizza, anyone?), eggs, or grapes.

Click here to see a video of this strawberry slicer in action.

And now for the recipes …
Strawberry Coconut Cream Cake
There are some people out there who have a strong prejudice against coconut, but my oldest Rachael and I love it. (In fact, one of Rachael's favorite candy bars is Mounds.)
This recipe is made with a boxed strawberry cake mix and a cream cheese coconut icing, which not only sounds delicious, but gives the cake a fancy look as well.
Chocolate Covered Strawberry Brownies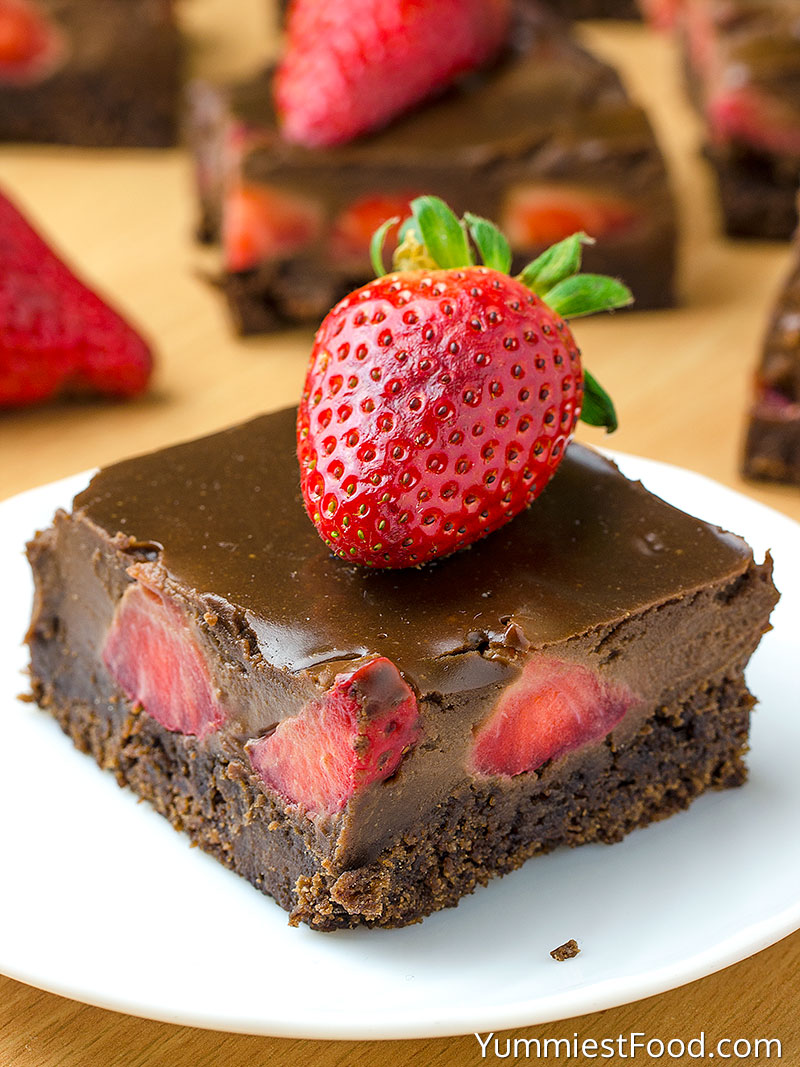 I looove the combination of strawberries and chocolate, so this brownie recipe caught my eye right away. The topping has sliced strawberries, semi-sweet chocolate, and heavy cream, making it look and sound super rich and decadent.
Strawberry Crisp Recipe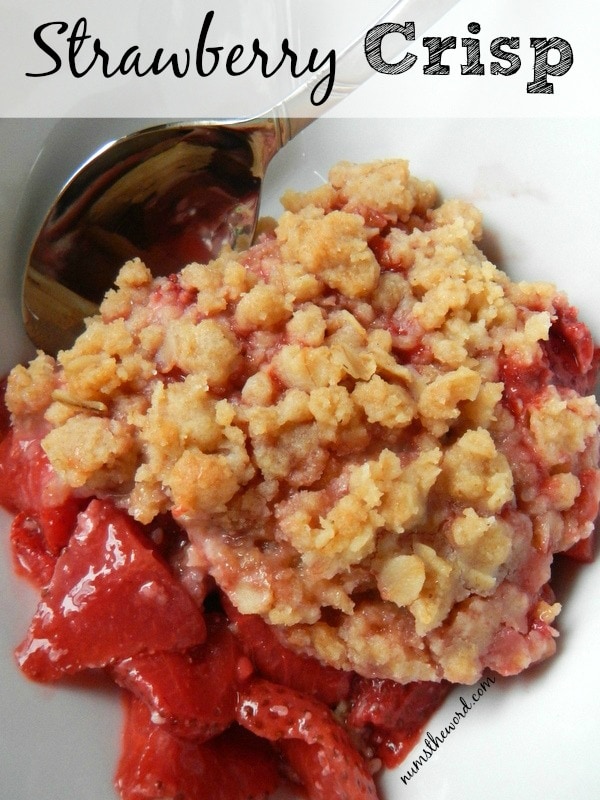 My husband Robert is a huge fan of fruit crisp (although his favorite is apple). One things that I've noticed about fruit crisp is that it almost two different desserts, depending on whether you serve it cold or warm (and preferably with ice cream if it's warm).
Cream Cheese Stuffed Strawberry Bread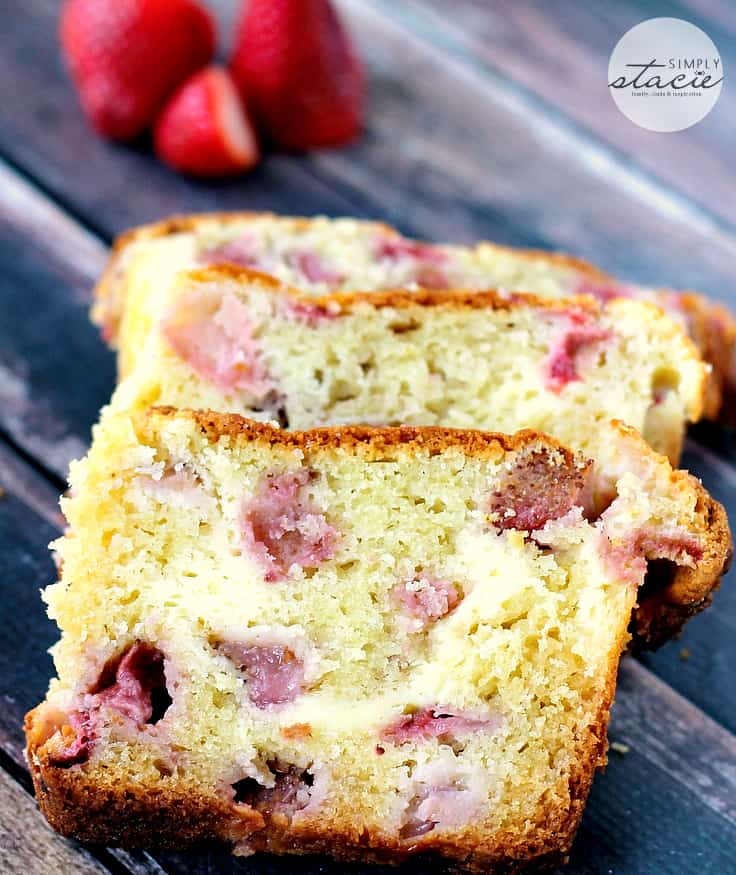 Here's a handy rule to live by: Strawberries + Cream cheese = Amazing. I've made this cream cheese stuffed strawberry bread before and always eat it in such big portions that it's more like slabs than slices! It makes a fantastic breakfast with coffee.
Easy Strawberry Pie (like Shoney's)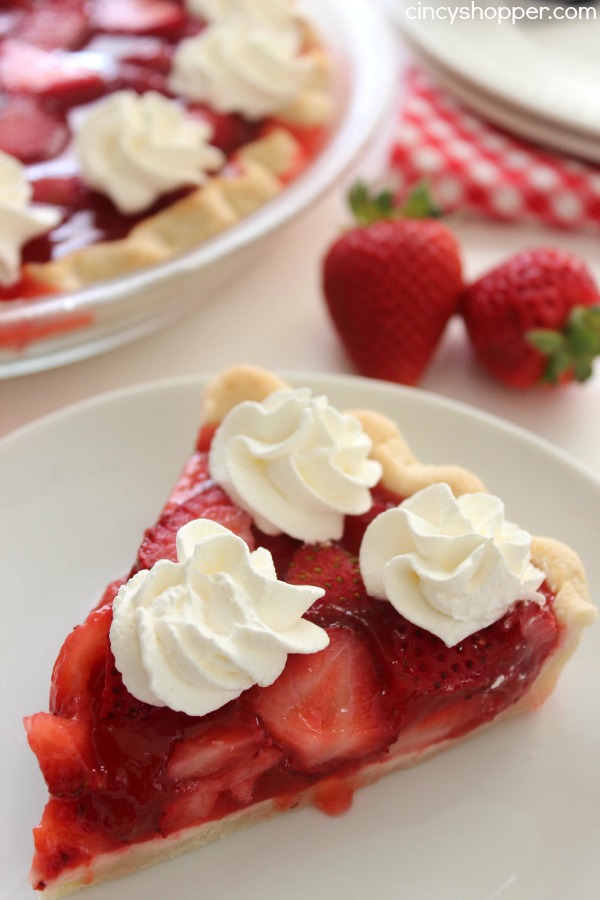 I'm personally not a huge fan of pie in general, but this pie is awfully pretty and I know that Shoney's strawberry pie, which this recipe is modeled after, is very popular. It uses a pre-made refrigerated crust, so it's quick and easy to make.
Triple Berry Trifle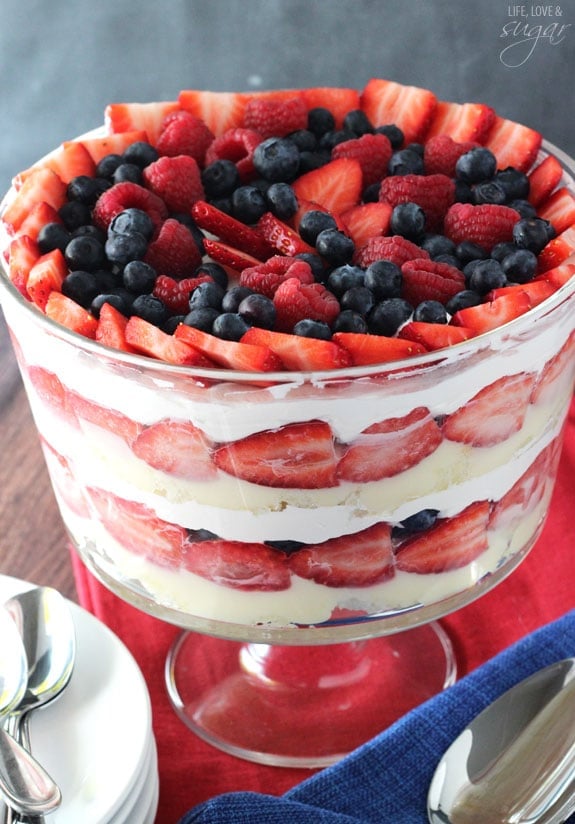 I've mentioned before that I have a particular weakness for creamy desserts, so it's no surprise that I love trifle. This triple berry trifle is made cheesecake-flavored instant pudding mix (just let that sink in for a moment) and is loaded with berries. Yes, please.
Homemade Strawberry Ice Cream
If you didn't already know this, homemade ice cream is way better than store-brand ice cream (which is pretty good to begin with.) This recipe for strawberry ice cream sounds delicious in its simplicity.
Now the next time you go strawberry-picking (or pick up a bag of frozen strawberries at the grocery store, you have plenty of great choices of desserts to make with them.
And if you'd like a little strawberry decor in your kitchen to go along with all these yummy desserts, then check out this personalized sign I found on Etsy:
Follow My Fresh Strawberry Dessert Recipes Board on Pinterest
---
---