7 of the Best Homemade Waffle Recipes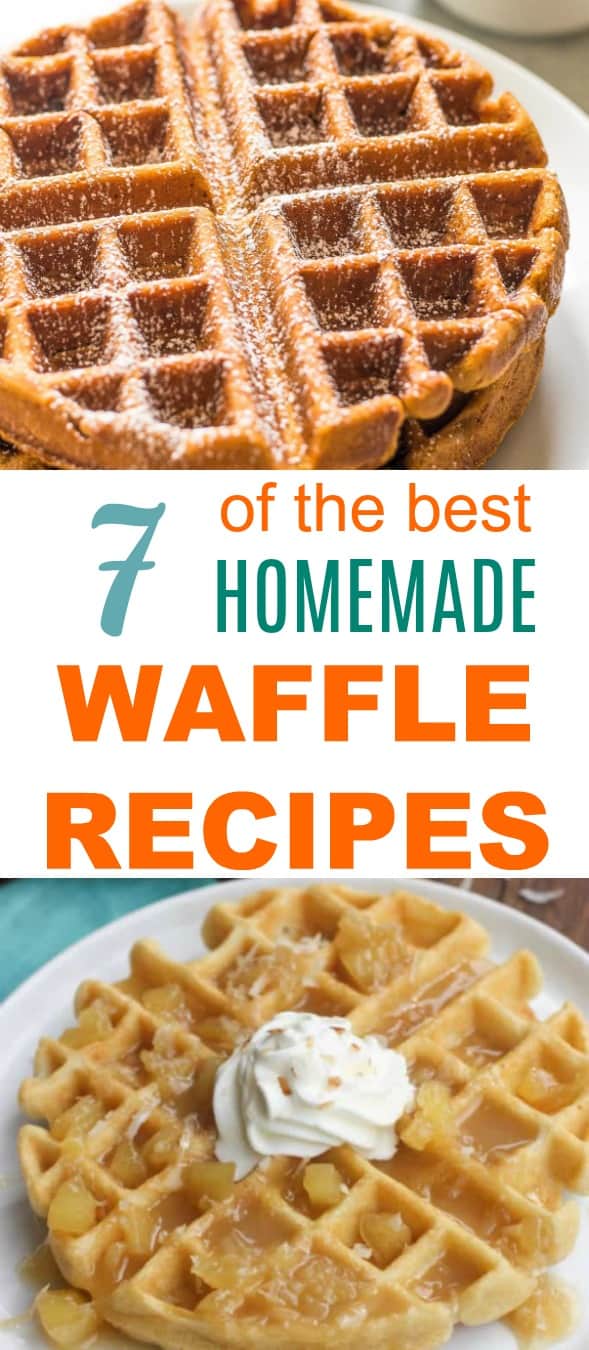 This post probably contains affiliate links. You can read the full legal mumbo-jumbo explaining all that here.
Breakfast has always been one of my favorite meals (quite possibly because it's the only meal where you can get away with eating something that borders on dessert). But there's something about waffles in particular that make breakfast seem like an extra treat. I always feel eating in a quaint little cafe when I have waffles, even if I'm right at the kitchen table.
I went searching on Pinterest and found these 7 delicious and fun waffle recipes. Which one is your favorite?
If you're like me and have trouble getting your finished waffle out of the waffle maker without either burning yourself or sending all or part of the waffle flying across the kitchen counter, you might want to check out these Mini Waffle Tongs. They have a soft, beveled edge that makes it easy to get at the waffles.
Another thing that's cool about them is the locking mechanism at the top that can keep it in a "closed" position, so it won't take up half your kitchen drawer to store them.
✅
Click here to read the 5-star reviews of the Mini Waffle Tongs.
Cinnamon Apple Sweet Potato Waffles
Sweet potatoes for breakfast? It sounded weird to me at first, but the more I thought about it, the more I liked it. These waffles are made using only sweet potatoes, eggs, apples, cinnamon, and oil, so they're a healthy alternative to your traditional waffle.
Not only that, but I totally with Jerry Seinfeld about cinnamon:
There are 53 really unique waffle recipes on this page.

S'mores Waffles
These cool waffles are a kid-pleaser for sure! It's basically a s'more wrapped in refrigerated biscuit dough, making it not only fun and tasty, but also a little neater than your usual s'mores.
Coconut Cream Waffles with Pineapple Syrup
Wow, WOW, does this look. I am absolutely crazy about pineapples; I even love them on pizza, which my husband thinks is very weird.
These waffles are made with two cups of coconut milk, and the syrup contains both pineapple chunks and coconut flakes. It sounds ah-mazing.
If you're as crazy about pineapple as I am, you might want to check out this cookbook.
Black Forest Waffles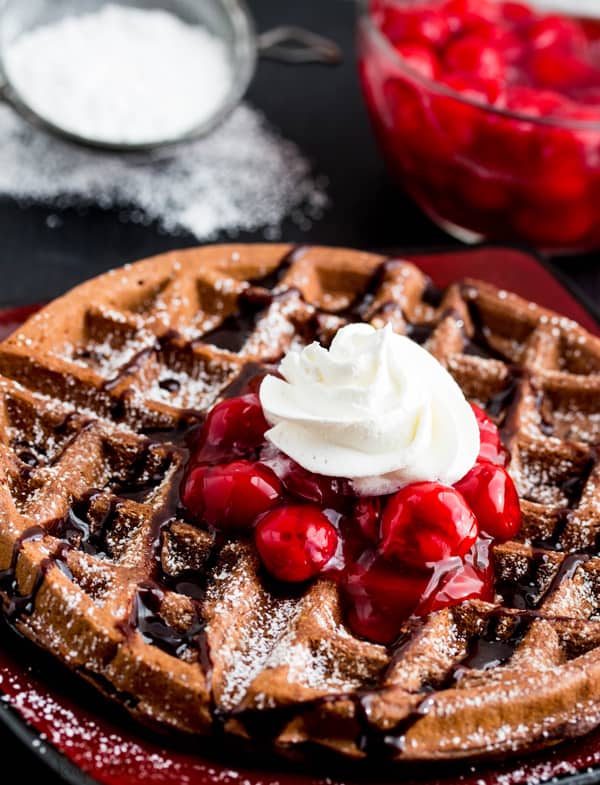 Here's a fun waffle recipe that looks more suited for dessert than for breakfast … although I'm quite sure that many people (including me) wouldn't turn it down if someone offered it to them tomorrow morning.
They are topped with powdered sugar, chocolate syrup, cherry pie filling, and whipped cream. So if you love the combination of chocolate and cherries, this recipe is for you!
Sweet and Spicy Gingerbread Waffles
The smell and taste of gingerbread often making people think of the Christmas holiday season. I could picture enjoying these waffles with a mug of hot chocolate on a snowy December day, with a nearby fire in the fireplace.
Peanut Butter Banana Waffles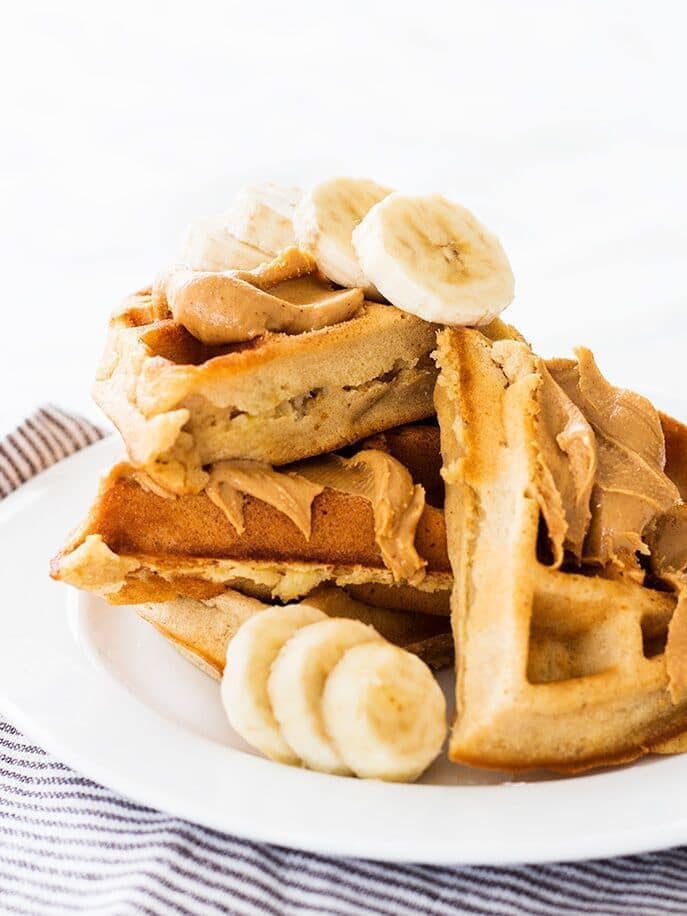 My daughter Rebecca likes peanut butter and banana sandwiches with honey. These waffles are basically the same concept, except they're both fluffier and crisper.
Cheesecake Waffles with Strawberries
Mmm … I love creamy dessert, and cheesecake is one of the best ones out there. These waffles are made with this mix and topped with no-bake cheesecake, plus any fruit you want to adorn it with. (Fruit is always a must for me.)
Show off your love of Waffles with Etsy jewelry!
I've never seen the TV show Parks and Recreation, but apparently Amy Poehler's character, Leslie Knope, is crazy about waffles and wore this waffle necklace in the season four episode "Operation Ann."
The necklace is available on Etsy and is even scented to smell like butter and maple syrup!
These polymer clay stud waffle earrings would make a fun gift. They're half an inch in diameter and come with an extra pair of soft plastic earring stoppers.
I hope you found this post jam-packed of delicious waffle goodness!
Follow My Breakfast Food Recipes Board on Pinterest
---
---