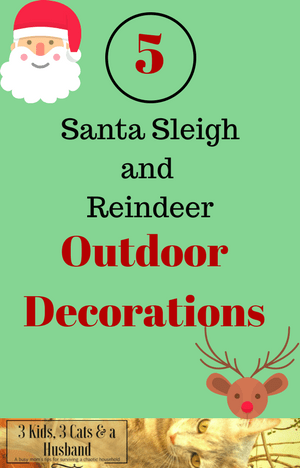 One of my favorite things about the Christmas season is seeing all the outdoor lights and decorations. When the kids were younger, we used to get in our pajamas right before bedtime and drive through various neighborhoods slowly, looking at the lights while eating Christmas cookies and listening to the soundtrack of A Charlie Brown Christmas. We always appreciated the work and creativity that people would put into their lawn displays.
If you're the type of person who loves having a festive lawn during the holiday season, here are five outdoor Santa sleigh and reindeer sets and their pros and cons. And thanks for being one of those people who make evening drives in December so much more fun for all of us!

PVC Plastic Outdoor Sleigh and Reindeer Set

This simple, white set has a sleigh with two reindeer. (Santa is not included — I guess he's still inside getting ready to load up! :)) The set is made of marine PVC plastic that's designed not to rot. It's assembled simply by sliding the pieces together, so there are no screws or other small pieces. The material can be painted, so this is a great set for people who are artistic and want a clean slate that they can design any way they like.
Keep in mind that the deer only stand at 41 inches tall, so if you're looking for a huge lawn ornament, this one isn't it. It would be nice, however, for people with smaller front yards where the house is close to the street.

LED Lighted Inflatable Yard Decoration for Christmas

This is a more colorful set, with Santa's sled decorated in yellow, green, and red, and being pulled through the snow by a total of seven reindeer, with none other than Rudolph and his infamous red nose leading the way!
It stands over seven feet tall and sixteen and a half feet long and comes with a built-in fan motor, plus yard stakes and tether ropes to keep the set securely in place. It contains internal energy-efficient LEDs, which claim to last the entire holiday season. The set self-inflates quickly, plugging into an electrical outlet with a 5-ft cord.

Inflatable Yard Decoration with Santa and Reindeer on a Motorcycle

This inflatable sports a more modern and "cool" version of St. Nick — he's riding a motorcycle with one reindeer buddy behind him! Made of polyester, this decoration is not very long, so it could possibly work as a nice way to enhance and light up the area by your front door for the holidays. Like the inflatable above, it also self-inflates quickly and comes with a fan, ground stakes, and tethers.
Many reviewers loved this inflatable's cute and festive look. But several others said they were disappointed that the motor blower blew out within a couple weeks, so be sure to consider this when making a decision about it.
If you want an ornament that adds sparkle and shine to your lawn this December, then this sleigh and reindeer set might be the one for you. The display is pre-lit with 245 clear, mini, non-blinking lights. The three figures — Santa and his sleigh, plus two reindeer — are all made of sisal, the same material that many cat scratching posts are made from. With a height of just under three feet, this would be a nice decoration for a outdoor porch or inside, possibly on or around the fireplace.
Wow, this is one beautifully ornate decoration! If you can click on the image, you can zoom in and see some of the intricate details, from the reindeer's collars to the teddy bear riding at the front of Santa's sleigh. What also makes this ornament especially nice is that it is designed to show the reindeer actually leaping off the air as they go into flight.
It is made of polyresin and stands at 30 inches tall, and is considered an indoor/outdoor decoration.
I hope I've guided you toward the best outdoor decoration that will light up your home and yard to give it the perfect festive and welcoming look for this Christmas season!
Click here to pin this to your Christmas boards on Pinterest!